Note: This is a major profile update. I've been trying to update this as I play the game, but now I've already beat the game with this profile so I'll also be doing some Lore editing that has nothing to do with Skyrim. This goes for my Multiverse version as well as my 'As an Apprentice...' roleplay version.
Name:
Pahovnah Vulonyolsewuld (Dovah for 'All Trust Fury Night's Firey Wirlwind') She goes by Nix Arci, meaning Night's Flame or Night's Glow.
"Dovahkiin, Dovahkiin, naal ok zin los vahriin,
wah dein vokul mahfaeraak ahst vaal!
Ahrk fin norok paal graan fod nust hon zindro zaan,
Dovahkiin, fah hin kogaan mu draal!
Huzrah nu, kul do od, wah aan bok lingrah vod,
Aahrk fin tey, boziik fun, do fin gein!
Wo lost fron wah ney dov, ahrk fin reyliik do jul,
voth aan suleyk wah ronit faal krein!
Ahrk fin zul, rok drey kod, nau tol morokei frod,
rul lot Taazokaan motaad voth kein!
Sahrot Thu'um, med aan tuz, vey zeim hokoron pah,
ol fin Dovahkiin komeyt ok rein!
Ahrk fin Kel lost prodah, do ved viing ko fin krah,
tol fod zeymah win kein meyz fundein!
Alduin, feyn do jun, kruziik vokun staadnau,
voth aan bahlok wah diivon fin lein!
Nuz aan sul, fent alok, fod fin vul dovah nok,
fen kos nahlot mahfaeraak ahrk ruz!
Paaz Keizaal fen kos stin nol bein Alduin jot,
Dovahkiin kos fin saviik do muz!
Dovahkiin, Dovahkiin, naal ok zin los vahriin,
wah dein vokul mahfaeraak ahst vaal!
Ahrk fin norok paal graan fod nust hon zindro zaan,
Dovahkiin, fah hin kogaan mu draal!"
Age:
20. Born on Middas, 17th of Midyear. 7/17. (Wednesday, 17th of June. 7/17.)
Birthplace:
Whiterun, Skyrim, Tamriel. Currently living in Breezehome, Whiterun.
Gender:
Female
Race:
Human/Nord. Dovakiin.
Craft:
Mage
Apprentice?:
To no one, but the Greybeards at the time.
Theme Song 1:
http://www.youtube.com/watch?v=JVk_9eh57CE
Skils:
She is a master sorceress, learning Thu'um, and spells of all kinds. She learned spells from all over the world, then even went to other Multiverses and learned from other magicians, and even learned from The Sorceresses, Circe and Parenelle Flamel.
Markings:
Tatoo on right cheek and a few scars on left cheek.
Spells:
Alteration Spells:
Detect Life- She can sense anything living up to 100 feet away, undead, daedra, machines, demons? Nope.



Water Breathing- Can breath under water for exactly 60 seconds. No more.



Equilibrium- Turns her very life force into mana, energy or magicka, it can kill her and she must be careful.


Destruction Spells:
Flames- She can summon a small ball of fire into the palm of her hand.



Chain Lightning- Lightning that launches from the hand like a bolt, dealing massive ammounts of energy/mana/magicka damage as well as massive health damage, then jumps to a new target. Gets weaker as it jumps, and requires a lot of energy to do, thus she must use
Equilibrium
first.



Vampiric Drain- Unlike other spells, this one doesn't cost magicka, but it takes it from the enemy. She has to use both hands while doing this, rendering her defenseless.


Illusion Spells:
Clairvoyance- Creates a path to what she's looking for... Most of the time. Only her eyes can see it.


Restoration Spells:
Steadfast Ward- Magically blocks medium-strength attacks of all kind, that aren't physical.


She knows other spells, these are just her most common ones. Literally, she knows every spell in Skyrim, Morrowind and Oblivion, and she's leaned many, many, many, many others from different Multiverses, and other worlds.
Thu'um:
---Call Dragon- Sos Se Viing! Blood Of Wing! "Sosseviing! Hear my Voice and come forth. I summon you in my time of need." (Call her pet Dova, Sosseviing, or possibly any Dovakiin within, say, ten miles who hear this just may come to the rescue... Watch out, attacker.)
---Unrelenting Force- Füs Ro Dâh!! Force, Balance, Push! "Your Voice is raw power, pushing aside anything - or anyone - who stands in your path." (Throws and ragdolls an enemy, depending on the enemy it may just push it.)
---Become Ethereal- Fiem Zi Gron. Fade Spirit Bind. "The Thu'um reaches out to the Void, changing your form to one that cannot harm, or be harmed." (Changes into spirit form, and cannot be harmed by anything at all for a time, while not able to harm anyone at the same time.)
---Clear Skies- Lok Vah Koor! Sky, Spring, Summer. "Skyrim itself yeilds before the Thu'um, as you clear away fog and incliment weather."
---Fire Breath- Yol Toor Shul. Fire Inferno Sun. "Inhale air, exhale flame, and behold the Thu'um as inferno." (Basically, same as Fus Ro Dah, in the sense of the shockwave that can stagger people, only a few differences. This one carries flames inside the shockwave, and this one is way more dangerous. Fus Ro Dah can be used as a light push or a strong throw. This isn't as much the case, it's harder to control.)
---Ice Form- Iis Slen Nus. Ice Flesh Statue. "Your Thu'um freezes an opponent solid."(Basically, same as Fus Ro Dah, in the sense of the shockwave that can stagger people, only a few differences. This one carries coldness inside the shockwave, and this one is way more dangerous. Fus Ro Dah can be used as a light push or a strong throw. This freezes things solid and leaves a trail of ice. Completely frezes an opponent solid.)
---Phantom Decoy- Fiik Lo Sah. Mirror Decieve Phantom. "Your Voice solidifies as a ghostly illusion, or shatters the illusion to inflict harm upon your enemies." (Creates a clone, of sorts, that isn't very strong at all and will attack as a sort of distraction. Same shout greybeards used.)
---Whirlwind Sprint- Wuld Nah Kest. Whirlwind Fury Tempest. "The Thu'um rushes you forward, carrying you in it's wake with the speed of a tempest." (Zoom forward for a few seconds at high-speeds...)
---Animal Allegiance- Raan Mir Tah. Animal Allegiance Pack. "A Shout for help from the beasts of the wild, who come to fight in your defense." (Used on any animal, be it mammoth or sabre cat, any animal at all... The animal will fight for her until the death.)
---Aura Wisper- Laas Yah Nir. Life Seek Hunt. "Your Voice is not a Shout, but a whisper, revealing the life forces of any and all. " (Allows her to see other's auras, even through walls.)
---Battle Fury- Mid Vur Shaan. Loyal Valor Inspire. "Your Thu'um enchants your nearby allies' weapons, allowing them to attack faster." (Anyone fighting on her side, or for her, will get an adrenaline rush, allows their mind to let them see things a bit slower and think faster, and withstand pain better.)
---Bend Will- Gol Ha Dov. Earth Mind Dragon. "Your voice bends the very stones to your will. As it gains power, animals, people, and even dragons must do your bidding." (Makes stones, rocks and chuncks of earth fly at an enemy upon first word. Second and third words allow her to bend the will of people, and even dragons and cause them damage.)
---Call of Valor- Hun Kaal Zoor. Hero Champion Legend. "The valiant of Sovngarde hear your Voice, and journey beyond space and time to lend aid." (A shout that lets you summon a hero from Savngarde to fight for you. The hero has a high amount of damage but dies fairly easily. The hero also knows the "Unrelenting Force" Shout.)
---Cyclone- Ven Gar Nos. Wind Unleash Strike. "Your Thu'um creates a whirling cyclone that sows chaos among your enemies." (Strong cyclone rips through battelfield, or a weak swiling wind to move something slightly for her bidding.)
---Disarm- Zun Haal Viik. Weapon Hand Defeat. "Shout defies steel, as you rip the weapon from an opponent's grasp." (Literally, the weapon is thrusted from an opponent's grasp.)
---Dismay- Faas Ru Maar. Fear Run Terror. "And the weak shall fear the Thu'um, and flee in Terror. " (Literally, the more words used, the more scared it'll affect a target and the stronger minds will be affected also.)
---Dragon Aspect- Mul Quah Diiv. Strength Armor Wyrm. "Once a day, take on the mighty aspect of a dragon, delivering colossal blows, with an armored hide, and more powerful shouts. " (When Dragon Aspect is active the Dragonborn is enveloped in an ethereal set of dragon armor for a short time along with a massive damage bonus to both weapons and other dragon shouts. With every word of power obtained, these effects rise greatly. Each word of power also adds more to the visual appearance of the abstract dragon armor. Once the second word of power for this shout is acquired, an Ancient Dragonborn will be summoned to assist the Dragonborn should their health fall below 50 percent. The Ancient Dragonborn is capable of using multiple shouts, and is garbed in a set of ethereal dragonbone armor. Can only be used once a day.)
---Dragonrend- Joor Zah Frul. Mortal Finite Temporary. "Your Voice lashes out at a dragon's very soul, forcing the beast to land." (Forces a dragon to land and causes it pain.)
---Drain Vitality- Gaan Lah Haas. Stanima Magicka Health. "Coax both magical and mortal energies from your hapless opponent." (Weakens, pains, and drains an enemy of magical energy.)
---Elemental Fury- Su Grah Dun. Air Battle Grace. "The Thu'um imbues your arms with the speed of wind, allowing for faster weapon strikes." (Attacks with a weapon happen twice as fast, faster than the wind. Even drawing and shooting a bow can be quick as lightning.)
---Frost Breath- Fo Krah Diin. Frost Cold Freeze. "Your breath is winter, you Thu'um a blizzard." (Similar to Ice Form, but makes the air ten times colder but doesn't freeze an opponent solid.)
---Kyne's Peace- Kaan Drem Ov. Kyne Peace Trust. "The Voice soothes wild beasts, who lose their desire to fight or flee." (Soothes and calms someone, even making him/her/it/the animal passive.)
---Marked for Death- Krii Lun Aus. Kill Leech Suffer. "Speak, and let your Voice herald doom, as an opponent's armor and lifeforce are weakened." (Literally diteriates armor and skin, rips at flesh and bone, and causes extreme pain while leaving a victim open for a kill.)
---Slow Time- Tiid Klo Ul. Time Sand Eternity. "Shout at time, and command it to obey, as the world around you stands still." (Time slows around her, and by the third word ALMOST completely stops. Giving her time to attack an enemy. This happens for about 20 seconds to a minute [as she would measure] depending on how many words used.)
---Storm Call- Strun Ba Qo. Storm Wrath Lightning. "A Shout to the skies, a cry to the clouds, that awakens the destructive force of Skyrim's lightning." (Calls a torrental, amazing, BLINDING downpour of painful stinging rain and bolts of lightning that strike every few seconds.)
---Soul Tear- Rii Vaaz Zol. Essence Tear Zombie."Your Thu'um cuts through flesh and shatters soul, commanding the will of the fallen." (This shout can cause heavy damage by ripping the soul out of an opponent. If the shout kills the opponent, it fills a Soul Gem, and the opponent is raised from the dead as an ally. Only works if all three words are said.)
---Throw Voice- Zul Mey Gut. Voice Fool Far. "The Thu'um is heard, but its source unknown, fooling those into seeking it out." (She can say something after this shout, and where ever the shout hit, be it a mile away, her voice will be heard from there.)
---Resurrect Dead- Slen Tiid Vo. Flesh Time Undo. (This is a DANGEROUS form of Thu'um. This isn't necromancy, it's more powerful and she's never used it yet. But she's observed Alduin doing it on a dragon, what it does is it take the soul from whatever afterlife it may be in, ripping it out from there and putting it back into the body. It also heals the body. The now-living thing retains all memories except for what the afterlife was like. It's as if it never died at all.)
---Armageddon- Wuld Toor Shul. Whirlwind Inferno Sun. (Same shout Alduin used. It calls down a hail of deadly meteors.)
---Curse- Fiik Zi Gron. Mirror Spirit Bind. (Cursed targets take more damage and spent magicka depending on words used, that happens to her.)
---Earthquake- Fus Klo Ul. Force Sand Eternity. (Causes seismic waves that unbalance and throw enemies into the air.)
---Summon Fog- Ven Mul Riik. Wind Strong Gale. (Same shout Alduin used, summons thick, thick fog that only lets you see a foot infront of you.)
((([[[IMPORTANT NOTE!!! Some of these shouts seem OP, no? Well, they have COOLDOWNS! So don't worry. And she cant use a shout and immediately switch, after using a shout the cooldown affects all other shouts. Stronger the shout and more words used, longer the cooldown and vise versa.)
Rank?
Dovakiin, Dragonborn. Born with the soul of a dragon in the body of a Nord.
Other titles:
The Cursed One
The Accursed one
The Witch
The Sorceress
Homeland:
Skyrim, Tamriel.
Current Country:
???
Area:
Whiterun.
Description:
Arci is largely independent on her spells and Thu'um, only using weapons when she's drained of energy.
Picture:
Equipment:
Amulet of Talos- Time in between shouts is reduced, allowing her to use more shouts in a shorter time. 20% reduced.
Glass Dagger- Shock Damage enchantment. Target is electrocuted, wounding the target and draining some magicka/mana/energy.

Dragonscale Armor- Fortify shouts enchantment. Increases shout effectiveness and duration. (Effectiveness, as in strength and control, and duration is obviously. Effectiveness is affected more than duration.)
Glass Boots- Muffle enchantment. Sound from footstepd is muffled, almost silent.
Glass Gauntlets- Fortify Magicka enchantment. Her Magicka will replenish faster, and she has slightly more of it.
Circlet of Jade and Emerald- Voiceweave enchantment. Time in between shouts is reduced, allowing her to use more shouts in a shorter time. 20% reduced.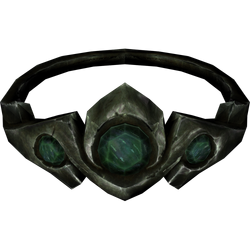 Allies, Friends, Comrades
Various people through Skyrim, Ranger Cassandra Elyonill, Dovahkiin Bjorg Folkvar.
Enemies:
Various through Skyrim. Imperials (She's a Stormcloak). Vampire, Daedra and Undead who mean harm to people (She's a Dawnguard). Dragons and/or Dov who mean harm to innocent people (She's the Dovahkiin).
Personality:
She's nice, fun and hyper, but get's mean if in a fight. She's in actuallity, pretty helpless and she'd be easy to mug. The only thing that protects her from the Dovah are her Thu'um.
'Pet':
She has a 'pet' Dovah (Dragon) that doesn't normally stick around with her, but never, ever, leaves within a miles radius of her. It's a baby dragon, only as big as maybe a ten year old if it didn't have wings. It's a Blood Dragon, the green-colored dragons that have finned crowns and spade-like tails. It will always come to aid her if she uses the Odahviing shout.
Relationship:
None, at the moment.
Organizations, Guilds, Clubs, ect:
Stormcloaks, Blades, Dawnguard, Colledge Winterhold Student.
History:
She went on with her normal quest as the Dovahkiin in Skyrim, with the temporary help of Cassandra. When she isn't on a quest, she's on Terra, a place Cassandra showed her.
Other:
She is a Stormcloak.
If asked why, her argument would be somewhere along these lines;
"What you Imperial-Scums don't see is that Ulfric Stormcloak once fought for the empire. He watched his friends die. The Emprie didn't care if they died or not. Ulfric got tired of bleeding for an empire that wouldn't bleed for him, thus starting the rebellion. Well, the rebellion also started mainly because of the Imperials agreeing to ban the religion of Talos after they promised Ulfric they can keep the religion.
The Great War ended with the White Gold Concordat. The Concordat is a peace treaty between the Empire and the Aldmeri Dominion. The terms of said treaty gave the Thalmor free reign in stamping out the worship of Talos throughout the Empire and ceded a large section of southern Hammerfell! Jarl Ulfric Stormcloak of Windhelm wouldn't accept this. Thirty years after the Freat War, he killed Torygg, the High King of Skyrim. This makes the Nords chose sides as the civil war erupts, Imperials versus Stormcloaks. The Stormcloaks think their lives as Nords are threatened. We took the banning of Talos very personally. The Empire's grown weak and Skyrim doesn't need it anymore! The Emperor is a coward when he accepted the Concordant! We hate the Thalmor for proposing these terms of peace and the Empire even more for accepting them. Us Stormcloaks are named after Jarl Ulfric Stormcloak for the reason, he's our leader in this rebellion. He
challenged
Torygg in a duel and won, the Emperial scum claim he assasinated Torygg. Liars. He gained the ability of the voice by training with the Greybeards. Any dedicated Nord in Skyrim can do that!"