Prince Vincent Altair Scorpio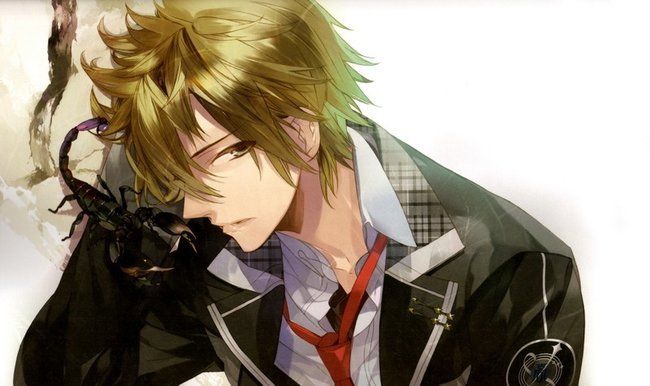 Vince is 6 feet tall with broad shoulders and a fit build. He has a strong jaw, alluring eyes, and well-defined lips.
❝To live is useless if you don't do it with feeling.❞
~ Nickname ~
"I'm fine with anything that isn't rude."
Vince, Vinnie
~ Gender ~
"Hm, I'd say I'm a man."
Masculine
~ Sexuality ~
"Who I like is my business."
Bisexual
~ Age ~
"Too bad- the last years of my youth have seen war."
25
~ Role ~
"Do I not seem like a Prince to you?"
Prince Scorpio, Ruler of the Scorpions
~ Distinguishable Features ~
"Feast your eyes- it'll be the only time you can see."
The Scorpio sign on his lower back, and a couple scars on his body from riots and battles.
~ Personality ~
"If there is something I want, there's no stopping me."
TBA
~ History ~
"I'm one of those people who can really keep a grudge."
TBA
~ Likes ~


♥ People-watching
♥ Storytelling
♥ Privacy



~ Dislikes ~


✖ Judgmental People
✖ Dishonesty
✖ Restrictions



~ Talents ~


✔ Manipulating
✔ Archery
✔ Horse-Riding




~ Hobbies ~


✔ Eating
✔ Writing
✔ Exercising



~ Fears ~


✘ Dying meaninglessly
✘ Abandonment
✘ Apathy



~ Flaws ~


✘ Begrudging
✘ Possessive
✘ Stubborn
~ Side ~
"Both sides need to get their heads out of their holes."
Neither- the cause is stupid and not worth it. "Purity" my ass.
~ Romantic Interest ~
"I don't think there's anyone, right now."
TBA
~ Thoughts on Others ~
"I can see right through them."
King Constellation [color=choice of color]"Character Thought"[/color]

Queen Stars

"Normally I'd really admire her, but this war is counter-productive, if you ask me."



Prince Galaxy

"He's just a young man accused of something that isn't wrong. It's understandable that he's that way."



Princess Planet

"I don't know- she's cute, but, geez, grow up."



Aries

"Speaking with her can be so exhausting. But I like her- she knows how things are done."



Taurus

"She's nice and kind and faithful- she's great."



Gemini

"Light is, eh. Dark, meh. I won't be able to stand either for too long."



Cancer

"He both annoys me and worries me at the same time. Like a stupid but cute little brother. I don't understand, either."



Leo

"I don't like her. She seems apathetic to everything except money."



Virgo

"Eh, he's like a shy little kid. Kinda cute, but such a worrywart."



Libra

"I can still see that childish look in her eyes. I worry for her, but I can't do anything right now."



Scorpio

"Mm, such a Drama Queen."



Sagittarius

"That far away look in her eyes is very amusing. I always wonder what she's thinking."



Capricorn

"Ah, Darce. We're childhood friends- I trust him."



Aquarius

"I just know that under her crazy exterior, there's something more raw. I want to find out what that is."



Pisces

"He's someone who can think like me. He's a thrill."