▐ ▓
▐ ▓
▐ ▓
▐ ▓
▐ ▓
▐ ▓
▐ ▓
▐ ▓
▐ ▓
▐ ▓
▐ ▓
▐ ▓
▓▐
▓▐
▓▐
▓▐
▓▐
▓▐
▓▐
▓▐
▓▐
▓▐
▓▐
▓▐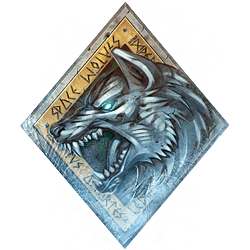 Name:
Loup (Wolf) Hood
Lou, Loupii, Wolf

Age:
48

Fairy Tale/Myth/Legend:
Big Bad Wolf of Red Ridding Hood.

Face Claim:
Johnny Depp
Personality:
He's a man who struggles with his emotions silently. He's the type who would say nothing of himself, but speak as if he knows everything to others. Most of the time he's right. He can seem cold and mysterious at first, but that's only him trying to read and understand you. He also doesn't trust anyone, for people can betray you, just as easily as a wolf can shift form. His guard is always up, but it tends to come down a bit whenever his daughter is present.

Right now, he is stuck between powerful emotions that have him caught between man and beast. It's those emotions he could never break easy, so he's stuck the way he is.

Before his daughter came to his life, he couldn't help but be the way he was and he was a horrible person. Cruel and Merciless, he would kill whoever he sought fit to be his next meal. Whether it be a baby, woman or child, he'd go after them. But man he would slaughter like unworthy pigs to either leave to suffer a slow death or be quick with it and make off before caught. Manly for what they do to his kind. Though, once Ruby came, his heart changed. Now he struggles to be good. At times, he'd slip up. Other times he has control. But this time, he's caught in the middle.


History:
He is Ruby's father and the mayor of Crimson Grove. One night when he changed into his wolf form he wasn't able to change back completely, causing him to be caught in between human and wolf, he looks like a beast. Because of this he hides in his home with a caretaker watching over him...

Though at times he'll slowly feels the wolf wanting to take him over completely, he feels he will soon no longer have control to stop the full shift within side. There for being stuck the way he is has caused him to look like nothing but a beast now. At times now, he finds himself struggling in this wolf form, for his heart isn't like it use to be. He's a broken man that sometimes wishes to stay as a wolf, but feels the need to keep his human emotions for his beloved daughter, Ruby. Sure he has duties as Mayor, but even that died down after a while. The only thing good about being mayor is the excitement to feel as if he's ruling.