---
---
"I'm sorry, do you have a problem with me? Well, that would be unfortunate--- if only I cared."
| Name |
Yvette A. Jade
| Nicknames |
---
---
Jade | Vet | Jet | Sparky;
don't call her that
(unless you want to be
electrocuted)
| Gender |
Female
| Eye Color |
A golden color;
fitting her personality
and power.
| Hair Color |
A dark brown
| Appears to be |
Twenty One
| Sexuality |
Bisexual
| Weight |
120' lbs
| Side |
Originals
| Height |
5'6
| Face Claim |
Ayuzawa Misaki
---
---
"Alright, I'm sick of this. Here's your own little how-to guide on how to not get on my nerves."
| Likes |
Strawberries
Purple
Making snarky comments
Noise
Talking
Lightning
Thunderstorms
Reading (especially during thunderstorms)
Messes
Water... after all, it does conduct electricity.
| Dislikes |
Silence
Happy-go-lucky people
The dark
Being alone
Book haters
Doing nothing
Love
Organization
Losing
| Fears |
Being alone: When Yvette's alone, she never feels comfortable. There's always been something about silence for Yvette; it drives her mad, she can't focus, she can't stop worrying...
The dark: It's the same situation as when she's alone.
Losing the battle: not only would it hit her confidence hard, but it would end in her death--- it would be her end. She'd lose everything she was standing for--- the fate she believed the realm would be better off with, and if the other disciples to act on their beliefs...
---
---
"This is where we get to the good part,"
---
| Power |
Seeing as Yvette's power is more focused on electric energy than anything else, she tends to stick to, well, electric energy. And some may not notice it, but her powers are somewhat based on her emotions. In fact, her aggressive and impulsive demeanor helps her in battle. Though her personality may seem to get her more in trouble than out, this is not true. In fact, when she's angry or determined, when she's caught up in the heat of the battle, she can control electricity much better than she can happy, sad or afraid. When she's angry or as some would put it, pumped, it's easier to control the flow of electricity. She can direct it better, and it creates a much more powerful blow. A lot of people look down at her personality and impulses, though in reality they're what keep her moving; what keep her sharp and strong.

Yvette's electricity fuels her. It's what she uses to pull off her impulsive moves; the extra energy she can painlessly grant herself gives her agility and a faster mind. A majority of the time her instinctive moves are considered rash and hazardous, when really it's what's been keeping her going the whole time. Yvette is actually the only one who realizes this, though she never cared to tell anyone, but someone clever and observant enough would probably be able to notice. And not only can she gift herself energy, but if she needs to run faster, or even she wants to help someone else out, she can convert her electric energy into kinetic energy; speed something or someone up.

Yvette almost never converts energy into electric energy-- she uses the electricity fueling the buildings around her to her advantage. Instead of wasting her energy, she simply steals the already converted energy around her. Of course, when she's battling, you'll know because your power will probably be out. Also, she can't 'recycle' electricity that she already used. For some odd reason, her powers simply won't allow her to use energy she's already used--- which can prove to be a problem. This is why she can't just convert some energy and use it over and over again. This is why her powers solely depend on the city's power; which can prove to be a problem at times. When she runs out of electricity, that's when she uses common sense and that 1% of defensive impulses kicks in... though she almost never runs out of electricity; the city is always sent more... In due time.
---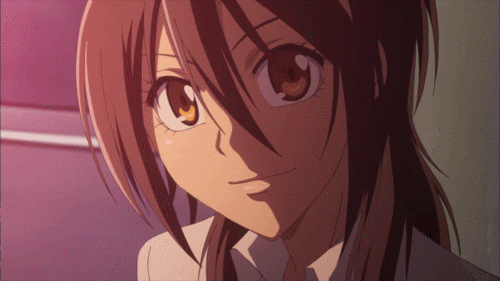 | Snarky | Messy | Aggressive | Talkative | Agile | Cunning | Impulsive | Stubborn | Determined | Selfless | Brave |
.:Snarky:.
Before you go judging Yvette, you should know that she doesn't realize how rude she can get. In her mind, she's really just teasing--- she never knows when she actually hurts someone, which makes it hard for her to make friends. She'd never intentionally hurt someone's feelings; especially her friend's feelings, even though it may seem like that sometimes. Her snarky comments can get very critical and crude, and they're even worse she's angry.
"Did you just call me rude? I am not rude; I'm charming. And not only can you shut the hell up, but you can also come to realize you're the rude one here."

.:Messy:.
Most people tend to mind messes, but Yvette really doesn't care about organization. She's been messy her whole entire life, and that's a long time. By now, she's gotten used to it. In fact, she doesn't like people who are organized. She's always thought of coordinated people as self-conscious. Yvette's always thought of it as a "proper" way to act, not a more efficient way. And because she thinks it just 'proper', she feels that people who are organized are seeking some kind of acceptance.
"Hmm? You're calling me messy? At least I'm not the clean freak,"

.:Aggressive/Determined:.
Yvette can get really feisty at times. When she's in a fight, or some kind of argument, unless someone else ends up intervening, there's no way she's going to back down.The better the insults the other person shoots, the more determined she is to combat that person with even better burns. If she's getting beat up in battle, chances are things are going to turn around. The more weary Yvette becomes, the more she pushes herself. If she backs down from a fight, that is weakness, that is cowardly. This usually results in more injuries or wounds, or even fainting, but it can also result in a win. Also: Yvette does have a bit of a temper. She can get angry fairly easily, and it doesn't go away after a few minutes. If you get Yvette really angry, let's just say she's not going to easily forget it. Which brings us to how she feels about the Ashes--- she's actually quite conflicted. Before the argument happened --and even after-- she looked at everyone, still, as a friend. She knew hard times could come and she accepted that, though still a little bitter on the subject. Even now, she's not so sure that she wants to fight. All she knows is that the best way to handle the realm, would to let the people decide on their own. Even if the disciples were to jump in, if the people never listened to anyone else, who's to say they'll listen to the disciples? No one was even aware of their existence; they're pretty much a secret since if the Gods found out about them, they'd be dead in a second. Yes, the realm was starting to collapse. Yes, the realm needed something to stabilize it, but did they really want to risk losing the realm's defense and stabilization over a small chance that people would listen to them?
"Don't you get it? We're secret for a reason,"

.:Talkative:.
If there's one thing Yvette loves, it's talking. No one has to be listening; in fact, she often talks to herself to get rid of the silence in a room (she absolutely dreads silence). It can be about how great strawberries taste, or how angry she was when the other three disciples left. It doesn't have to be anything necessarily important. Just any subject will suffice, as long as she's talking. In fact, when she is talking to herself, she still tends to make remarks-- but this time, they're about herself. If anyone were to hear her talking to herself, they'd probably come to understand that Yvette's comments usually don't mean anything personally. In fact, when she starts insulting herself, it's almost like a self reflection. She'll start to think about what she says to others, and try to make herself a little more likable. Yvette doesn't really care about what others think, but she'd at least like to keep the family she still has.
"Oi, this obsession is unhealthy... I'm scooping up strawberries like a bulldozer. And who's possessive enough to label their food? Me, apparently..."

.:Agile:.
If Yvette could be described as anything in battle, it would definitely be agile. She's fast moving, swift, and pretty smart when it comes to moving around her enemies. She can dodge attacks with ease and finds the perfect spots to lay counter attacks. But all this moving around and quick thinking gets her tired rather quickly. Even though Yvette is fit, she easily tires in battle, and can run out of breath pretty quickly. But the upside is that she can pull herself together just as quickly, but she can't move around constantly, or there will be no recovering her energy.
"HAH! Got em right on the backside--- just give me a few seconds to get my b-breath back."

.:Cunning:.
Yvette can be a bit of a genius when it comes to strategy. She specializes in stealth plans, as she can easily disable security alarms, but she's always been good at sneaking around. Even when she was little, she'd creep around the orphanage, 'borrowing' cool knick-knacks and gadgets. She almost never was caught, and that continues on to this very day. She's even clever under pressure; she has fast reflexes and she thinks fast in battle. Not to mention, she's more than just an amateur thief.
"Missing something? Like, oh, I don't know--- your wallet, maybe?"

.:Impulsive:.
Yvette's impulses are one of her worst, yet one of her best qualities. Her impulses can easily decide the fate of a battle, whether it be the win, or the downfall. Her impulses always tell her one thing: win. If Yvette makes a move, there's a 99% chance that it's going to be offensive. This is yet another reason why Yvette ends up more injured than most. One of her fatal flaws is that she counts on her success. But if she fails, she'll still be confident-- in her companions. Half of the reason she makes such risky moves is because she believes that if she makes the wrong moves, her team will still pull through. She has lots of faith in everyone, but lately that faith has taken a beating. When the three Ashes betrayed her, as she puts it, she wasn't sure about her faith in her family. There's a little part of her that now questions whether or not she should put all of her trust in what's left of her family.
"I trust you, but can you trust me?"

.:Stubborn:.
Yvette isn't exactly an open-minded person. She can be quite stubborn at times, her willingness to change her mind dependent on how much she likes you. She'll listen to you more often if you make sense to her. And of course, she does listen to common sense. She's not an idiot, in other words.
"Now, give me one good reason why I should change my mind."

.:Selfless:.
Yvette would give her life for her colleague's in a heartbeat. Though it may not show, she values her family above all things. She'd go insane if it weren't for the other disciples; immortality isn't exactly a gift. The few people that stay with you forever tend to be the ones you value most. They're the few people in the world that won't leave you... at least, that's what Yvette thought before the other three disciples left... But back to the topic. Yvette would do anything for those she values, and that includes the little things, too. Through little things, like buying everyone food with her own cash, or going seven floors down to fetch someone a soda, you can see that Yvette really does care for her friends.
"Hmm? Oh, I'll get it for you, don't worry."
---
| Physical Appearance |
If there's one thing that stands out about Yvette, it's her eyes. They're a bright golden, and they stand out in any crowd. Accompanying those bright eyes is a female, standing at 5'6, which isn't too bad of a height. She has somewhat long, dark brown hair. She really couldn't care less where her hair falls, so "it's just there," as she puts it. Her skin isn't pale, but it isn't far from pale, either. You usually see Yvette walking around in something purple; purple is her favorite color, after all. She loves to wear tunics--- boots, especially.
---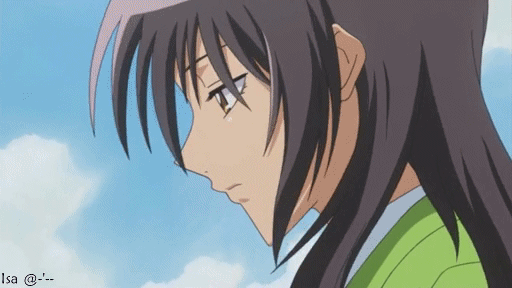 ---
| Weaknesses |
Whenever she's alone, she is panicked, she is worried, and she can't focus.
Her impulses. Most of the time, she acts on impulse--- not only can that put her on somebody's bad side, but it can also lead her into dangerous situations. And she's also... let's just say she gets injured in battle, just... a bit more than most would.
Stubbornness. Because she is very stubborn, she tends to stick with just one idea-- (her own). She hates doing things she doesn't approve of, therefor if she's skeptical about something, she's most likely not going to help you go through with it. But if she believes in something and no one else does, there's a good chance she's not going to listen and do it anyway. But, even though she's stubborn, she still has a sense of common sense. She listens to what people have to say, and if it makes sense to her, she'll not only trust that person more, but she'll listen to that one person more often.
Darkness. She's afraid of the dark, and she hates being in the dark, period. Someone with the darkness power would have an advantage.
Wind would also be affective against Yvette. She doesn't have any kind of resistance against wind, therefor she has absolutely nothing to stop herself from being literally blown away.
Water could also be a weakness. But it would have to be in a certain situation--- for example, if she were to be surrounded by water with her fellow originals, she would be rendered absolutely helpless, for if she tried to use her powers (water conducts electricity) she'd end up electrocuting all of her colleagues. And due to her impulses, there would be a chance --if frightened enough-- that she could accidentally electrocute everyone. Which would be... unfortunate.
Her selflessness. She's a very selfless person; she wouldn't hesitate to take a bullet for you... if, of course, she appreciates your existence.
Yvette, mostly due to just her personality in general, has a hard time expressing that she actually likes someone. She may talk with you, but she cracks a witty remark about, well, everyone. And usually, they're not compliments. The only way she truly expresses appreciation is through actions. It could be a small favor like getting you a drink of water or saving your life for hers instead.
Love. She is horrible with love. Not to mention, she absolutely despises it.
| Strengths |
Once again, her impulses. Yes, sometimes they can lead her into very bad situations, but sometimes they can allow her to win the battle. Or argument.
Her setting. They live in a setting with lots of people, houses, stores, which means lots of electricity. She has seemingly an unlimited amount of electric energy to manipulate; which would help her tremendously. And it's always there... unless someone decided to knock everyone's power out.
She is swift, and agile. She has no problem running away, and she's known as one of the fastest runners there are. In fact, she has a trick she uses in case of emergencies. She can convert electrical energy into kinetic energy; and she can run even faster. There's only one thing she can't outrun: wind.
Yvette is also quite clever; she's a master when it comes to plans, though she usually isn't too open-minded.
If she's anything, she's determined. When she has a goal that will be the only thing in her mind. She will strive toward that goal, and she will try with all her might to reach it. If she is anything, it's NOT a quitter.
Her confidence can take a lot of beatings, but it's still going to be higher than most's. Yvette believes in herself, even when the odds are against her. She always believes in her own ideas --and her colleagues--, no matter how dire the situation. She can also be encouraging when others are feeling in doubt. Her words almost never fail to lift one's soul... she can also be very daunting when it comes to trash talk.
Yvette is never afraid to dive into battle. One of her best traits is her bravery. She isn't afraid of pain, she isn't afraid of anyone (as far as everyone else knows).
Not only that, but she can also take an insult. Or many insults. She has a very high self esteem-- but she isn't coincided.
---
---
| Relations to Other Characters |
| Louie Orihara | Role: Doctor | Side: Both Ashes and Originals | Relationship Status: "Well, if I had to describe Louie, I'd probably call him something like a brother. Of course, there are better brothers in the world, but... better one than none, right?"
The relationship between Louie and Yvette is more like a big brother, little sister relationship. In fact, she often receives counsel from him and she has a well-found respect for him, though she never really shows it. Of course, she never really shows her respect for anyone.

| Henrietta Cypress | Role: Disciple of the Earth | Side: Originals | Relationship Status: "Her? Have you seen her temper?" Yvette doesn't get along well with Henrietta; in fact, they are often seen arguing. She has a hard time taking in Henrietta's temper, and finds her anger unreasonable. In Yvette's mind, she's only joking. But someone might need to explain to Yvette why Henrietta gets so frustrated with her all the time.

| Iraa | Role: Disciple of the Wind | Side: Originals | Relationship Status: "Temper tantrum number two..." Iraa and Yvette have never gotten along. Whether it be through fights or constant bickering, their personalities have always conflicted. Though they try not to intentionally provoke one another, in the end, a fight between the two of them is inevitable.

| Neris | Role: Disciple of Water | Side: Ashes | Relationship Status: "Some people need to learn how to shut up," Yvette has never looked at Neris in a fond way. Yvette has never taken kindly to Neris's sarcasm. But even though their relation is

| Carter | Role: Disciple of Darkness | Side: Ashes | Relationship Status: "--"

| Alice | Role: Disciple of Fire | Side: Originals | Relationship Status: "What is up with her? I mean, seriously? 'Fire is not an object, it's a soul, and it must be treated with respect.' Really?" Yvette isn't that aquatinted with Alice, and at times, Alice finds it hard to hold her tongue when it comes to Yvette's snide remarks. There is definitely some tension between them, and it isn't often that they get along well.

| Seishin | Role: Disciple of Spirits | Side: Originals | Relationship Status: "Ehh..." Yvette has never really known what to think of Sei. In fact, she's always been rather puzzled and somewhat alarmed around him, mostly because she's never been called 'cute' before. And she doesn't know how to take that. You could say Yvette and Sei are standing on neutral ground, because even though she tends to be a little uncomfortable around him, they do make a nice team while in battle.

| Keith | Role: Disciple of the Ground | Side: Ashes | Relationship Status: "My life would be so much better without his presence." There are definitely some harsh feelings between Yvette and Keith. In fact, Yvette has never really liked Keith. She absolutely despises his charm and the way he messes with people, and over the years she's lost almost all trust with him. And after the argument, Yvette's disdain for Keith increased even more.