---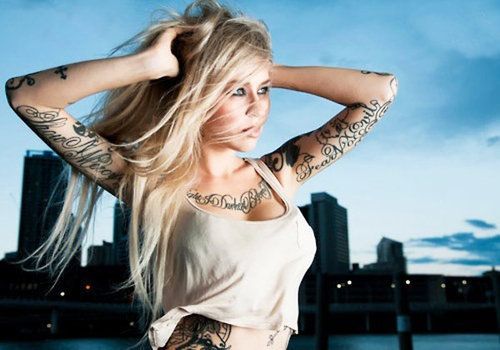 Name:
Natalya Irena Volkova||Наталья Ирина Волкова
Legal/Given Name:
Seraphina Alaine Volkova-Callaghan
Age:
18
Ethnicity:
1/2 Irish, 1/2 Russian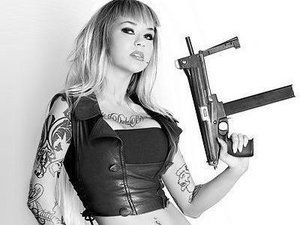 Crime:
Multiple Charges of-
Illegal Possesion of Firearms
Gun Trafficking
Drug Trafficking
Aggravated and Simple Assault/Battery
Armed Robbery
Auto Theft
Threatening/Assaulting an Officer
(Police and FBI)
Obstruction of Justice and Contempt of Court
Disorder:
PTSD
(Originally thought to be her only disorder but her symptoms only seemed to increase despite medication so they rediagnosed her with the illnesses below. The doctors believe that her illnesses now are the result of unrecognized issues before her traumatic experience as well as untreated PTSD that worsened and added to her exsiting mental instability.)
Paranoid Personality Disorder
Nightmare Disorder/Sleep Terror Disorder
(Both)
Anger Management Issues/Intermittent Explosive Disorder
(Under Consideration/Observation)
Face Claim:
Sara Fabel
Likes:
Sweets -
Candy, Cake, Brownies, Ice Cream, ect.
Dogs -
Especially her own
Tattoos -
Her Own, Other People's, Thinking up New Ideas
Shooting -
Paintball, Archery, Target Practice
Motorcycles -
Riding, Working on her Bike
Fruit -
Everything Except Bananas and Starfruit
Dislikes:
Authority Figures
Other's Noticing her Fears/Weaknesses
Teamwork
Being Underestimated
Talking about her Nightmares
Being Isolated/Alone
Talking about her Kidnapping
Pink, Yellow, and Pastels
Fears:
Ceraunophobia -
Fear of Thunder and Lightning
Sedatephobia -
Fear of Silence
Clinophobia -
Fear of Going to Bed
Merinthophobia -
Fear of Being Tied Up
Somnephobia -
Fear of Sleep or Dreams
Trypanophobia -
Fear of Needles/Shots
Ichthyophobia -
Fear of Fish
Hobbies:
Music -
Singing, Playing Guitar/Piano, Writing Music
Exercise -
Swimming, Lifting, Sparring
Games -
Board Games and Card Games
Coloring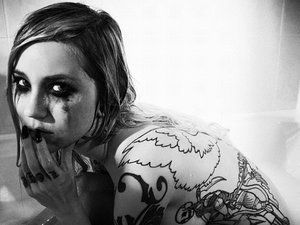 Personality:

Summary:
A Loner who is very slow to trust others and is easy to anger. Despite this, depending on her mood she can be quite enjoyable to be around.
Detailed:
Growing up Natalya was a fun-loving, energetic person who loved to get into trouble. Mostly spending time with her family she was very self-confident and was quite stubborn, used to getting her way. She's never been one quick to forgive a betrayal and is hard to calm down once she's angry.
Since everything happened she has been very distant, keeping mostly to herself and being very un-trusting of others. Though she's always had anger management issues she's far more volatile than she used to be, and the doctors are still trying to decide how bad her anger truly is.
History:
When Seraphina's mother was only 17 she became pregnant with Sera. Her mother's family being Italian and very strict, they kicked her out and disowned her. Her mother, having a drug problem, no home, and an unsteady job, decided to leave Sera with her father, a Russian mobster. Life after that was quite interesting for Seraphina. While most girls growing up went to school and learned ballet, Sera was going to drug deals and learning how to hot wire a car or murder someone in 30 different ways. Surprisingly, Sera liked her life and job a lot, her father gave her almost anything she wanted as long as she stayed out of the way and anything else he taught her how to steal. Once she was old enough, Seraphina insisted on getting a Russian name so her father gave her one, not changing it legally due to some trouble he had been in at the time.
Until she turned 17 Natalya ran with her father and the Russian mafia, wreaking havoc and making enemies. Three months before her 17th birthday Natalya was kidnapped by a small gang who had a grudge against her father. Though it's not known exactly what happened to Natalya she was with the group for months before the gang slipped up, leaving her bonds too lose. Once she got free she returned to her father but she was different. Recklessly, she went after the people who kidnapped her. Though she was well known with the police they were unable to ever get any real evidence against her or her father until then, a police officer and his partner witnessing her murder one of the men. When they grabbed her she lashed out against them, killing them both. Shortly after the FBI tracked her down and arrested her.
Due to several incidents during her trials and interrogations Natalya was 'sentenced' to stay at Ashgate until she was 21 and then an additional 10 year minimum at either an Adult Mental Institution or a Federal Prison depending on her progress.
She was admitted only a few weeks ago, her trials ending right before her 18th birthday.
Other:
*Has glasses but prefers to wear contacts
*Has three dogs that her dad brings with him when he comes to visit.
Shadow
Her oldest dog, Natalya has had Rage since she was 13 when she found him on the streets.
Lilith
Her youngest, Lilith is only 3 years old. Natalya' father bought her the pup a few months after her 15th birthday.
Rage
Her newest dog, Natalya bought him the month before she was kidnapped.