---
__
-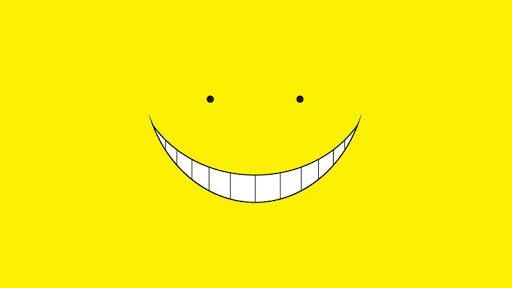 Based entirely off of the anime, Assassination Classroom / Ansatsu Kyoushitsu.
Roleplay Status: Open, accepting reservations. [Created on 28/11/2015]
---
▇▇▇▇▇▇▇▇▇▇▇ P L O T
______

A few weeks prior to the start of this story, a horrific incident took place in which a mysterious creature succeeded in destroying over 70% of the moon, thereby permanently forming it into a crescent shape, with a promise that - if no one was able to kill him in the space of a year - he would do the same to the earth.


______

This creature, seemingly unperturbed by the prospect of his own death, offered an arrangement with the government. After coming to the realisation that they were unable to kill him (like, at all) they reluctantly listened to the terms of this agreement, strange as they were. The creature would become a teacher (for a reason yet to be revealed), and in doing so he would allow some 30 students or so the opportunity to assassinate him at close range. The government complied with his wishes, on the grounds that he would not physically harm any of his students. The government, in an attempt to motivate the potential murders, have offered a reward of 10 billion yen.


______

The class they assigned to him is 3-E, otherwise known as the "End Class" for the reputation of its students. The youths most likely to end up here are the ones with shockingly poor grades, behaviour, attendance, etc. They're the lowest of the low, as far as school reputations go, and so to boost the morale of other students around the school, these select individuals - deemed unworthy of being taught in the same building as others - have been bundled together and shipped off to an abandoned campus away from the school, located on the top of what is described as a mountain, but could possibly be just a very large hill.


______

This is where you come in. For whatever reason, you've ended up in 3-E, and as such you're one of the 30 students awarded the chance of murdering a psychotic octopus-man, receiving a substantial cash prize and possibly earning world-wide fame for being the individual who saved the earth. You can go solo, or you can team up with others. Regardless, your objective remains the same, and you have dedicated yourself to it. It won't be easy; your opponent is fast, moving at a speed of Mach 20, and is one that even the government could not dispose of.
▇▇▇▇▇▇▇▇▇ E X T R A
______

This role-play begins on the 1st of March, 2015. The teacher has set a one-year deadline for his attack on the earth, and so the date of the apocalypse is the 1st of March, 2016. It should be noted that the role-play begins on a Monday.


______

While the main plot focus of the RP is the assassination of the teacher, that does not mean the school is teaching kids how to assassinate people; it's a regular school, they learn math, language, science, etc. Despite the threat of the end of the world looming over their shoulders, the students should always place their education first. But the RP is also about building relationships and dealing with all sorts of regular high school drama alongside all of this, so keep that in mind.


______

Specific information regarding the teacher, how to harm him, and all that stuff will be placed in the OOC thread. As well as rules and an optional CS template.
---


Yoroshi | Fifteen | Male | Shintaro Kisaragi |

RawkFist




Name | Age | Female | Shiina Mashiro |

Phantom's Sword




Name | Age | Male | William Macbeth |

Kapento




Name | Age | Gender | FC |

Open




Name | Age | Gender | FC |

Open
---
Taking place in...
There are no characters in this universe yet!
0 posts here • Page 1 of 1
0 posts here • Page 1 of 1
Arcs are bundles of posts that you can organize on your own. They're useful for telling a story that might span long periods of time or space.
There are no arcs in this roleplay.
There are no quests in this roleplay.
Here's the current leaderboard.
There are no groups in this roleplay!
Welcome home, Promethean. Here, you can manage your universe.
Arcs are bundles of posts from any location, allowing you to easily capture sub-plots which might be spread out across multiple locations.
You can create Quests with various rewards, encouraging your players to engage with specific plot lines.
Settings are the backdrop for the characters in your universe, giving meaning and context to their existence. By creating a number of well-written locations, you can organize your universe into areas and regions.
Navigation
While not required, locations can be organized onto a map. More information soon!
There are no groups in this roleplay!
There are no characters in this universe yet!
By creating Collectibles, you can reward your players with unique items that accentuate their character sheets.
Once an Item has been created, it can be spawned in the IC using /spawn Item Name (case-sensitive, as usual) — this can be followed with /take Item Name to retrieve the item into the current character's inventory.
Give your Universe life by adding a Mob, which are auto-replenishing NPCs your players can interact with. Useful for some quick hack-and-slash fun!
Mobs can be automated spawns, like rats and bats, or full-on NPCs complete with conversation menus. Use them to enhance your player experience!
Current Mobs
No mobs have been created yet.
Locations where Mobs and Items might appear.
You can schedule events for your players to create notifications and schedule times for everyone to plan around.
Add and remove other people from your Universe.
The Forge
Use your INK to craft new artifacts in Assassination Classroom. Once created, Items cannot be changed, but they can be bought and sold in the marketplace.
Notable Items
No items have been created yet!
The Market
Buy, sell, and even craft your own items in this universe.
Market Data

Market conditions are unknown. Use caution when trading.

Quick Buy (Items Most Recently Listed for Sale)
There are no characters in this universe yet!
None
Discussions
Most recent OOC posts in Assassination Classroom