Theme Song:
http://www.youtube.com/watch?v=PXWQgONoqWY
~ Pretend
---
Name:
Nami Radke
Age:
17
Race:
Human
Role:
Female #2(Cheerful, dense, Basically an idiot) Stationary Guard
Placement:
Stationary Guard
Years in Training:
Started training at the age of 14,
Years in Field:
3 years in field
Gender:
Female
Height:
5'6
Weight:
108
Weapon:
Metal archery bow & arrow
Oddities:
Loud, obnoxious, and irritating sounds soothe her. is afraid of fluffly/fuzzy things (was attacked by dogs/cats as a younger child for provoking them :'D)
Sexuality:
Heterosexual
Romantic Interest:
"hm...o. o"
Job:
Works as a mechanical tire changer on weekends
---
---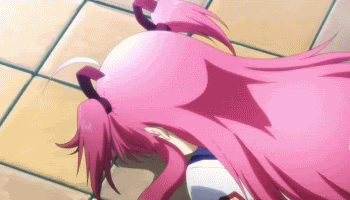 ---
---
Personality:
Nami is a typical fun docile, happy go lucky girl full of life! She has no boundaries, and she is very childish. and forget about personal space when your with or around her, she WILL invade your bubble~ she's a bit of an airhead when it comes to things like love, or any commitment, really. But she is a hard worker and can complete tasks which come to as a shock to her colleagues at first because she doesn't seem very capable, but if you give her a chance, she can be extremely diligent when she's not side tracked by, a butterfly or something.. She Is really naïve and a bit ignorant and she's not liberal at all, but she will do her best to keep in check with everything and everyone around her. She's very blunt and to the point if she has to say something, she will say it exactly the way she thinks it without giving it a second thought. She's overconfident in herself, and wont let anyone push her down.
she will do whatever she can in her ability to help someone with a problem or help them overcome any sort of sadness they may be going through, even though she might not get why they're sad at first or grasp the situation, she will try to do her best. She hates inequality and wants to include everyone no matter their class, ranking, or ego. She has a cheery aura around her anyone around her can't help but smile at her obliviousness and cheeriness. She's a huge extrovert.

"I AM NOT OBLIVL...WHATEVER YOU JUST SAID!!!"
Likes:
learning new things, winter weather, helping others, peaches, cuddling, videogames, archery.
Dislikes:
lipstick "its so tacky =n =", fluffy/fuzzy things, liars, gossip, rumors, humidity, mushrooms, crowds, anything plaid.
Fears:
being alone, being useless, the unknown, losing someone, not having enough time.
Talents:
Archery, fast runner, very stealthy and will pop up out of the blue without any warning, spitting watermelon seeds with perfect aim.
Flaws:
Clumsy, dense, oblivious, naïve, ignorant, vulnerable, bad at keeping her emotions in.
---
---
[URL=http://s1363.photobucket.com/user/airyshiM/media/embarrassed1-onion-head-emoticon_zpsef6aa0b7.gif.html][IMG]
Bio:
After hearing about the breaching of the wall, Nami joined the military because she was sick and tired of being the innocent bystander, she wanted to have purpose and meaning to her life, she didn't want to be hopeless or useless. Also she wants to protect those who she loves and cares about. She just wants to help make a difference. She aimed for stationary guard because she is good at weapon usage and aim and it was the only field that met her full potential, and she had the creativity for the job. She didn't want to change her life much after the breaching, she loved being happy and all hyp, so she still stays herself because that's what her brother had told her to do. "Stay Nami.No matter what." She wants to make her brother proud and feels she is in debt to him because he had raised her. Namis parents lived a life of gambling and they were abusive, Zeid, Namis older brother, 12 at the time, he had enough and took Nami and ran away and practically raised himself and Nami and grabbed any small job he could to provide for himself and Nami. So she wants to do as much as she can to protect him because he had developed hyper tension due to the hard labor he had done at his young age.
Other:
Shes a late bloomer, so she kinda looks a little kid fresh out of middle school.
"AM NOT!!! LOOK AT THESE SUCKERS!! GONNA CALL ME A LITTLE KID NOW?!?!?"
Family:
brother (22) Zeid, (alive)
Mother N/A
Father N/A
---
---
---
---
Character thoughts: Sorin Mayhew: "WE HAVE TO BE BEST FRIENDS!! she seems super nice and tons of fun to be around!~ and her hair is very pretty.*nods*"
Mikasa White:"S-.....SO.....SO BEAUTIFUL!! shes...my ideal rolemodel!"
Arin Pikasa:"I WANT TO HUG,HUG,HUUUUG HIIIM!!! he reminds me SO much of my big bro!" San Fekatchi:"she's too quiet..but im sure she has a good reason for it."
Akira Ryuuzaki:"WHOA SHES CRAZY!!! I WANT TO GET TO KNOW HER BETTER." Razeluxe Ackerson"he's very admirable and hardworking!! I WANT TO GET TO KNOW HIM BETTER ALSO!! Riku Ryuuzaki:"i don't think we will get along very well...BUT I STILL WANT TO GET TO KNOW HIM BETTER." Conrad Reinhardt:"HE'S UBER COOL! I WANT HIM TO GIMME POINTERS"Rinii LeQuarte"She's too paranoid and she's a worry wart. But she is very sweet and earnest! *nods*"
Argus Helion:"*shrug* o u o" Kyo Biente: He always seems sad and distant *pouts*"
---
---