---
---
Full Name:
Razeluxe Ackerson
Preferred Name:
Raze
Nicknames:
Ray, Ackers
Age:
18
Race:
Titan Shifter
Role:
Male Titan Shifter
Placement:
The Scouting Legion
Years in Training:
Beginning training at the age of twelve, he's been working for 6 1/2 years.
Years in Field:
He's spent two and a half years on the field, killing around five Titans in total, delivering the killing blow himself on two of them.
Gender:
Male
Height:
5'9"
Weight:
165lbs
Weapon:
Hand to hand combat skills.
Oddities:
He likes strawberries more than your average bear. A bit too much, perhaps....
Sexuality:
Heterosexual
Romantic Interest:
None at the moment.
Job:
None
---
---
---
---
Personality:
Razeluxe is a very kind, mellow being most of the time. He, unlike most, does not typically get upset over small things and shrugs anything insignificant off without a care in the world. In that way, he makes friends seemingly without any effort. Raze isn't one to discriminate at all, claiming that hatred should only ever be placed on a Titan, not another human being and he absolutely hates seeing people who pick on others, which can and does make him appear to be a good guy, as he is not passive about ensuring people who don't deserve poor treatment don't get it.
You'll find he's often unable to say no to requests. If you need help, he's usually there for you even if you don't have the best of relationships (which is pretty hard not to unless you really try...) and is often called reliable. Of course, this is only true when he's not busy himself. He enjoys and diligently works towards his training for the Scouting Legion. He would never slack off.
It should be noted that seeing him with an angered expression on his face is not common, but upon mentioning Titans, this fact changes quickly. Raze, much like many people, hate Titans, only his dislike seems much more potent than others. Considering he lost his father to one, one can't really say it's a surprise. He takes any and all chances he has to make absolutely sure he can deal with Titans when he's able, and actively seeks to kill as much as humanly (or maybe even Titan-ly (God that was horrible) possible).
Likes:
Dislikes:
♥Sparring for fun
☠Discrimination
♥Kind People
☠Titans
♥Helping others
☠Grapefruit
♥Strawberries
☠Mean people
♥Relaxing
☠Selfish people
Fear:
Romantic Investment. What if he's not kind enough to his beloved? Doesn't give her enough flowers, enough attention, enough space, enough time, enough love? The word 'love' is heavier to Raze than most people. He would never date someone he didn't really like, nor would he date someone 'just because'. That's why it'd be called an investment, since he wouldn't ever know what to do if he blew it. Because of this, he naturally doesn't respond smoothly to flirting, and doesn't do it himself. In severe cases he can go into a panic.
Talents:
Swordplay and hand-to-hand are his best physical traits. Odd, considering his stance on fighting between humans, but he believes that one day, when Titans are no longer a threat, that people will need to know how to defend themselves from each other. He doesn't like that thought, but he knows it's inevitable.
He is also quite resilient, having been swatted out of the air by a Titan and survived, albeit with grave injuries. In the end, he's recovered fully and hasn't shown any signs of permanent disability. A high constitution should also be noted, since he doesn't really get sick.
Flaws:
He's not the brightest person in the world and can sometimes take a moment to pick up on vague things. Aside from that, he's not suited for the leadership role, preferring to be led and oftentimes is unable to come up with effective suggestions that require much thought.
The worst trait in him is that he can pull a 180 with his common personality and turn outright berserk if he saw someone die to a Titan. It'd be his sole goal to kill it and make sure to pay them back for what they did. This, of course, is adding to his already definite hatred for the giants. He doesn't often listen to logic in that state and would better respond to physical means of pulling himself back together.
---
---
---
---
Bio:
Raze, in personality, had never displayed any violent tendencies when he was younger. Throughout his early life, he had remained the kind, young man he's often made out to be without a doubt. Many expectations would be broken when meeting him for the first time, as he grew up to the high-class. His mother was a noble and his father was, at one point, a respected farmer. Not just any farmer, but he was one of the main suppliers of wheat about ten years back before he became a member of the Scouting Legion. Nobody was ever really sure why he did join the Legion in the first place. For pride? For duty? Nobody was sure, and he never clarified this before his death.
That would be where Raze's story really began. His father was gone for an extended time when his son was eight years old. All his mother did was worry and that's all he could really do too. Worry about the safe return home from his father, who hadn't a single reason to be in such a dangerous position. Days would go by as he'd venture outside the safe walls and into the hazardous wild, not returning for days on end, spiking anxiety and fear for his family every time he did so. But they both had eventually come to bear with it. After all, he did always come right back home, healthy as when he left and usually brought back a souvenir in the form of a broken blade used on a Titan. They had even almost forgot about the danger of his job.
That's probably why they were so shocked when his allies came home without him.
Losing his father tore Raze apart, as he looked up to him. His father, rich without including his wife's wealth, always taught Raze that people are equal and that nobody, high or low class, should be treated differently. Material goods were not important. Your family, friends and life were the most important thing. You could live without the small luxuries afforded and you could have much more fun with a friend than you could without one. It is his father that made him into the kind, young man he usually is, and it's his father's death that changed him.
When he had finished grieving, Raze took to anger against the Titans. Not just because they were bullies, because they ate people 'for fun', because they were the biggest threat to his own race, but also because they had eaten his father. His kind father! How dare they! Normally selfless, he couldn't help but hate them even more for a selfish reason, and that's why he started training to become a solider just like his father. Years passed and things got done. He became well-trained in the art of dispatching Titans and he used this on multiple occasions. He had earned the nickname "Dark Sunshine" with his old friends (some now eaten) do to the fact that he outright changes from a sunny, young man to a darker, berserk-like being when dealing with Titans.
Other:
Sometimes mistaken for being younger than he actually is.
Family:
Vayne Ackerson, 39 - Deceased: Killed in Action by a 15 meter Titan.
Irelia Ackerson, 37 - Alive
---
---
---
---
Character Thoughts On Others:
Akira Ryuuzaki
- "Something's wrong with her, but I can still see her somewhere inside...."
Argus Helion
- "He laughed when someone was eaten? I'd rather not get started..."
Arin Pikasa
- "Well, he's definitely not too lazy to spar from time to time."
Conrad Reinhardt
- "I can't see anyone else taking the position of leader. Calm, mature and level-headed, he's a cool guy.....even if he doesn't like my jokes."
Mikasa White
-
"OMG ITS MY WAIFU HOLY FUCKING BALLS I AM SO HAPPIES"
"She doesn't hate me, I don't think.... hard to tell, but she's cool!"
Nami Radke
- "I love how happy and excited she is! It makes the day go by faster. But she's a bit too touchy for me.... I guess I can bear with it though."
Rinii LeQuarte
- "She's cute. But she has a habit of changing during the fighting, kinda like me
...... except she has a railgun.
"
San Fekatchi
- "... Not everyone handles things the same way. I'm just odd, that's all."
Sorin Mayhew
- "Oh, her? She's definitely a fun person! I like her."
---
---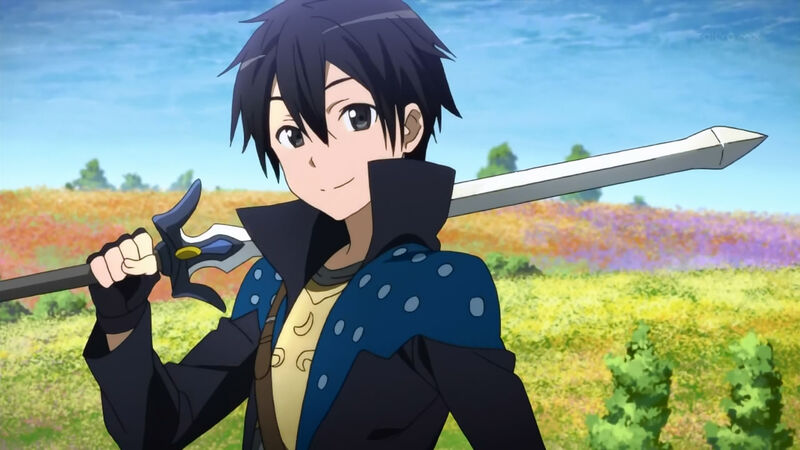 ---
---
Theme Song:
Monster
- Skillet