---
---
███████████████████████████████████████████████████████████████████████
---
---
Tʜᴇ Lᴇsʙɪᴀɴ
x
#FF0000
---
---
███████████████████████████████████████████████████████████████████████
---
---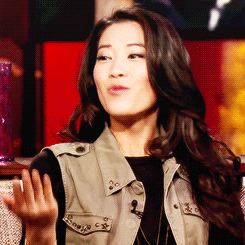 N A M E
Carissa Leilani Seong.

N I C K N A M E (S)
Carissa likes to be called Rissa by most of her friends but for her close friends, she let them call her Leilani but those are the only two nicknames that she'll accept for real.

B I R T H D A Y
December 1st, 1999.

A G E
Eighteen.

S E X U A L I T Y
Homosexual.

E T H N I C I T Y
1/2 Korean, 1/2 American.

S E C R E T
Carissa and Autumn had a lesbian encounter with one another but it didn't go quite as planned and they grew distant for awhile. It was just mere days before her death that they became friends again though.

H E X
#842010
---
---
███████████████████████████████████████████████████████████████████████
---
---

S T Y L E
Carissa's style is a bit up and down. One minute, she's dressed in girly girl attire that consists of blouses, skirts and heels. Another minute, she'll have this grunge appearance about her, which consists of anything leather and black such as a jacket, jeans and heeled boots. Most of her clothes are color coordinated with each other but most are just thrown together..

H E I G H T & W E I G H T
5'6. 112 lbs.

A P P E A R A N C E
Carissa's trend is definitely girly girl and materialistic. In her closet, you'll find the latest fashion wear along with heels or flats and purses to match every single outfit. She never wears anything twice unless she really has to. She is of Korean descent and her face along with her skin complexion shows it. Carissa has an olive tint to her skin and even though being on the beach or outside almost constantly, it seems like she doesn't tan, at all. She has long, thick and raven colored locks of hair that cascade down well past the middle of her back. She has chestnut brown colored eyes. She is a very tiny and petite female, only standing about five foot six and weighing one-hundred and twelve pounds. She may have a very petite frame along with an athletic built to her body. Carissa has a tattoo on her ankle of a heart with devil horns popping out of it; she even has one on her wrist of her birthday in Roman numeral format. She only has her two earlobes pierced along with one industrial piercing in her left ear and her belly button pierced.
---
---
███████████████████████████████████████████████████████████████████████
---
---

L I K E S
✔ Milkshakes - Especially Cookies 'N' Cream ✔ Hugging, Kissing & Cuddling ✔ Social Media - Snapchat, Instagram, Twitter & YouTube ✔ Cooking & Baking ✔ Punctuality ✔ Romantic Gestures ✔ Crime Drama Shows - How To Get Away With Murder, Law & Order: SVU ✔ Video Games ✔ Starbuck's ✔ Reading old and new books ✔

D I S L I K E S
✘ Heavy scents – Perfumes or Cologne ✘ Meaningless Conversations ✘ Racist remarks towards her ✘ Gory horror movies ✘ Drug Users ✘ Being sad ✘ Cold weather ✘ Girls that can't take a hint ✘

T A L E N T S
• Singing • Cooking & Baking • Teaching people Korean • Fashionista •

W E A K N E S S E S
• Her emotions • Her sexuality • Autumn's death •

---
---
███████████████████████████████████████████████████████████████████████
---
---
P E R S O N A L I T Y
Carissa is a very intelligent person and always looking for the good inside of everyone. She has been known to seek out the good person that she knows that everyone can be. Carissa's mind is always churning with ideas, whether creative or downright random. She never seizes to an opportunity to share or write down her ideas. She is also a very adventurous person, always studying for new places to see and new things to do. As the old saying goes, Carissa will try anything at least once - No matter what it is.

But of course, like every other human being, she does have her flaws, too. Though she may be emotional, at times, Carissa is very direct and straightforward, not one to hold her tongue for anybody. She may seem cute and cuddly but make her mad or get on her bad side then she will definitely make you regret it. Overall, Carissa is a great person to be around and she likes meeting new people and making new friends. She is very approachable, well sometimes and will always welcome someone with a smile until she knows their purpose or worth.

---
---
███████████████████████████████████████████████████████████████████████
---
---
F A M I L Y
Cristina Kim Seong || Biological Mother || Forty-four || Nurse || Living
Kevin Adam Hutchinson || Biological Father || Forty-six || Martial Arts Instructor || Living

---
---
███████████████████████████████████████████████████████████████████████
---
---

H I S T O R Y
Carissa upbringing was something that she quite enjoyed whenever she thinks about the past. Many people don't really know much about her but for those that do, they know that she was born in Seoul, Korea at the hospital. She was nearly born in the house because her father was out working at the local karate center when her mother's water broke but her mother prevailed and drove herself to the hospital, ready to pop. Of course, her father came approximately an hour later to bare witness to the miracle of her birth. But it was also that day that his father got offered a job as an instructor for martial arts within the states and he accepted but Cristina wasn't too happy about it though kept quiet about it until it was moving day. Kevin was ready and excited but Cristina, along with Carissa in her arms, told him that she wasn't going anywhere because she wanted to raise Carissa up in Korea so she can learn about the culture. Kevin understood and went to states alone but kept in close contact with his wife, Cristina and daughter and only child, Carissa.

Growing up, her mother showed her many things and taught her many things, as well about the Korean culture. Whenever they were available, Cristina would fly herself and Carissa out to the states and visit her father, who was doing rather well at the martial arts center that he was working at. Carissa went there with him one day and started following along with him and the class. From that moment, she wanted to learn martial arts and whenever her mother flew back to Korea, she immediately signed her up for lessons and Carissa was there every single day until she turned teenaged years.

It was whenever she started high school that her mother and herself went back to the states permanently since her mother found work there as a nurse. It was nice to see her mother and father wrapped into each other's arms again and feel the warmth of love in the air. While she was new in school, she met a girl named Autumn that made her feel like she had been at the school forever. It was a nice feeling and they had been friends ever since that day as Autumn even introduced Carissa to her friends and it seemed as if they acknowledged her as a friend from the start, too. But all good things must come to an abrupt halt and that's exactly what happened between herself and Autumn after Carissa invited her over for a sleepover. That was the night that Carissa and Autumn confided into one another but it was Carissa that wanted a little bit more from Autumn that night, which she succeeded for a moment but Autumn could not follow through since she wasn't homosexual.

It was after that night that Carissa and Autumn became distant from each other but Carissa was still friends with everyone else. Her distance from Autumn went on for some months and it wasn't until just recently that she wanted to rekindle their close friendship with one another. Things went back to being relatively normal but things took a sharp turn when Autumn was found dead and this shocked Carissa, who was very, very saddened by the news. She did not know what to think about the news really but felt horrible since her and Autumn had just became friends again. It wasn't until the day of her funeral that she came out to her parents, who were very much relieved with her but went silent whenever she told them about her and Autumn.

Things around Norwood wasn't going to be the same and Carissa that things are about to get really, really weird.

---
---