---
---
███████████████████████████████████████████████████████████████████████
---
---
the sheriff's
x
son
---
---
███████████████████████████████████████████████████████████████████████
---
---
N A M E
Dashiel Ronan Borrows

N I C K N A M E (S)
Dash

B I R T H D A Y
June 5th || eighteen

S E X U A L I T Y
bisexual & biromantic

E T H N I C I T Y
Carib

S E C R E T
Tampered with evidence to set his friend free.

H E X


#BD6A1C

&

#F3AB68
---
---
███████████████████████████████████████████████████████████████████████
---
---

S T Y L E
Dashiel is very up to date with his fashion. He likes very 80s and 70s style looks while staying hip at the same time. He'd like to think of himself as a metrosexual when it comes to dressing himself. He sure as hell ins't going to show up in basketball shorts and a random t-shirt. On the occasion he will wear a hat, he has several.

H E I G H T & W E I G H T
6' 2'' & 215lbs

A P P E A R A N C E
Dashiel knows himself to be quite attractive and he's not afraid to acknowledge that fact. He has always been confident with his looks, and he's never afraid with being bold about his different looks. He has a rather broad shouldered athletic build, and from birth had been blessed with a strong jaw. However, his curly hair and brown eyes, soften the harsh angles of his face and give him an overall kind appearance, yet an underlying tone of mischievousness. Dashiel also has three tattoos, that he got the second he turned eighteen. A wolf on the top of his hand, a small lotus flower at the base of his thumb, and the outline of a forest wrapping around his left forearm. When he was sixteen he also got a septum piercing that he occasionally will wear. Lastly, he has a very modern pair of glasses that he wears when he doesn't want to put in his contacts.
---
---
███████████████████████████████████████████████████████████████████████
---
---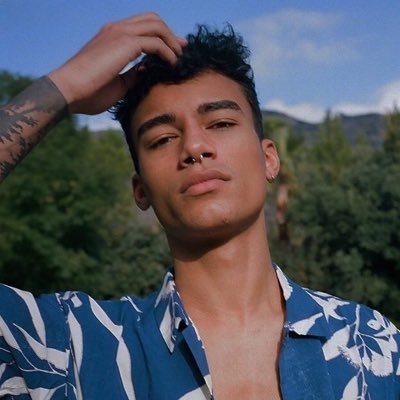 L I K E S

Growing up Dashiel always loved

the taste of mangos in all forms.
His favorite holiday will always be
halloween
, he adores dressing up no matter how old he gets. He also enjoys the
atmosphere of parties
, especially the
dancing
. Dashiel loves
rain storms
, he finds them calming and will often sit out on his back porch and watch the rain fall. He's a major
cuddle partner
, he loves watching movies and popcorn with a good cuddle session. He is also a big fan of
traveling
and the
beach
.
D I S L I K E S
Dashiel has always been a little afraid of
heights
, making him hate the idea of flying. He hates
materialistic people
, he appreciates real and honest people. He is a little bit
claustrophobic
and can't stand small inclosed spaces, that can incite a lot of panic within him. He hates
anticipation
it makes him super anxious to the point where he gets sick. Dash also despises
making big decisions
for a group. That kind of responsibility is something that truly scares him. He gets panicky often when he's in a uncomfortable situation and he hates the
anxiety
---
---
███████████████████████████████████████████████████████████████████████
---
---
P E R S O N A L I T Y
Dashiel is a very open person. This proves to be a very good and bad thing. He's not afraid to tell anyone how he truly thinks of them, he sees not being honest to someone and dragging them along as a problem. Better to stop something before it starts then lie and hurt them. Dashiel can sometimes have a bit of a temper when he is crossed or any of his friends are. He's not afraid to be a little scrappy when he needs to be, which can sometimes get him in a deal of trouble.
Other than sometimes hurting others feelings, due to how brutally honest he is, Dash makes for a great friend. He's bubbly, loyal, and a true comedic. He loves making others laugh and is an expert in cheering others up. Granted, he also knows when to be serious and take a step back and give someone their space. He still worries about his friends all the time, and that's just something he can't stop. He'll do anything for his friends, making him a little easy to be manipulated. Dashiel will do stupid things for love.
When Dashiel cares for someone he will put his entire being into them, making him clingy. Some people dislike this about him, he's had a few relationships in which his caring nature seemed overbearing, and he never knows when he's going overboard. He'll make decisions good or bad, for them which has been a problem in the past. He's so afraid of losing the people he loves that he becomes anxious and flighty when it comes to making decisions about relationships.
---
---
███████████████████████████████████████████████████████████████████████
---
---
F A M I L Y
Mark Borrows
: A simple and stern man, and the sheriff of Norwood. He is very caring and protective over his family, and due to the recent suspected homicide he has been on full alert with his children. He has a very positive relationship with his son, they respect each other and always watch Sunday night football together.
Alisha Borrows
: A very intellectual and determined woman, that works for the local new station in Norwood. Her mother often believed she'd never be tied down to a man with how headstrong she was. Around her children she is very lighthearted but not afraid to point out the obvious if they sneak out or their grades drop. Dashiel loves his mother with everything he has, and admires her in a sense.
Madison Borrows
: Definitely the more spontaneous twin, she is very bright and excitable. Always with her friends or her boyfriend, she is a social butterfly. She adapted the fastest after the move, and is somewhat considered the trouble twin. Dashiel loves Mads but sometimes she can get a little annoying in his eyes.
Melanie Borrows
: The quieter of the two, Melanie has always been Dashiel's favorite. The two related to each other on a different level than his other sister and they are super close. Mel is a theatre nerd at her school and the care-free child of the family.
---
---
███████████████████████████████████████████████████████████████████████
---
---
H I S T O R Y
Dashiel Borrow was originally born in the lovely and busy town of Manhattan. His mother was a successful journalist and worked for the New Yorker for quite sometime while his father served in the police force. The Borrows lived a rather busy life, but for some time they loved it. It's known that the only true people who like New York are the people who live there. A couple years after Dashiel was born his mother was proud to announce she was pregnant with twins. Soon after his twin sisters Madison and Melanie were born, and the Borrows realized they needed to slow down.
Of course, Dashiel was the only one upset when his parents proposed they pack up the life they had and move somewhere quiet. He enjoyed the bustling city and the harsh lights and noises, it was comfortable to him. However, he didn't have a say in the end and his family ended up packing everything and moving to the quiet town of Norwood Falls, Pennsylvania. For the first couple of months Dashiel hated it, he so badly wanted to move back to New York. He though Pennsylvania was boring and besides the occasional hang out point, there was nothing there for him.
Eventually, he learned that there was no way his parents were moving back so he finally tried to adjust to the new lifestyle. He found a couple of friends at his new school, it wasn't hard for him to considering his bubbly and light personality. Most of them however where a little rough around the edges and he found himself getting in some trouble. His father had moved from a mere officer in the NYPD to the sheriff of Norword, this became a blessing and a curse for Dashiel. He had increasing anxiety that his father would figure out the stupid shit him and his new friends were doing.
One night, Dashiel completely crossed the line. One of his friends was caught, and it was
bad
.
Real bad
. He had been in a large drug bust, and was looking at spending a considerable amount of his life in prison. Under pressure from his other friends, Dashiel stole his father keys and broke into his office and tampered with the evidence which in turn set his friend free. After that terrifying experience Dashiel completely cut ties with his friends and vowed to start over again, he never told his father what he had done.
---
---
███████████████████████████████████████████████████████████████████████
q