---
---
███████████████████████████████████████████████████████████████████████
---
---
---
---
███████████████████████████████████████████████████████████████████████
---
---
N A M E
Veronika Antonevna Mikhailov

N I C K N A M E (S)
Ronnie (common, neutral, she prefers her full name)
Lisichka (parents only)

B I R T H D A Y
17th June 1999| 18

S E X U A L I T Y
Heterosexual

E T H N I C I T Y
Caucasian
Russian-American

S E C R E T
She has a crush on Felix which Autumn found out about.

H E X
#770976
---
---
███████████████████████████████████████████████████████████████████████
---
---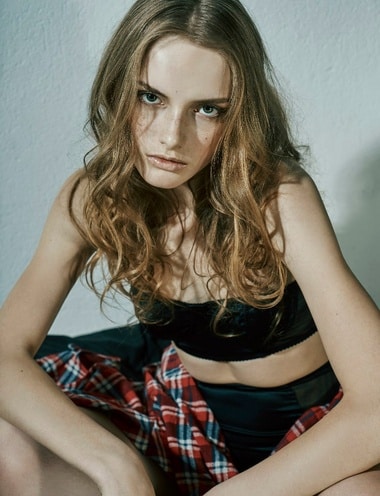 S T Y L E
Veronika's style swings wildly from pastel feminine clothes, peasant blouses and maxi skirts and the likes, to clothes that would see her blend in easily at an indie-rock concert. She likes what she likes, even if her wardrobe doesn't follow a distinct style. The only consistency is her preference for flats or low heels. She's rather Bambi-ish in anything more than three inches.

H E I G H T & W E I G H T
5'6.5" and 125lbs

A P P E A R A N C E
Veronika has a very slight frame, with little in the way of fat or muscle definition, which hides the strength that she actually possesses. She has delicate, pixie-like features, with large green eyes, and dirty blonde, wavy hair. In the summer, Veronika gets a dusting of freckles across her nose and cheeks. She's tiny all over and tends to be seen as cute by her peers, much to her personal annoyance.
---
---
███████████████████████████████████████████████████████████████████████
---
---

L I K E S
Most often, Veronika will be found in the library indulging in her love of literature. She loves visiting old book stores and could quite happily spend hours browsing their shelves. Veronika is definitely a bibliophile. She loves dogs, especially big fluffy ones. She wasn't allowed a big dog though, so she has a schnauzer called Sasha. She prefers green apples over red. Her favourite flowers are pink roses. Veronika gets her caffeine fix from tea. She likes jazz and indie music. She likes horror movies.

D I S L I K E S
Veronika dislikes coffee. The taste is far too bitter. Despite being of Russian heritage, Veronika cannot stand vodka. To be honest, she doesn't really like alcohol all that much anyway. She also doesn't like rap music. It's hard enough keeping track of rapid fire Russian from her dad's side of the family without trying to keep track of rapid fire English.


---
---
███████████████████████████████████████████████████████████████████████
---
---
P E R S O N A L I T Y
Loyal | Calm | Compassionate | Stubborn

Veronika is a fairly laid back soul and it takes a fair bit to really rile her up. She does get annoyed but few have ever seen her really lose her temper, and it's really not a pretty sight. She usually just goes with the flow and lets the majority decide the action, only digging her heels in when something is hugely important to her, and then she can turn into a stubborn little madam. Veronika rarely takes the role of leader, not liking to make the end decision, but if she has to step up to the plate, she will, particularly when people are taking too long to make their minds up.

Veronika is very careful with people's feelings, and tries to find the best way not to hurt anyone's feelings, even if that means her own get hurt, which is why she kept quiet about her crush on Felix.. She hates to be the one to dish out the harsh home truths to people and usually just lets people get on with their own lives. Veronika is a fiercely loyal friend and will always have your back in a fight unless she also likes the person you're fighting with, in which case, she will walk away and let you two figure it out, or someone else. She refuses to take sides among friends. It really is more trouble than it's worth. She tends to avoid arguments, but when she's in the wrong, she will apologise as soon as she can, sometimes, straight after the words have left her mouth. If she believes that the other person is in the wrong, she will hold a grudge until they've apologised and then, as far as she is concerned, that's the end of it. She can be the kind of person to give someone way too many second chances, but she does try to see the best in everyone, even if no one else can see it.

While she does try to give off a confident aura, Veronika isn't that confident. Not to say she's shy, because she isn't, she's just not that gregarious. She can be sociable, she loves listening to people's stories in particular, but she does like her own company from time to time. Also, she's never quite sure how to take a compliment, and generally just feels uncomfortable, smiles and says a polite 'thank you' even if she doesn't really believe it herself. She knows that she isn't a bad person, but she feels uncomfortable when people point out good things about her.
here.

---
---
███████████████████████████████████████████████████████████████████████
---
---
F A M I L Y

Father:- Anton Mikhailov. Lawyer. 46.
Despite his busy career, Veronika has always been close to her father. As a child, she would spend many hours in his office while he explained his case notes to her on weekend afternoon or while her mom was working. While he may have missed some of her ice skating performances, Veronika never realised because he was always there to pick her up afterwards.

Mother:- Angela Mikhailov (nee Carter) Accountant. 45
Angela did most of the heavy lifting when it came to raising Veronika. Her job allowed her to work from home meaning she had more time to dote on her only daughter. Veronika is close to both her parents but is more similar in temperament to her mother.


---
---
███████████████████████████████████████████████████████████████████████
---
---

H I S T O R Y
Veronika is the only child of of Anton and Angela Mikhailov. She had a happy childhood growing up in the small town, which pockets of her father's family invaded every other Christmas, from wherever they had settled. She was twelve before she saw a face for the second time, but at least the food was always good. The years they don't come, the family travel upstate to spend Christmas with her maternal grandparents. She met Autumn in kindergarten and from there she met Felix and the others. Although she didn't know it at the time, these would be the six people she would grow up with, at least until Autumn died. Luckily, she quite liked all of them.

While she was in elementary school, Veronika took up ice skating. She intended for it to be a hobby, but it soon become something she did competitively. When she's not at school or with the six, she would be at the ice rink practising her basics or perfecting a new routine. She was good and won a few junior titles along the way. The 5AM training sessions during the week weren't fun, and they still aren't, but they're a sacrifice Veronika is willing to make if it keeps her in contention for titles and nationals.

While she always liked Felix, she wasn't aware that her feelings towards him differed from her feelings towards the rest of the group. Not until they started high school and he and Autumn officially became an item. Even though there looked to be something inevitable about Felix and Autumn, Veronika couldn't quite summon the levels of enthusiasm that other people seemed to have. It took her while to realise that she was jealous of Autumn. Veronika wasn't used to not having what she wanted, and suddenly Autumn had everything she had ever wanted. Somehow, the news that Veronika had a crush on Felix made it back to Autumn. The two had a minor confrontation about it. Autumn seemed to be thrilled that someone else liked Felix. Veronika told Autumn that she just wanted Felix to be happy and Veronika never thought on the issue again. Autumn held onto that though and took whatever opportunity she could to flaunt Felix in front of Veronika. That never sat well with Veronika, not just because of her feelings towards Felix, but because the way Autumn used Felix like he was property.

In the days before Autumn's death, Veronika finally cracked and called Autumn out on her treatment of Felix. Of course, Autumn accused Veronika of petty jealousy which Veronika didn't take well. Next thing she knew, her hand was stinging and Autumn was cradling her cheek. That was the last time Veronika spoke to Autumn of her own accord. She was civil when they hung out with the rest of their friends, but the closeness of their previous years disappeared. Knowing how the argument would look to the police, she omitted it from her statement, instead telling the police that they had simply drifted apart.

---
---
███████████████████████████████████████████████████████████████████████
---
---

T A L E N T S
Ice skating
Ice dancing
Bilingual- is fluent in Russian as well as English
Reading people

W E A K N E S S E S
Felix
Pastila
Heels
Occasionally suffers leg pain due to ice skating.

---
---
███████████████████████████████████████████████████████████████████████
---
---