Name:Chiyo Saito
Age:20
Element: Earth / metal
Weapon(s) if any: She often carries an inch-long metal piece which she bends at will into useful tools
History: Chiyo is the eldest child in the Saito family out of four other children. Her mother passed when she was only seven or eight and the youngest was under a year, so Chiyo considers herself the woman of the house. Her father, Bunta, has owned and run a used tech shop, Scrappers, for as long as she can remember. It doesn't generally do very well--according to the books anyway. Sometimes, her father does well off the books. Not everything has to follow the rules, Bunta often told his daughter. More often than not, Chiyo has had to follow this thought to help their struggling family scrape together another meal. Her bending has often been helpful to call coins to her hand from people's careless pockets and purses. And if a stone rose up suddenly in front of them and tripped them--well it would be rude not to help them up, and they shouldn't mind being a few coins lighter after she helped!
Her father, also a skilled bender, can make (Chiyo is convinced) any sort of tech imaginable. Sometimes, the government just doesn't know what could be helpful! Sometimes they don't need to know, Bunta would say. Her father often buys things from customers as well--but he kindly never bothers them with questions about where items came from. He respects his customers and they respect his business, Bunta would tell her.
Chiyo wants nothing more than to one day help her father run Scrappers--even though she knows she's a little strange. Once when she was small, she lost her temper at her sister and--fire may have incidentally happened to eat up her favorite stuffed Owlcat--so what of it? She couldn't let those weirdos take her away from her family. Not when they needed her. They were her responsibility. And that was that. She never told anyone and she was careful to try to keep her temper in check from then on.
Now that she's 20, her father has promoted her to partner of Scrappers! Her long-awaited dream. She has big plans for this place--big plans! And they wouldn't need to scrounge if her ideas worked. Would need to worry about listening for the Police Airships overhead anymore either. They were all too stupid to catch them anyway--but Bunta still made sure all his children were on alert for the sound.
Appearance: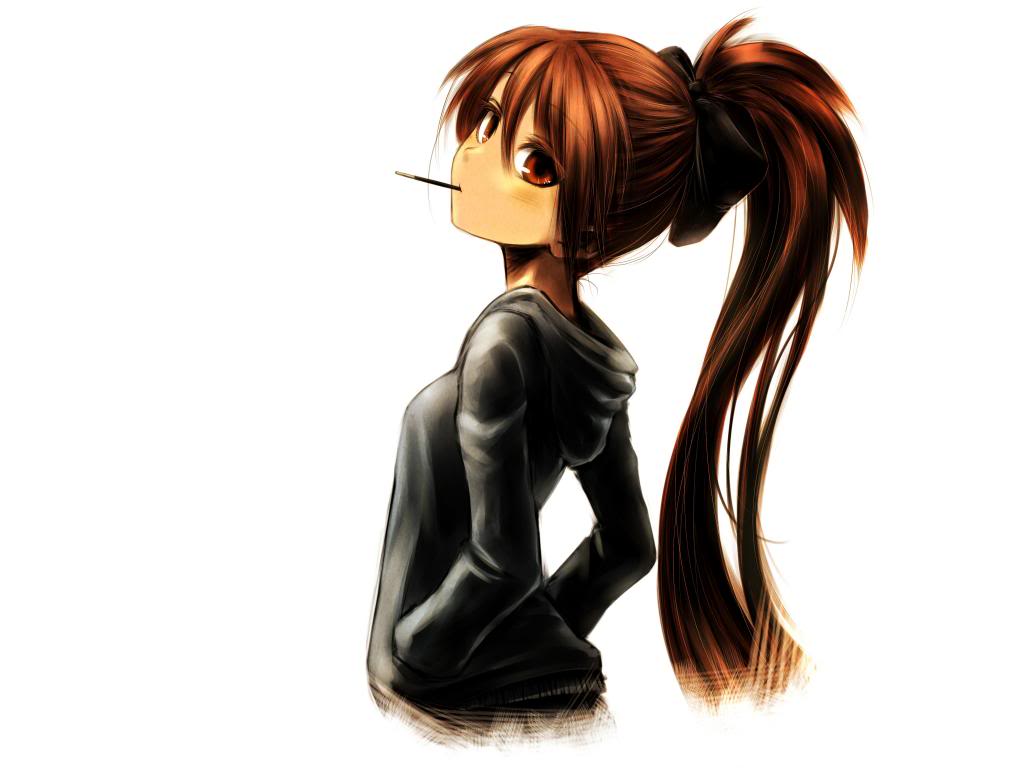 She wears her hair long, but don't let her pretty looks fool you--she's no pushover. She prefers to wear black, rather than the traditional green. Her father likes to keep to greens though. She often ties her long hair behind her head in a heavy ponytail, and at her hip she keeps an inch long metal rod--finding it useful in a pinch. Chiyo has an athletic build, from a lifetime of tough streets and tough work. She is approximately 5'5' and her weight is none of your business. Her eyes and hair are a light, almost amber, brown like her mother's--she's told. She's also told she looks young for her age--which she doesn't appreciate.