---
---
"Be who you are and say what you feel because those who mind don't matter and those who matter don't mind."
---
---
---
---
█
█
█
█
█
█
█
█
█
█
█
█
█
█
█
█
█
█
█
█
█
█
█
█
█
█
█
▌

▌
▌
▌
▌
▌
▌
▌
▌
▌
▌
▌
▌
▌
▌
▌
▌
▌
▌
▌
▌
▌
▌
▌
▌
▌
▌

N A M E
Naomi Soi Ren
N I C K N A M E
Mei Mei || By her mother and her uncle when she was little or when they were in danger.
G E N D E R
Male
R O L E
Supreme Faceless One's Daughter
A G E
18
N A T I O N A L I T Y
Northern Water Tribe
E L E M E N T
Water
A L L I A N C E
Rebellion || Ever since Naomi has been a part of the rebellion, she is constantly putting those people first. She cares about the rebellion and the family she has found there.
Avatar || Naomi hopes the avatar comes soon and tries very hard to make sure the avatar knows she is welcome even if Naomi isn't sure there is an avatar at all.
S E X U A L I T Y
Heterosexual
---
---
"I like to look nice not because I care what people think, but because it makes me more confident, and feel safer when I have to walk around town."
---
---
█
█
█
█
█
█
█
█
█
█
█
█
█
█
█
█
█
█
█
█
█
█
█
█
▌

▌
▌
▌
▌
▌
▌
▌
▌
▌
▌
▌
▌
▌
▌
▌
▌
▌
▌
▌
▌
▌
▌
▌

H E I G H T
5'8"
W E I G H T
139 lbs.
H A I R C O L O U R
Black though it appears dark green or dark teal || To her waste
H A I R L E N G T H
When straight, down to her waste
E Y E C O L O U R
Bluish Purple
S K I N T O N E
Fair Complexion
G E N E R A L

__

A P P E A R A N C E
Naomi is small but she fills her frame and has curves. She prefers to ignore the curves, instead focusing on keeping herself fed since that is often a problem in the world at the moment. Naomi is small in her height but she doesn't mind so long as people don't figuratively look down on her. She is fair and though she isn't pale, she doesn't tan since her relatives are from the north pole and live in the cold most often. Naomi's hair, though black, looks dark teal in light from the variety of pigments within it that gives it a different appearance than one would expect. Naomi has a variety of scars on her body though the most noticeable ones are on her wrists though those came from Faceless Ones trying to execute her for being a bender.
---
---
"I am who I am and will never be my father. Ever."
---
---
█
█
█
█
█
█
█
█
█
█
█
█
█
█
█
█
█
█
█
█
█
█
█
█
█
█
█
█
█
█
█
█
█
█
█
▌

▌
▌
▌
▌
▌
▌
▌
▌
▌
▌
▌
▌
▌
▌
▌
▌
▌
▌
▌
▌
▌
▌
▌
▌
▌
▌
▌
▌
▌
▌
▌
▌
▌
▌

P E R S O N A L I T Y
Excitable || Lonely || Confused || Hopeful || Confident
Naomi has many sides and many fears at the same time considering how much she has been through in her life. She is excitable and loves to be excited about things. She doesn't like the nervous feelings she gets, but she does love looking forward to things. Naomi has the tendency to tell unimportant secrets entrusted to her to others so they can be excited too though she would never reveal an important secret.

Naomi is lonely and feels like she has been left alone in the world. She knows who her father is, but believes he was the one that killed both her mother and her uncle indirectly. She hates him and everything he stands for making her refuse to call him anything but her biological father, and even then, she refuses to tell people. Few in the resistance know of her true identity, in fact, only one person knows about her heritage and that is her best friend.

Naomi is confused about her life and fears that she might be a part of the Faceless Ones indirectly, hurting others. She is scared she will be like her father and absolutely hates the idea of ever being like him. She refuses to let herself be anything like him, instead, closing in on herself or stopping her life for a moment so she can avoid being like him and look at her actions to check herself.

Naomi is hopeful and prays that things get better. She believes in people and likes to support them and lift her up even if she is a hypocrite and doesn't listen to her own advise and words. She doesn't always believe what she says, but is definitely one who would do nothing more than lift others up even if she isn't entirely certain about it. Naomi believes in the good people have inside them considering she did forgive her uncle for killing her mother once he repented and realized what he was doing was wrong and terrible.

Naomi is confident in her appearance and has no qualms with what people think about her looks. She doesn't mind what people think about her personality or beliefs, but cares whether or not they think she is like any of the Faceless Ones. The moment she is even considered anything like them, she freezes and breaks down to restart. She can't help this, often passing out or becoming immobilized by her fear and sorrow. She has to be brought back to her realities by someone she is close to in order to move before she can process everything which can take a lot of time.
---
---
"If you need someone to talk to, I am a great listener."
---
---
█
█
█
█
█
█
█
█
█
█
█
█
█
█
█
█
█
█
█
█
█
█
█
█
█
█
█
█
█
█
█
█
█
█
█
█
█
▌

▌
▌
▌
▌
▌
▌
▌
▌
▌
▌
▌
▌
▌
▌
▌
▌
▌
▌
▌
▌
▌
▌
▌
▌
▌
▌
▌
▌
▌
▌
▌
▌
▌
▌
▌
▌

L I K E S
Dancing || Flowers || Wood || Painting || Tea || Running || Water || Swimming || Water Bending || Animals || Friendship || Family (Minus her Father) || Celebrations || Food || Eating || Sleeping || Landscapes || Children || Rain || The Cold || Bundling Up || Hanging Out || Practicing || Training || Teaching || Leading || Helping || Jewelry || Soft Colors
D I S L I K E S
Pain || Generals (Minus her Uncle) || Death || Her Father || The Faceless Ones || Corruption || Corrupt Leaders || Blood || Breaking Things || Broken Glass || Boring Work || Conspiracies || Fighting of any kind || Idiots || Disrespect || Ignorance || Slums || Dirt || Grime || Being Dirty || Being Broke || Boats || Flying || Climbing || Heights || Falling || Being Mocked
Q U I R K S
Humming || Naomi often hums an old tune her mother used to sing to her. Naomi doesn't remember the name of it or the words, but the melody and loves to hum it to calm herself at night so she can sleep.
Cuts || Naomi has scars on her wrists from where she was once caught in a small town in the fire nation. The Faceless Ones there managed to cut her but not fatally as her uncle saved her before things got worse.
Nightmares || Naomi often has nightmares that wake her in the night. She sleeps separately from the other rebels so she doesn't wake them in the night though she feels lonely if there is nobody around and can't fall back asleep until she is with other people.
S K I L L S
Bending || Naomi isn't blessed, but she is talented at bending. Her mother, having once been a master water bender, taught Naomi from a young age as soon as Naomi revealed she was a water bender around the age of three. Naomi trains often and is on her way to becoming a master though she is a few years away since she is learning by herself and can't find a master teacher to help her.
Teaching || Naomi, being a part of the rebellion's higher ups, helps teach new recruits or those that are water benders. Naomi teaches fighting and water bending and it only helps make her abilities better and stronger.
Encouraging || Naomi is great at encouraging others and keeping their spirits high even if she doesn't feel the same way or think the same about it. She is one that believes without hope there is no chance and so long as she encourages others to have hope, there's some in some way or form.
---
---
"The past is something I try to forget because I am too young to have lost so much already."
---
---
█
█
█
█
█
█
█
█
█
█
█
█
█
█
█
█
█
█
█
█
█
█
█
█
█
█
█
▌

▌
▌
▌
▌
▌
▌
▌
▌
▌
▌
▌
▌
▌
▌
▌
▌
▌
▌
▌
▌
▌
▌
▌
▌
▌
▌

B I R T H P L A C E
Slums of Ba Sing Se
H I S T O R Y
Naomi was born in the slums of the earth nation's largest city. Her mother, wife to the Supreme Faceless One, had run away to keep her daughter from her husband, sure that Naomi would be a bender as she once was and not wishing to let her daughter loose some of her humanity too to the change into unnatural bending.

Naomi lived with her mother in the slums of the earth kingdom along with a group of kind servants who worked in the palace during the day. Naomi and her mother were in hiding and were living well until the family they were living with discovered their son was a bender. In fear, they told Faceless soldiers that they were housing the Supreme One's runaway wife and daughter in hopes of saving their son. The house was destroyed as soldiers entered only to find Naomi's mother after her mother had hidden Naomi with the bending boy.

Naomi's mother was taken from the house where she was killed by a general of the Supreme One in a public execution for hiding a bender as the boy bender's family was already dead upon trying to keep the Faceless Ones out of their house and away from the boy. Naomi was devastated and did what she could to protect her and the young boy who had no training with what little water bending she knew from her mother teaching her. Naomi was taken and the boy killed on the spot as the general recognized the girl to be the daughter of the Faceless One. He realized who he killed and in turn, horrified, protected little Naomi. Naomi was unaware of the fact that the general was her uncle, her mother's brother, and hadn't recognized his own sister under all the dirt and grime living in the slums left people with.

The general, horrified with his actions and realizing what he was truly doing, fled that night with Naomi, taking her to the fire nation to be further from her father and his brother in law. Naomi and her uncle moved from place to place, never settling until they received word that until the runaway general returned, everyday, another bender would be executed. Naomi at the time being thirteen, agreed with her uncle to go back, leaving immediately.

Three days later, Naomi hid while her uncle gave himself up where he was killed. Naomi was taken in by the rebellion within Ba Sing Se and lived with the rebels, training with her water bending so she could defend herself and others. There, she met a boy with air bending and became friends with him. She isn't sure if there's anything more there, instead believing them to be just friends, and at the moment, content with just that.
---
---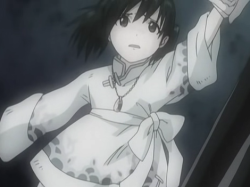 Face Claim
Lenalee Lee
Writer
Zoey26123
---
---