Jian Hei Lei
綠野仙蹤
The mysterious Black Butterfly is the hardest to catch....
...to chase such a thing can only end in a world of pain...

---
Age:
20
Gender:
Female
Bender:
Yes; Fire and Lightning (oddly both are a black in color)
Nation:
Fire
---
Physical Appearance:
Hei Lei is best described as a porcelain doll. Peerless white skin and rosy pink lips smooth to the touch. Amber eyes of a cat glow. Jet black hair that falls down to her waist like a silk waterfall. All wrapped up in a black and red. A keepsake from her mother is always one her as well, a black silk scarf. Her body is petite and lean with unseen muscles. As a person who favors close combat before bending she had to develop something after training for years with a weapons master. However scars litter her arms and legs. She often conceals them to avoid the stares in a crowd. Wrapping bandages on her arms and wearing knee high socks is her solution. She hates long sleeves. Most people tend to identify her though with the butterfly tattoo under left eye.
Height:
5'1
Weight:
Give or take 98lbs
Orientation:
Straight
Bending Style:
Firebending is notable for its intensive attacking style and general lack of adequate defense moves, although some notable firebenders utilize creative defensive techniques by creating large walls of fire, or shooting down incoming objects with precise attacks. Hei Lei follows the traditional way of firebending considering there isn't much variation. However she prefers to keep the fact she is a bender hidden and usually relies on weapons and martial arts in a fight. Though against some benders she is pushed to use fire bending. She prefers stealth, evasion, and timing over direct confrontation. Such as waiting till the opponent leaves the slightest opening and then she releases and explosive attack to knock them out.
---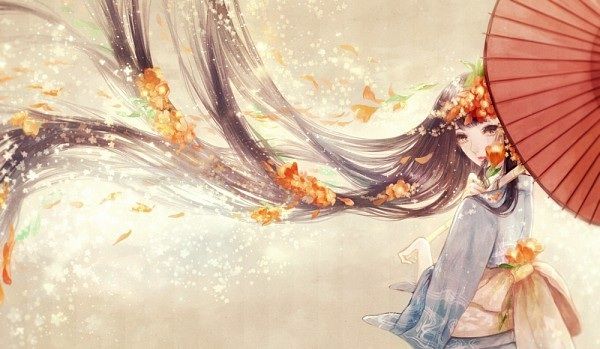 History:
Much of Hei's memory as a child is fuzzy. There's a strong mental block placed on her mind but she knows bits in details. As a child her parents were strict during the day and taught her every little thing about bending, the world, how to handle situations. At night they were kind and over doting. She often felt smothered. However an unfortunate incident occurred. Someone came for her father who was one of the most powerful benders in the land. He got in the way of someone's political issue and an assassin was sent to eliminate him. Hei can't remember what happened that night, but she remembers her mother's screams as she ran away from her house.

All that was left for Hei was a life on the streets. Training became real life as she wandered the busy streets. Stealing and pickpocketing became her way of life. Occasional street fights where she was paid gave her the extra boost if she didn't feel like being a theif. However one day when she was 15, Hei was beat up very badly and left for dead. In this village she was in taken by the village head and nursed back to health. At first she didn't speak to them at all, but little by little she did. In the end they adopted her as their own daughter. It seemed like the perfect life. she was happy. Then the fire nation came once again to cause her grief. Hei was out gathering firewood for the village that day and got distracted by an usually colored butterfly. It was an hour before she smelled smoke coming from her village. When she ran back she was greeted with the sight of hell. Everything was on fire. The village head and his wife's corpses were hanging from a burning tree at the center of the village. Hei didn't cry or weep this time. She just stared. She felt like she knew what she must do. As she walked away from the ghastly sight, a black butterfly followed her.

Her new life was that of a bounty hunter's. She sailed her way to the Earth Kingdom where much turmoil occurred and took her fist mission. It wasn't easy but she liked the challenge. With each target she took down she learned something new. Something useful to use next time. She never killed her targets though. Overtime she built up a name for herself, everyone called her the Black Butterfly. The naming from her butterfly hairpin darts and dual wakizashi with butterfly handles. Unfortunately no one knew her face.

Upon hearing the Avatar was back, Hei wondered if peace would finally come to the war torn earth kingdom. Then again maybe not. Though a new face was added to the rooster of high paying targets that day. The face of the new Avatar. Many mercs started coming up with plans to capture him. Hei joined in merely to see what this new Avatar was like.
Goals:
As an orphan, she wants to find a reason to live. A place to belong. As well as create a place where children like her will never happen. The war torn earth kingdom caught her attention one dy and she now wanders striking down those who make others suffer.

Although she doesn't realize it...she wants someone to call a friend.
---
Personality:
Hei Lei is very much an independent soul, disliking anyone who puts too many restraints on her, including her native, very much totalitarian city. Beyond that, though, she cares about others, especially those weaker then herself, and often shows an uncanny amount of compassion to those who she thinks deserve it. She also tends to drag herself into trouble, one way or another, but is typically very good at worming her way out of it, legally or not. This isn't to say she's entirely reliant on that; Hei is an extremely talented person when working with freerunning and parkour, especially in urban settings, where she feels the most natural, as that was where she was trained. In her mind, independence and freedom are what humanity thrives on, and there's no way in hell that she's going to let that philosophy go anytime soon.

Hei can also be very stubborn and cannot be turned from her ideals. When she wants to do something, hell itself had better get out of her way, because she won't stop moving towards her goal, whatever that goal may be. This could also be called a good thing, but is also a detriment, especially when the wisest decision is to retreat. She also often distracts herself from her goal to help others in need, even if it might get her caught in a fairly illegal act. Although the young woman seems quite selfish and self-centered she has a strong sense of justice and a bit of a hero's complex.

Furthermore she is quite composed at times and not a fan of speaking. She'll speak when it is necessary. However that does not mean she isn't opinionated. She will speak her mind to whoever. She see's status or titles or appearance as unimportant. Whatever you truly think inside is how she'll judge you. In a way she is very understanding and habitually unflappable. Her understanding ways are quite simple observe someone and put yourself in their shoes. How would they feel of act then?

Respectful, responsible, and down-to-earth are also so traits you should know about her. She's quite stingy when it comes to money since she try's to save it not spend it all.

Now a little tid bit you should be wary of is the fact she has a great fear of thunder. Make sure that if she bends lightning she is wearing earplugs. It would be unfortunate if the lightning went flying in our direction no?

Overall, the best summary of Hei Lei's personality would be one word: rebel.
Likes


Nighttime
Sweets
Cross Dressing
Fire
Black and Red
Hardwork/Training/Learning
Freedom
Cherry blossoms
Cats
Erhu
Brawling and Street Fights
Waking Up Early

Dislikes:



Thunder and Lightning
Obnoxious People
Staying Up Late
Blood Benders
Alcohol
Unnecessary Force/Fights
Competing
Dresses