Hiro


Age: 21
Gender: Male
Bender: Yes, Fire.
Nation: Fire Nation

Bending/Fighting Style

Hiro has been using dual swords in conjunction with his bending for ever since he old enough to train with both. Thus, Hiro's bending is seamlessly interwoven with his swordsmanship, though he has never allowed it to be a clutch. There have been times where he was disarmed or when bending has been a bad idea, such as in a stealth mission or assassination. Thus, Hiro has trained to use both styles alone or woven together, going from one, to the other, to both in a heartbeat. Hiro's style of fighting is robust and agressive, like most styles of firebending, though he has mastered the Dancing Dragon style which he blends together with more mainstream styles. He is capable of great acrobatic feats and creating walls of fire in order to dodge and block attacks. Hiro is capable of bending lightning but not blue fire. Hiro has also picked up acrobatics, subterfuge, and other stealth techniques in order to break in and navigate buildings, fortresses, and other structures when it is dark.

Personality

It would be charitable to call Hiro jaded and it wouldn't be necessarily wrong to label Hiro as an insane sociopath. Hiro gives off the impression that he just doesn't care whether he lives or dies. Indeed, sometimes it seems like he wants to die, but then he fights tooth and nail to get out of whatever battle he is in alive, usually with a multitude of dead bodies. Hiro's philosophy is that life is random and cruel, no matter how people may want to dress it up or disguise it. In battle, he has often killed without remorse or compassion. Indeed, on more than one occasion, he has laughed as he burned someone alive. Cynical and irreverent, he often mocks people with high ideals, goals, or any sort of belief that the human race is anything other than what it is. Fairly promiscuous, Hiro is good-looking and well knows it. He has been with quite a few women, but not as many as one would think. Hiro is a heavy drinker and quick with a dark joke. Yet, Hiro also possesses a volatile temper and can turn nasty or violent when provoked.

Despite these traits and his insistence that there is no such thing as "honor", Hiro still possesses traits which can be defined as honorable. Despite his life as a mercenary, Hiro refused to harm women and children and refuses to tolerate such behavior in his soldiers. He is also one to make sure the men and women are in condition to fight and makes sure that they don't get into too much trouble.

History

Hiro was born as the youngest son of one of the five Fire Lords in the Fire Nation vying for power and control of the rest of the country. Though not close to his older brother, who is five years his senior, and his father, with whom he had a strained relationship with, Hiro was close to his mother, Lady Chosa. He spent a lot of time with her when he wasn't playing with the children of the palace guards or servants and he loved to hear the stories she told him. She wanted him to grow up as a moral and spiritual man, though he has always had a certain talent for fighting. He was the most hurt, besides possibly his father, from his mother's death at the hands of a ninja. When he grew older, Hiro joined his father's soldiers and even received a small commission as an officer. On the battlefield, he made a name for himself as a soldier and commander until, when he was 17, he was injured and left for dead. Fortunately for him, a family from a nearby village took him in and nursed him back to health. He even developed a sort of friendship with their daughter and, when he was ready to leave, he promised to visit again, not revealing his parentage. When he returned home, however, he learned that the village he had taken refuge in was in enemy territory and his older brother burned it to the ground. He was horrified and got into an argument with both his remaining family members, but his father rebuked him. He returned to the army and, with the passing of time, noticed the depravities and darkness in human nature. He grew jaded and cynical, growing to believe that life was just a huge cosmic joke and, inevitably, he grew crueler and uncaring as time went by until, at last, he deserted with the men under his command, deciding didn't want to take orders from his father.

He and his men sailed to the Earth Kingdom and became one of the several mercenary companies prowling the countryside, taking the coin of whatever petty warlord would hire them. They soon became named the Blue Spirits for the Blue Spirit masks they don at times, particularly at nightfall for intimidation purposes. Soon enough, though, as mercenaries died and others replaced them, the company grew to be a mix of Fire Nation and Earth Kingdom warriors and benders. Hiro doesn't much care who hires them, so long as they pay. He has recently been hired to capture the Avatar, whom Hiro thinks is the biggest joke of all...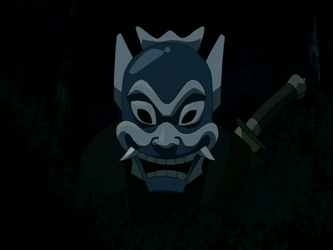 Goals

Hiro doesn't really have a set goal. He can't really return home and the war is his lifeblood. He simply wishes to fight, drink, and enjoy himself until he dies, probably on the battlefield.

Likes


Firebending
Fighting
Tea
Swords
Meditation
Women
Drinking
Intimidating/riling up people in power
Dislikes


Lying
Naivete
Spirit World activity
Being reminded of what his mother would say
Hurting children
(lethally) harming women, not counting fighters