Julio 'Nightblade' Zarron


Age: 46
Gender: Male
Bender: No
Nation: Southern Water Tribe. (The Sapphire)
Nationality: Fire Nation.

Personality
Suspicious and cautious, does the best he can to get the job done, then leaves without a trace. He finds having lots of friends problematic, and tries to keep to himself when possible. Loves his wife and daughter dearly, although he hasn't seen them in a long time. The sight of happy couples depresses him, and he tries to avoid seeing them as much as possible.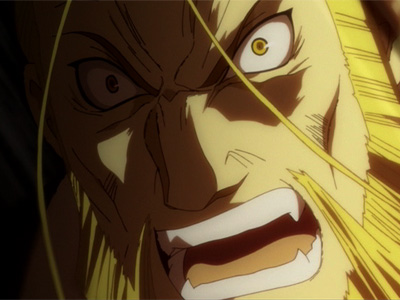 History
Born into a low-income Fire Nation farm, Julio had to work hard early in life to keep from losing the farm. The local tax-gatherers were lenient, so they rarely had any trouble with them. when Julio turned sixteen, their reason for being so lenient became apparent. His father promised that he would enter the Fire Nation army. After hearing this, Julio slapped his father, not because he didn't want to go, but because his father didn't think that he would agree, and forced him into the deal. They embraced afterward, Julio forgiving his father and agreeing to go.

Several weeks after he joined, his skills became apparent. His agility turned out to be much better than most benders, surprising especially since he wasn't a bender, and General Luther saw much potential. He groomed him, and found that Julio quickly became skilled in stealth and infiltration, being able to climb tall towers noiselessly and without detection. He was given an important, and his first, assignment when he was 19. It was to investigate an Earth Kingdom warlord who was building a fleet of ships to determine if he was going to launch an invasion against the Fire Nation. The odds were unlikely, but the king wanted to be sure.

The mission was easily accomplished, with no deaths. The warlord wasn't even aware that his fortress was infiltrated, much less his secret room. Instead, Julio found various messages to other Earth Kingdom warlords, where trades would take place. He was building several fleets for several warlords and himself, hoping to escalate the war without involving himself, using his own fleet to protect him. Julio returned, and was given full spy status. He then spent the greater part of his life in the Earth Kingdom, doing things according to the Fire Nation's agenda and earning the name Nightblade, as any assassinations he committed was always at night, and no one actually knew who killed them, until he met an Earth Nation woman, named Palentina.

He found her in an inn, and fell in love with her. Julio cut his ties with the Fire Nation and worked to win her love. He earned it easily, but her father didn't approve of her marrying him. "Beat me." He claimed. "And you shall marry her." Her father was a great earth bender, but Julio tried anyway. Time and time again, he failed. Palentina got worried for her husband-to-be, and begged him to stop. Julio looked at her. "I cannot, because I promised myself that I would marry you. I never break my promises, and I won't break the one I'll give to you." Palentina stopped begging, and he continued challenging her father. Several years past, and Julio's body almost broke on several occasions, but he pushed through it using his will and passion. Eventually, he stopped and left, but vowed to continue in a year. He was 30 when he returned. He challenged her father, who laughed. As they took their stances, her father noticed that his stance was different, almost... Rock like. When he struck, Julio suddenly acted like water, and rolled away. This continued for several minutes, then Julio suddenly changed gears, suddenly taking the rock stance again and smashing her father in the face. The blow knocked the man off his feet, and he was to dizzy to continue fighting. The next day, Julio wed Palentina.

Everything was perfect, and they were living happily, until the Sapphire attacked the house, reaching Julio's wife, who was pregnant at the time, and threatened her with death unless he come with them. The kept a close eye on Julio on the way there, and made sure that he was unable to do anything without one of them being able to get to his wife first. When they arrived, Cauldra, the leader of the Sapphire, greeted him, and told him how things would work. "You do as I say, and I don't kill your wife and child. I will not accept any insubordination. Julio refused at first, but as soon as they were about to kill his wife, he quickly changed his mind.

Several years past, and they hid his wife and child from sight. He wasn't even present for her birth, which saddened him to no end, but he was unable to do anything. The missions demanded of him were often nearly impossible to accomplish, and he struggled to do them without fail. When he failed a particularly important one, Cauldra, in a fit of rage, cut out Julio's tongue. Later, Cauldra made the comment that he was "much more obedient mute."
Told recently to go and assist Cauldra's daughter to go and assist her in navigating the Earth Kingdom, avoiding things that will give away the truth to her. He was uneasy around her at first, but found her to be enjoyable to be around, despite him being unable to communicate with her properly.




Goals

To find and free his family.
He also wants to stop the Sapphire, as he knows that they're up to something that will launch the Earth Kingdom into further disarray.

Likes


His family.
Kind people.
A good joke.
Fire Nation food.
The night sky.
Dislikes


The Sapphire.
Cauldra. (with a passion.)
Being separated from people he likes/loves.
Not being able to talk.
Impossible tasks.