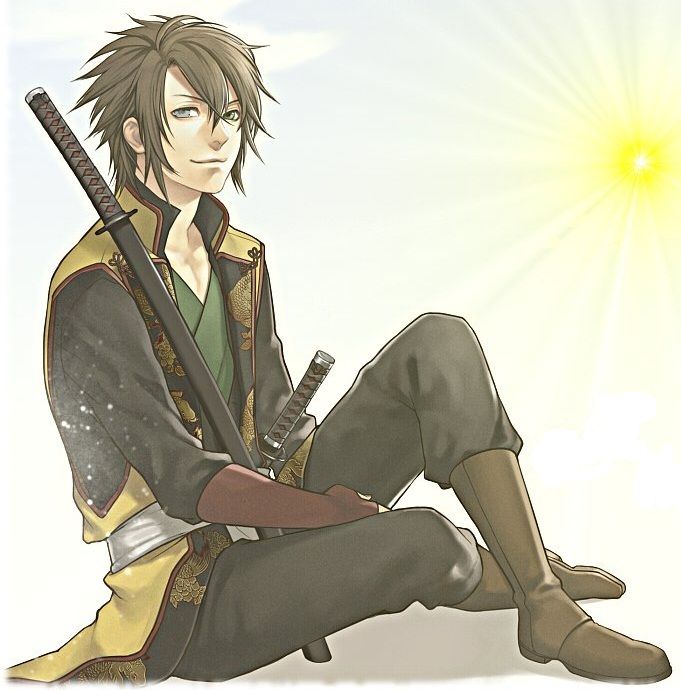 BASIC
-
Full Name:
Aoi Ren
-
Age:
24
-
Gender:
Male
-
Role:
Main Earth Bender
-
Primary Element:
Earth
-
Secondary Element:
Metal
APPEARANCE
-
Hair and Eyes:
Aoi's hair is a light sandy color, it is relatively unkempt and reaches half way down his neck. He had never really much cared out his hair, so he doesn't bother keeping it in order, just out of his good eye. Aoi's left eye is green and his right eye has a pale, gray, corneal opacity coating the entire eye, blocking any color that once existed. He is blind in that eye as well.
-
Complexion:
Aoi's has only three scars, one along his chest, reaching down from his right collar bone to his left lower abdomen. The other two are large marks on both his wrists, from a failed suicide attempt. Other than that his skin is pure and it is relatively smooth, not too soft, nor too rough. He is never out during the day for too long, making his skin rather pale in comparison with others. It isn't pure white, but it has very little dark in it.
–
Height and Weight:
5' 10''(177.8cm) | 159 lbs (72.1 kg)
-
Body Type:
Aoi's bulk is evenly distributed throughout his body, making him evenly toned and well built everywhere. He has a slim figure, his shoulder's aren't broad, and his waist is below average width. He keeps his body in relatively good shape, all his muscles are well looked after and trained. he isn't extremely strong, but he can hold his own pretty well.
PERSONAL INFORMATION
-
Quote:
"We are taught you must blame your father, your sisters, your brothers, the school, the teachers - but never blame yourself. It's never your fault. But it's always your fault, because if you wanted to change you're the one who has got to change." - Katharine Hepburn
-
Theme song:
Louder Than Words - Les Friction
-
Potential Interest:
No one at the moment...
-
Other:
Aoi had 5 younger full sisters, Sakura(currently age 23), Emi(died age 17, would be 22), Hina(currently age 20), Izumi(currently age 18), and Yumi(currently age 12), and 1 younger full brother, Saburo(died age 17, would be 22). He has more half-siblings, but he doesn't know how many or who they are.
-
Personality:
Aoi has a tendency to hide his true emotions to most people, more often than not having a pleasant smile on his face. This is a mask to a truly tortured existence, but he feels the need to fake happiness to remain resilient to life's torment and sadness. He also has a deranged sense of justice, being able to shape his morals however he sees fit, rather than having them set in stone. Living as a noble didn't affect him in a negative way, he doesn't think himself better than others, nor does he think he is entitled to anything. He is very compassionate and is great at listening and talking with people, making him a friendly person, yet he doesn't particularly enjoy being around people, he likes solitude sometimes, and has been without it for a very long time. He hates people who redirect blame from themselves to something else, thinking it cowardly and pathetic. He also hates people that ignore consequences and refuse to think about the long run. Aoi really doesn't enjoy much, he likes a good game of Pai Sho, sweet foods, and fruit, nothing much else. He doesn't particularly enjoy training his earth bending, but he sees it as calming, it is his form of meditation, as one of the Air Nomads put it. He also has a great need to protect his younger sister Izumi, who became the center of his attention later(see history). He has no qualms with killing, he has done it twice before and would be willing to do it again if the need arose. he doesn't want to kill though, so he will usually try to solve things calmly, rather than resorting to violence.
-
Brief History:
Aoi was born into a noble family, he was the first born, the one to take on the family assets, the guardian of the name, the protector of the family. From a young age, Aoi was always much more compassionate and humble than most nobles, his father, Tsubasa Ren, tried to mold him to take on the family as a cold, dispassionate, man. This worked for a time, Aoi studied and trained to become as well respected, and strong, as he could. However, once he lost sight in his right eye, Aoi lost respect for himself, seeing himself as weak and pathetic, as did his father. At the age of 15 he tried to take the easy way out of life, he slit his wrists with a sword, and failed. His little brother, Saburo Ren, was given the family assets and Aoi was presumed mentally ill and confined to the estate.
During his two year confinement, he had nothing to do but train, he trained his bending, he trained it in secret, seeing as his father wanted to keep him on a tight leash. His sister helped him avoid detection, they always were fond of each other. Saburo was always the one left out, he enjoyed a few more twisted pass times, torturing animals and creating manifestos and plans for the future.
Unlike Aoi(to a point), Saburo actually
was
crazy, when he was 17, he killed and raped one of their sisters(his twin, Emi) and mother, and raped one of their other sisters(Izumi). He tried to kill her too, but Aoi stopped him before he could, killing him slowly. His father was more concerned about the family's image, and the loss of a viable heir, than the death of his wife and one of his children. To save the family image, Tsubasa blamed the murders and rapes on Aoi. Aoi escaped with his sister Izumi, who wanted to be as far from their father as possible. He fled to the other side of the continent, to an autonomous collective, immune from the Earth Kingdom Government, the Northern Air Temple. The Air Nomads took pity on Aoi and Izumi, they took them in and gave them asylum. They have lived there in relative peace for 5 years.
Aoi helped out during many Air Nomad festivals and traditions, but never really embraced their life style, nor did he stop his ritualistic training. He devoted the five years they spent in the Air Temple to protecting Izumi from every harm that could have come to her, whilst trying to help her recover. He unlocked metal bending during this time, seeing it as a new tool to protect Izumi, the air nomads knew he had this ability, but he had befriended most of them, so they never spread news of it.