Li Yoang.


[left]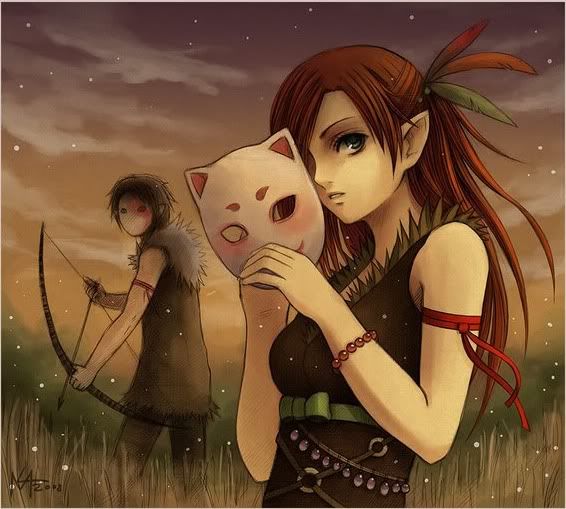 Role: Earthbender

Gender: Female
Nickname(s)/Alias(es): NiNi,
Age: 17
Love Interest: As of right now, nobody.

Appearance: You can usually find Li with a calm look apon her face. Her skin is a soft cream colour, her hair, a rusty red. She likes to pull it up into a loose bun, leaving her bangs to hang over her face. Her eyes are an odd mixture of Red and Brown, are are quite large compaired to the rest of her featues. Her eyes are quite wide, giving her a innocent appearance.
Preferred Clothing: Li can normally be found wearing a loose, dark green dress , with a pair of baggy, brown trousers underneith. She prefers to walk around barefoot, as she hates shoes with a passion

Height: 5'2
Weight: 122 Pounds
Hair Color: Rust Red
Eye Color: Red/Brown

Personality: Li is very....hard to describe. One minute, she can be super excited, and fierce. Another minute, she can be silent, and feeling horrid. Nevertheless, Li gives off a certain...aura, that can't exactly be discribed. She has a soft exterior, a quiet girl, who is rarely willing to fight for what she belives in. But on the inside, she is a fierce warrior, with a horrid temper, willing to snap at the smallest thing (Though this side of her rarely comes out.)
Due to her meek apearance, she is often looked down apon, much to her distaste. She is also very stubborn, and is slow to follow orders. Her way of life is very simple, and she relies on her powers greatly, as they are a part of her daily routine.


Oddities: She often bites her thumb nail when nervous, a habit she recieved from her father.
She also has a horrid habit of talking to herself. She often thinks herself crazy for it.

Likes:
~ Candles,
~ Fluffy Things,
~Forests,
Dislikes: Loud, Obnoxious People
~Excessive amounts of yelling (It gives her headaches)
~Headaches
Hobbies: Practicing her bending powers.


Fears/Phobia(s): She is terribly afraid of dying (Thougth she'd never admit it)

Skills/Talents:
LI is exceptionally intelligent, thought she doesn't flaunt her skill.
She is also a skilled gymnest, having been training since a young age.

Preferred Weapon: Her hands. If needed, she will use the small dagger strapped to her hip/

Fighting Style: She relies greatly on her Bending powers for fighting, and is very skilled in using them.

Personal History: Li grew up with her Mother and younger sister, in a small hut, in a small hut, in a tiny village. Her mother was the towns baker, and the whole town knew Li and her little sister. As a child, she was used to hard work, and appricates it now, as she doesn't expect others to do her work. Li's mother was a stern woman, with a warm heart, only supplying her children with the esscentials, allowing them to live their own lives.
By the time she was 12, Li knew how to cook, clean, sew, and several other things. She has a certain...knack for reading, and enjoyed reading in her spare time (And still does). She loved her sister terribly, but she died a few years prior.
Li taught herself how to bend, as her mother was a Non-Bender. Of course, she also had some help for the villages other benders. Her sister trained with her sometimes, but she wasn't as advanced as Li is. Even though Li is the oldest, she always somewhat...admired her younger sister, for she never had a pessamistic comment to make, and was constantly happy with life. Li wouldn't admit it, but she sometimes wished that her personality was more like her sisters'.
Theme Song:
Neutral Milk Hotel - Holland 1945
The only girl I've ever loved
Was born with roses in her eyes
But then they buried her alive
One evening 1945
With just her sister at her side
And only weeks before the guns
All came and rained on everyone
Now she's a little boy in Spain
Playing pianos filled with flames
On empty rings around the sun
All sing to say my dream has come

But now we must pack up every piece
Of the life we used to love
Just to keep ourselves
At least enough to carry on

And now we ride the circus wheel
With your dark brother wrapped in white
Says it was good to be alive
But now he rides a comet's flame
And won't be coming back again
The Earth looks better from a star
That's right above from where you are
He didn't mean to make you cry
With sparks that ring and bullets fly
On empty rings around your heart
The world just screams and falls apart

But now we must pack up every piece
Of the life we used to love
Just to keep ourselves
At least enough to carry on

And here's where your mother sleeps
And here is the room where your brothers were born
Indentions in the sheets
Where their bodies once moved but don't move anymore
And it's so sad to see the world agree
That they'd rather see their faces fill with flies
All when I'd want to keep white roses in their eyes


Other: Li's little sister died when Li was 12.