---
---
Famous Last Words
"I am not afraid to keep on living. I am not afraid to walk this world alone..."
---
[Name] Elijah Joseph Lee Barker


[Physical Age] 19


[Mental Age] Depending on his mood , either very childish (approximately 13), or very sombre (80's+) though normally he acts around 21.


[Actual Age] 19


[Height] 6'1


[Hair] Blonde


[Eye] Blue


[Likes] His Vision || Keeping his journals || Ice cream and cookies || Cider || Guitar || Cats


[Dislikes] Watchers || The dark || Alcohol || Silence || His reflection || Strangers


---
"They call it a Vision. But I think of it as home. Well, a second home. It's a farm a spent a week on, once. A big, old, Victorian house in a small forest, surrounded by lush fields of verdant. The bricks are old, but sturdy, and inside it is somewhere to be warm and dry. The sky is difference though, at night. At night the sky isn't a shiny black, but deep purple, and the moon is unrealistically huge. Every night the Aurora Borealis lights the sky; fires of emerald and sapphire dancing across the horizon, and I watch every night from my library where I keep my journals. Every day I forget more, so I write in my library, and watch the lights flicker mockingly above me"
---
[Basic Personality]
Eli, in life, was a lively and loud young man with a quick wit and a sharp humour. He loved to be around people, and was at his best when surrounded by peers that he felt comfortable with. He was friendly and outgoing, though always tended not to divulge much of his personal information - not that anyone noticed, of course. And as much as Elijah enjoyed being with other people, he always enjoyed time alone. This time was usually spent with his guitar, or one of the family cats, listening to music and just generally being the quiet individual that most people expected he was incapable of being.

Since passing, however, Eli became more reclusive, and stayed in denial for years, mostly alone. He realized that he could no longer trust people as he could, and took to mistrusting those that he met. Since then, it can now take Eli months to get used to a new individual, and longer to even choose to become their friend. He can often be cold and cruel without meaning, but he still remains to be the same kind individual as before at heart, if bitterness obscures that facet of him on occasion. He is sweet and kind, but most of his negative traits come down to his reluctance to trust those around him.

[Positive Traits] Kind || Considerate || Forgiving || Witty || Good humour || Passionate

[Negative Traits] Shy/Self Concious || Bitter || Cold || Easily Angered

[Fears/Weaknesses] Being stuck forever


---
"...it was supposed to be a laugh. No one was supposed to get hurt. I never...I never thought...That's not the way things were supposed to go...That's not the way I was supposed to die..."
---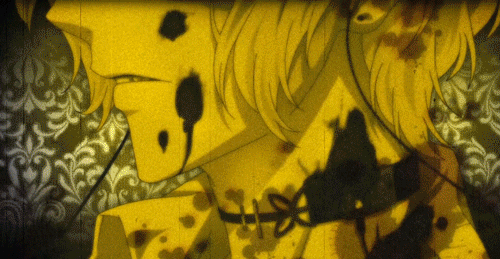 [History]
Elijah was named after his father's father, born in 1995 in a small Scottish town. His father was a bus driver, and his mother was a teacher, and he had one elder brother who was four years his senior. Growing up, Eli was almost completely ignored by his elder brother, and through his primary education, was a quiet, shy, reserved young boy who rarely spoke a word to another person. He had a pretty typical childhood - he spent much of his free time outside, exploring the fields and woods that surrounded his home, though he never let his insatiable curiosity prevent him from working hard at school. When he was six, his mother became pregnant again, and nine months later delivered a little girl.

Though his brother, Matthew, seemed indifferent towards his sister, Eli instantly loved her more than anything and anyone else. She was a beautiful baby, and as months passed, she grew a head of thick, curly blonde hair, and she had the same fearless blue eyes that Eli shared with her. He would do anything for her. At school, he often made cards or posters for her nursery, and he was right beside Lily as his parents trained her to walk and talk. Four years later, the day that Lily entered her first 'big school' was the proudest day of his life, and it wasn't long before Eli himself entered secondary school.

Compared to his tiny primary education, his secondary school was at the nearby city. Each day, he caught his dad's bus there with his brother, who always ignored him with a focus that implied quite the opposite. At first, Eli didn't understand why Matthew was so indifferent around him, but it soon became apparent in a furious argument they had a few weeks in to their first term, in which his elder brother thoughtlessly told him that he never wanted him to be around. Dejected and rejected, Eli withdrew from the fields and forests around his home, and from his brother. Heartbroken by the older boy he had always looked up to, Eli simply gave him as he wished and avoided him, both at home and at school. Of all the people he could confide in, Lily was still young, and he refused to voice the negative thoughts he held for his brother.

For a few more years, Elijah was one of those people that didn't quite fit into a niche. He drifted from friend to friend, and from group to group, always on the edge. At home, he took solace in the guitar his parents had bought him for his tenth birthday, and his time alone with his instrument soon became the only times that he didn't feel lonely. He began to study music at school, and it was only then at the age of sixteen, after his brother went to university, he really found himself a group of friends that he connected with. It was only a small group, but they were close and true to each other. Michael was a slim, tall blonde who had a voice that set shivers up the spine, and his sister Anna played the flute like an angel. There were others, Chloe, Ryan, John, Paige, Rhea, Violet, Luke, and so on, but Eli grew close to two in particular.

Alex was the centre of the group; a rich only child from the city who instantly connected with Eli. They soon became inseparable - the typical pair of easy going jokers. They took care of each other, and though there was a lot of bravado, there was also an undeniable ease with each other that only they were aware of. The other was Rowan, and she was the most beautiful girl that Eli had ever met. She had dark brown hair and green eyes with gorgeous flecks of brown, and they darkened when she sung and they lightened around the edges when she was sad or angry. She was elegant, and funny, sweet, considerate and kind. She was an old soul, and that was something that Eli could relate to.

He and Rowan shared their first kiss. It was fumbling and awkward, and they both dissolved into giggles as they realized that each other's lips weren't scaly like they expected, but soft and warm. They were a match made in heaven, and their relationship was almost fairy tale in how easy it was.

Elijah Barker died two years later, at Alex's eighteenth birthday party. He was thrilled, and excited to attend, though the date coincided with Lily's birthday. They argued before he left, choosing Alex's party over Lily's. It was a big party at his house, and he invited everyone. Everyone Eli knew was there, and everyone was drunk and lively. Eli went with Rowan, and now, much of the evening is a blur, except for one clearly defined image he has of her. That night, Rowan dressed up especially nice. She was hot, sexy, and beautiful, all in one, but Eli could never forget the way that she looked at him when they danced together in the corner of the room. The night went on, and it wasn't long before Eli's parents came to collect him.

Really, his death was a mistake. He'd had too much to drink, and couldn't even think straight. When he saw his parents pull up across the road, with teenage Lily in the back seat. He leaned out of the highest window in the four storey home to call to them, and fell. His death was abrupt, sudden, and painless, and the last thing that he saw was Rowan's face as she screamed and tried to catch him. Elijah was never sure which part of him landed first. His death was cold, and unimportant, dull, and idiotic, and even in 'the afterlife', he knew that. Now he spends hours at a time, scribbling in his journals to record the memories that he is swiftly forgetting, agonizing over his easy dismissal of his little sister, the love and fear in Rowan's scream as he fell, and the fact that it was just so quick.