Who are you: Mermaid
Who is your parent?:
Andrina
-x-x-x-x-x-x-x-x-x-x-x-
Name: Aqua
Age: 17
Orientation: Heterosexual
-x-x-x-x-x-x-x-x-x-x-x-
Personality: Aqua is not a typical girl that you could just meet anywhere. She is unique. Different. One of a kind. Linda has the girly girl appearance. She has to dress to impress and she believes first impressions are everything. But she has the thought process of a computer. She has to analyze everything you say and do before she gives a reaction. She sees every detail and makes judgments based on that. She isn't picky about the people she meets. People just tend to be picky about her. She has the attitude of a bitch. She is very sarcastic and doesn't take kindly to stupidity. She doesn't have many friends for this reason, but she never asked to be judged.
History:Aqua obviously grew up around mermaids that only cared for three things. Themselves, Humans, and Peter Pan. Her mother was impregnated by a human and then left her mother to raise Aqua. Once Aqua was able to do things without her mother, her mother bailed. She grew up teaching herself how to be as pretty as the other mermaids, and how to work like them. But she couldn't treat people the way they did, it was cruel. Now she lives on her own, with help from Pearl and Reef.
-x-x-x-x-x-x-x-x-x-x-x-
Appearance:
Human: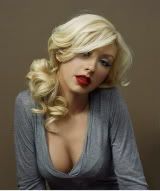 Mermaid:
Like:
*Boys
*Playing Music
*Being Sarcastic
*Laughing
*Chocolate
*Swimming
*Humans
*Being Beautiful
Dislikes:
*Mean people
*Being Bored
*The dark
*Being in her human form for too long
*Being Bossed around