ONE BLOODY GOOD ASSISTANT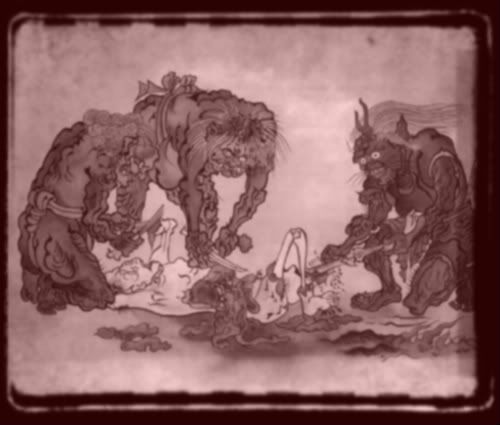 BASICS
Name
:
Katsumi.
Age
:
234 years of age.
Race
:
Satori.
Faction
:
Terajima-gumi.
Role
:
Fuku-honbucho.
APPEARANCE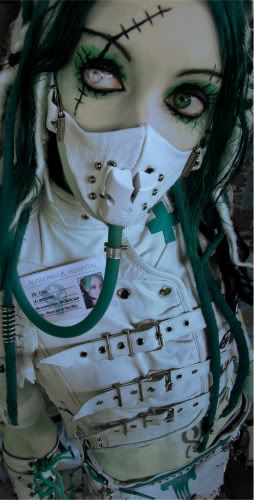 Sexay pickchas here.
Complexion
:
The skin is a funny thing for a member of the Satori race. Most are hairy beasts, marching around shedding all over the place. Perhaps, with his strong personality, Katsumi was able to change his own human image and keep the hair in one place; atop his head. Because his is so exposed, more than normal for the species, one will see that the fuku-honbucho bares opaque white skin. There are no veins peaking through nor blemishes or moles. He is stark white against the frame of flashy clothes, leather, and chains.
Body Type
:
Katsumi is a thin, lengthy man. Everything about him is long, pointed, broad, and just... skinny. However, there are no protrusions. His skin is untouched by the bones of his human form. The sinewy muscles that hide beneath this skin are nigh impossible to see. His body is smooth, appearing untouched by anything, man or monster.
Height and Weight
:
Satori are giants in height. This does not change very much for Katsumi. When one looks at the man, they should first envision a forest of bamboo. Wild, tall, incredibly thin and something strangely beautiful; and of course, the neatness of it all.
Distinguishing marks
:
Most notable on Katsumi is the length and thickness of the hair on his head. It seems in his human form, he must make up for the lack of hair everywhere else with the prominent, multi-colored dreadlocks raining down from the top of his head in a thick line to the nape of his neck. They are different thicknesses and colors, as previously stated, and trail down to his knees.
The second most notable marking upon Katsumi's body is the tattooed sleeve on his left arm. It was done in the traditional japanese-style of a Samurai performing seppuku in front of a forest of Sakura trees. Within the trunks of the fragile trees are the grinning demons ready to collect the man's soul; all claws and black eyes.
Aside from these two things, Katsumi's white left eye and abnormally hairless body (for his race) are two other traits worthy of notation.
Apparent Temperament
:
(from posture, common expression, etc.)
Hair and eyes
:
Facial features
:
Wardrobe
:
PERSONALITY
(Insert a general overview of your persona.)
Speech
: (Accents, swearing frequency, rudeness, tone of voice, etc.)
Pet Peeves
:
Favorite color
: (could just be a color that suits them best, if they have no preference)
EQUIPMENT
Specialty
: (What are you especially noted for?)
Fighting Style
:
Preferred Weaponry
:
Weaknesses
: (At least two.)
Inventory
: (Anything you might dish out in the middle of the roleplay, be it a pocket knife or a rotten egg, should be listed here!~)
Minor Ability
: (Subtle magicks like invisibility, gliding, or very limited elemental control.)
Additional Guise
: (if any)
LIFE
Hobbies
:
Likes
:
(you are allowed to add more)
Dislikes
:
(you are allowed to add more)
Fears
: (allergies can be included here.)
Agenda
: (What motivates them to do what they do? Or perhaps, what keeps them from being motivated to do something else?)
Where they hail from
:
Relations
: (Past and present. Can be in list format.)
Notable Experiences
: (In other words, history! Can also be in list format. :D)