Appearance: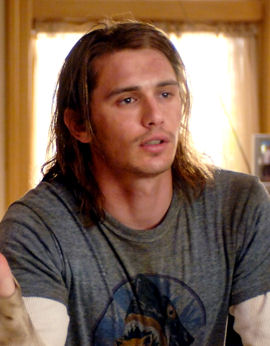 Name:

Conner Harrison



Nickname:

His parents calls him Harris, and his younger sister calls him Con, Con-Con when she tries to be 'cute'.



Age:

21






Instrument:


Drums, He can do a little on both the bass and guitar, but he is not near the level of the band-mates specializing in those instruments. He has no singing talent whatsoever.



Likes:


Drinking
Smoking (Cigarrettes, does have a few large cigars he smokes to annoy people.)
Playing music
Napping
Humming
Tacos/Hamburgers
Chewy cookies
Ice Cream
His hair
Beards.

"You want to know how a real man shaves? He doesn't. A real man doesn't shave."
Cats
Trying out random small town dinners and restaurants.
Cooking
Laughing at his own incredibly rude and harsh jokes.
Watching movies, gets frightened easily by horror movies.
Dislikes:
Hippies
'Tolerant' people
Oreos
Anti-smokers
Commercials
'Rabbit Food'
People making 'duck faces'
Having to hear people drone on about their own miserable lives.
Sensitive people
People who try too hard to be 'different'
Any guy who claims to not be an asshole or be 'different from the rest of the guys'
Bullshit
Being wrong
Being wet
Chihuahua's
Being ignored
The nickname Con-Con.
Theme Song:
Tear Away
Lyrics:
I'm tearing away
Pieces are falling I can't seem to make them stay
You run away
Faster and faster you can't seem to get away
Break!

Hope there's a reason
For questions unanswered I just don't see everything
Yes I'm inside you
Tell me how does it feel to feel like this
Just like I do

I don't care about anyone else but me
I don't care about anyone
I don't care about anyone else but me
I don't care about anyone

Do I really want this
Sometimes I scare myself I just can't let it go
Can you believe it
Everything happens for reasons I just don't know

I don't care about anyone else but me
I don't care about anyone
I don't care about anyone else but me
I don't care about anyone or anything but me
God damn I love me

I don't care about anyone else but me
I don't care about anyone
I don't care about anyone else but me
I don't care about anyone or anything
I don't care about anyone else but me
I don't care about anyone
Anything Else?: