Name: Sylvana Ward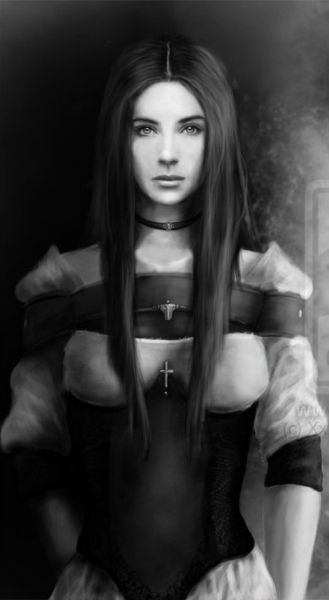 Quote: "Unacceptable to the Shadow Sage because I hold the power of white. They made a mistake in not killing me."
Nickname: n/a
Age: 22
Gender: female
Magic: Yes, white
Extent of control: Extremely well. Very easy to manipulate, hasn't been much she can't do yet.
Special Abilities: Can take black magic into her own and change it to white. Takes a lot of concentration and the toll on her body is hard. On a good day, she just passes out, on a bad seizers and coma. Learning how to transport not only herself, but others.
Marks: Has a small t-shaped scar on her left cheek. It is barely noticeable unless someone is right in her face.
Place of Birth: Just outside of Pikelee, Eliradia, Vandose.
Skills: Hunting, fighting (hand to hand as well as with her weapons), and being able to pretend she's not a witch.
Weapon(s): Two daggers, one larger than the other. Bow and arrow.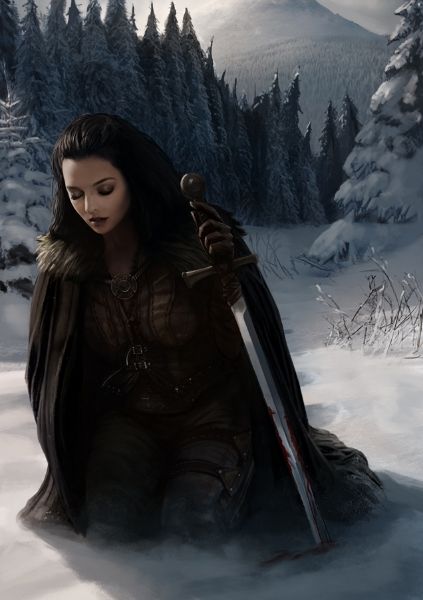 Appearance: Sylvana stands at about five foot five inches tall with long brown hair to the middle of her back. She wears it down with the front pieces braided and pulled back from her face. The two pieces are then braided together. Her eyes are a catching green. Her normal dress attire is a combination of a dress and pants. The upper half is a long sleeve dress that flows down to the middle of her thighs where it stops. Connected to the under side of the dress are pants that extend past where the dress stops all the way to her ankles. Over her midsection she has a brown leather corset top used as protection from weapons. She has ankle length brown leather boots and a cloak. On her sides are two holders for her daggers. She carries around a pack with food and on her back is a quiver of arrows for the bow slung across her shoulders.
Personality: Very reserved and off putting. She can be really sarcastic and blunt at times. Extremely guarded and suspicious by nature. Sylvana grew up with a superiority complex until the age of seven, then it became fear and worry. She was constantly looking over her shoulder, a trait she has yet to lose. In a way she still believes herself better than normal humans and she's out to prove as a white magic user that she still has immense power and she will do it by any means necessary. She pushes people away knowing life has no value and anyone can be taken from the world in a matter of seconds. What she seeks is a world where she no longer has to hide who and what she is and can be accepted by others.
BIO: Sylvana was the first born child to her parents. They lived in a small little hamlet just outside of Pikelee. When she was very young both of her parents died of a sickness that spread through the land of Eliradia. She was taken in as an orphan, but quickly taken off to be raised by the Shadow Sage after someone saw the scar on her face. From then on she grew up with the black magic users.
When she was seven years old, she came into her powers. Only they weren't black. They were white. She told no one for fear of losing the only home she'd ever known. Her hiding and training alone in secret having watched and learned everything by day went smoothly until she was nearly an adult. Someone found her practicing and told the leaders. She was kicked out.
On her own with no way to get a job and unwilling to marry, she started wandering the land taking food and making clothes as she could. But still she was restless. She knew what her old family had planed. It wasn't right. She wasn't going to let it happen. So she decided to start the journey for the Witches' Fortress. If she could get a hold of their knowledge before the members of Shadow Sage, she would be set.
No more innocent people needed to die. Even if she stood alone against her fellow witches, she would fight and die if it came to it. Sylvana choose to no longer live her life in fear. She would either be killed for being a witch or die at the hands of the people she once called family.
Other: N/A for now.