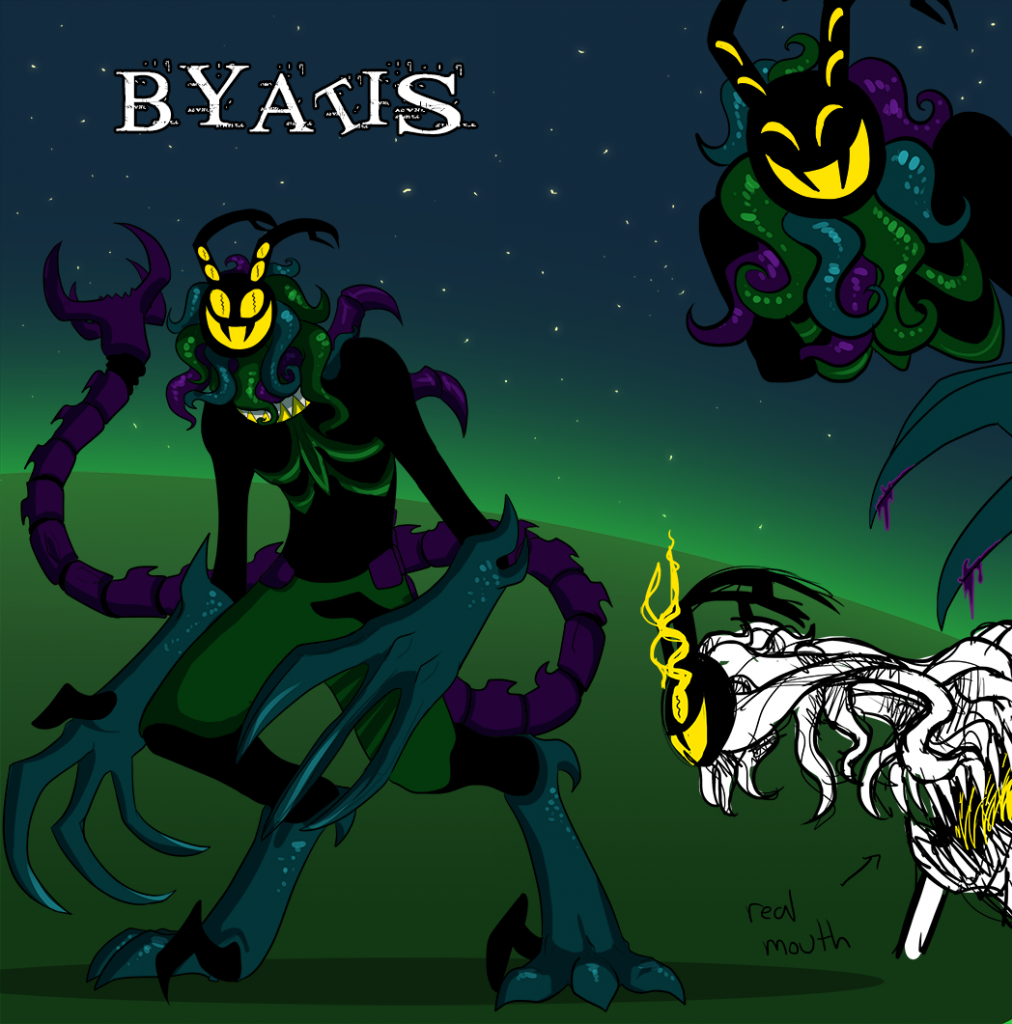 Name: Byatis
Title: Eldritch Rogue
Age: ????
Height: 9ft - 274cm (Biped) 7ft - 213cm (Quadruped)
Genetic Type: Abomination
Planet of Origin: Megido
Faction: VENOM
Allies: Darkstar, K2, Clockwork (sort of), Sentinel
Rivals: -
Likes: Hunting, playing games(deadly or not), the massive expanse of the galaxy beyond Megido.
Dislikes: GEHENNA, Synthetics, not getting what he wants.
About:
Byatis is the jolly, childish, optimistic type which catches a lot of people off guard considering how he's a predator species native to Megido. Whether its a ploy to fool people or if thats how he really is, remains to be seen. He enjoys the diversity in the universe, save for synthetics for some reason. Byatis enjoys them so much so that when GEHENNA threatens to annihilate Stratevaria, he grew to oppose him. Byatis has grown used to the hostility the rest of the galaxy shows him, considering his homeworld and looks on the bright side. He was recently picked up by VENOM, putting his skills to use. Not because he's sadist, not because he's a psychopath, just because hunting is normal for him.
Theme: Boss Battle SuperMarioSunshine -
http://youtu.be/-uFpYEOGqV4
Powers: Natural Camouflage, Resistance to magic/energy (this doesn't mean it doesn't hurt him. Its just not effective.), healing factor.
Weakness: Low physical defenses, Childish personality.
Abilities:
-Excretes highly corrosive acid from his claws which can cut through tough metals
-Venomous tail, mouth on end of tail has tight grip
-Extremely agile
Fighting Style: Born Predator.
Master at stealth regardless of his size thanks to his camouflage and his ability to stay still and silent. He observes prey to analyse their moves and strikes when guard is down. If caught in the fray of battle, Byatis move with quick agility, both looking for weak points and toying with his opponent.