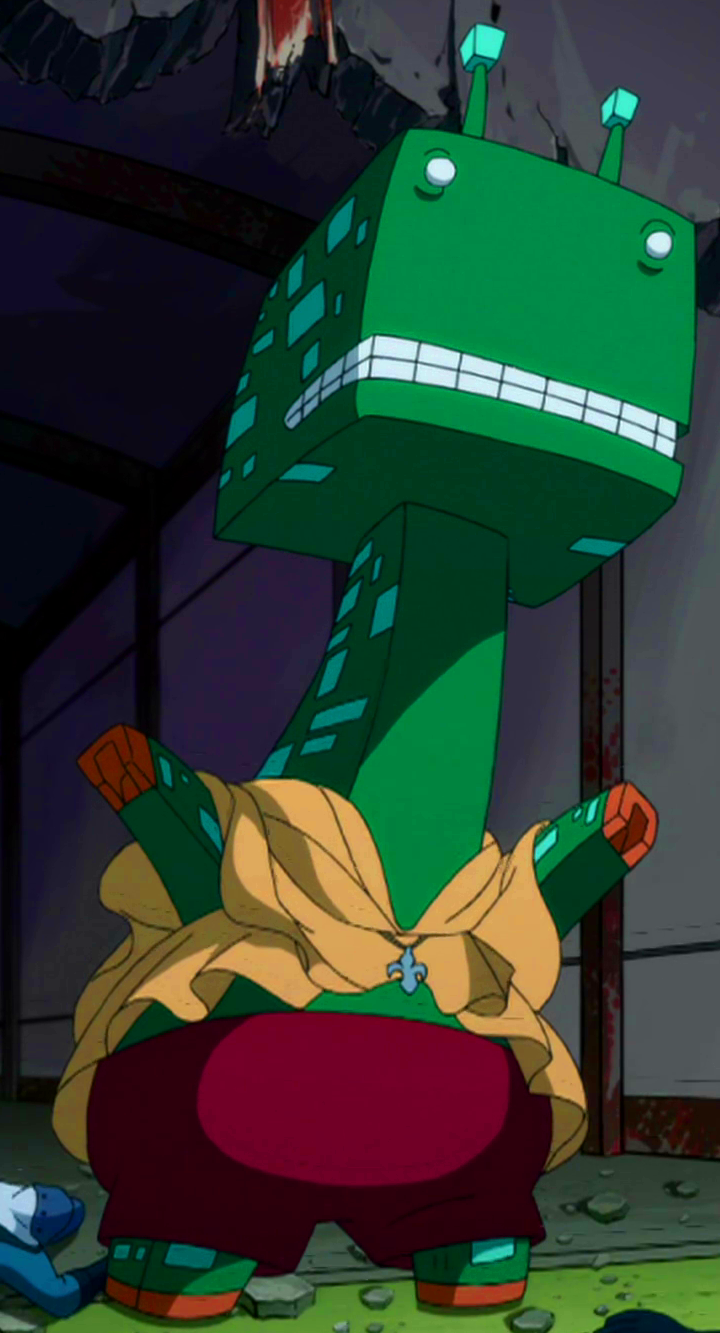 Name:
'Super Duper' Cubey
Title:
Subject Cube
Age:
Unknown, but insists he is 7 despite evidence otherwise
Genetic type:
Mutated Fur Beastman
Planet of origin:
Veradoxia
Allies:
Deunan(deceased), Graves, Lekan(deceased), Quin(deceased), Gelon
Rivals:
Ozma(deceased)
Likes:
Toys, Sweets, Juice, Playtime, Cartoons
Dislikes:
Staying still, Waiting, 'Meanies', People crying, Sharing
Faction:
Guardian Labs
Theme:
Mumbo's Themes - Banjo Kazooie: Nuts and Bolts
Backstory:
No one is entirely sure how Cubey came into being the way he was now, thanks to Guardian Labs covering up the incident, but from what they say if asked it seemed it was a terrible lab accident, though some say it was actually intended for him to mutate, others believing he was born as he is. The true story is only known to the top executives, the first staff members that discovered him, and Cubey himself.
No matter what his origins, The odd cubic giraffe-like beastman, has been kept safely in a cosy facility of his own, acting as if he was merely a child, though appearing much older and bigger, with whispers he might even be older than most of the staff assigned to him. The green man-child spent his days playing with toys, watching cartoons, eating snacks, throwing tantrums about bedtime and beating up cardboard cut-outs, as well as being the subject for a variety of experiments with his gravity manipulation powers.
One day, while being aloud to walk around outside in the facility they kept him in for a change, Cubey asked one of his carers what would people give him if he was a hero and saved the whole galaxy, who simply replied patronizingly that he could get all the toys and sweets that he would want but would have to wait until he was a grown up before he could do anything like that. This puzzled Cubey, as he saw plenty of kids as heroes in the cartoons he watched, and they seemed to save the world all the time without much trouble. Opportunity then struck when there was a sudden power cut in Neopolis, leaving Cubey the chance to wander away out of the facility past the currently out of order force field and as the power returned, watched the message from the terrifying GEHENNA. Although absolutely shaking in fear, and the carer he was with shouting at him to come back from the other side of the force field, Cubey suddenly realized beating this monster would make him a hero, and ergo, be rewarded with a tons of toys and sweets. So it was then he waved goodbye to his home and began his journey towards Megido, as the 'Super Duper' Cubey.
Powers:
Super stamina and resistance, Gravity manipulation, Sensory antennae.
Weakness:
Immensely gullible and childish, Easily distracted, Slow reflexes, No formal training.
Abilities:
Though he was self-taught, Cubey can manipulate his own gravitational field in a 3 meter radius, such as make make objects orbit around him, float in mid air like a feather, or suddenly plummet like a pile of concrete. He can't affect other people's gravity however.
Self-taught martial arts, and sensory antennae lets him sense his surroundings with smell alone at a 6 meter radius, which also leaves him with surprisingly good tracking skills, akin to a sniffer dog.
Fighting style:
Not exactly the most disciplined fighter and having had no teacher than himself, with only cardboard cutouts to rely on for practice, Cubey's fighting style is often to simply rush at the opponent without thinking and hope for the best, often trying his best to mimic fighting styles of characters from his favorite cartoons, with headbutts, speed ball punches, dynamic dive kicks, and simple slaps to name a few, proving that TV can make you violent, but not necessarily good at it due to having pretty much the agility of a toddler.
His saving grace however, is his gravity manipulation, giving him edge as he his able to manipulate how heavy and light he could be, as well as using any nearby objects as shields and projectiles, and also tends to use it make himself move quicker or throw much harder punches.