Jackie Di'Angelo
Nickname
Jax
Ethnicity
Italian... pure Italian
Role
Vocalist, Band Two
Birthday
August 30th
Age
19
Residence
Shes' got a TINY apartment. TINY.
Height
5'10"
Weight
120 lbs
Build
Very tall, very slim, but also strong.
Tattoos/Piercings
Piercings: Both ears, two in the right ear. One on her bellybutton.
Tattoos: A Yin-Yang at the small of her back.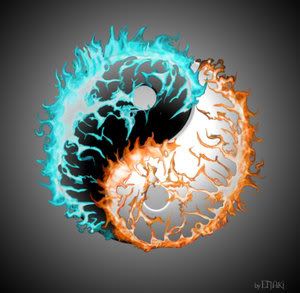 Clothing Styles
She prefers boot-cut jeans and off-the-shoulder, shredded T-shirts, usually over a black tank-top. All of her clothing must be worn her torn in some way, and they do not come pre-cut. She is definitely not afraid to show of a little skin. She always wears knee-high black boots. She doesn't wear much jewelry, aside from her piercing rings. Her shirts are always chopped off to to end above her belly-button. What use is a piercing there if no one can see it?
Appearance
Sleek, dark brown hair and brilliant gray eyes. Her skin is lightly tanned, but not because she spends all her time outside. That comes from her Italian heritage. She is tall and slender, with deceptively delicate features. But her figure is generous, and she knows it. Laced with muscles, she likes to show off her body. So she wears clothing that does. She always wears a lapis gem in her belly-button piercing, and a pair of silver hoops on her ears. On her second piercing on the right ear, she's got a diamond from her old boyfriend. She dumped him the day he gave it to her, because he was trying to buy her love.
Skills
She is an incredibly singer, able to cover a wide range, from high soprano to resounding base. (watch this video for an idea of her range. Yes, I know it's in Russian.
http://www.youtube.com/watch?v=MRtOuEeeRrA
) She is also a trained fighter.
Phobias/Fears
She has a paralyzing fear of heights. Truly paralyzing.
Bad Habits
She smokes. But only when she's outside.
Good Qualities
She will always fight for absolutely anything which she deems a just cause. She is fiercely protective, and a hard worker. Though she knows how to have a good time, she works several jobs every day. She is a fierce advocate of people and animals' rights; gay-lesbian marriage, animal-abuse, etc. She is always involved in these protests and petitions. She works part-time at an animal shelter.
Bad Qualities
She is a smoker. She has a temper, and can be an incredible stick-in-the-mud. She will never give up, even on a lost cause.
Sexual Background
She... has a LOT of experience. And she's bi...
Likes
Her friends, music, animals, running, dancing, singing, writing songs, children.
Dislikes
Smoking (she just can't stop), heights, people who are cruel to others, most adult men.
Business Goals
To make the band succeed.
Goals for Personal Self
To quit smoking and find true love.
Other
She has a dog named Timber.