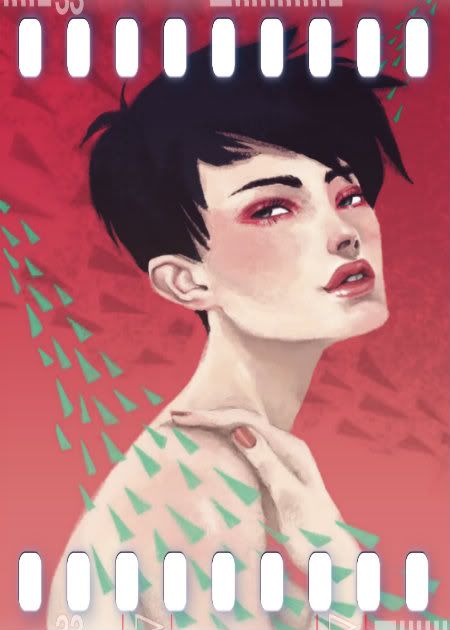 NAME
:
Vasanta Meredith Grey
AGE
:
20
APPEARANCE
:
Meet the lithe, hawkish woman who may or may not oblige to kicking your ass in the near future. While not unattractive, she sports choppy, short black hair the color of dull coal and dark, pooling eyes of grey so abmysal you might get perpetually lost in them. Her appearance is more commanding than stunning, but more subtle and sophisticated than a bulking, brutish, war-scarred carcass. In fact, when she's not on the battle field, there's a certain finesse about her. She almost seems like a normal, lady-like gal until she opens her mouth. She's on the taller side of the female spectrum and is considerably pear shaped in figure, a very small bust matched with hips that simply do not lie. She's got long, willowy legs and slender, graceful fingers with nails cut short. She doesn't bother with most makeup usually, spare for eyeshadow if she's feeling particularly glamorous one day.
OUTFIT & EQUIPMENT
:
If Vein reads as sensual, it isn't in the way she dresses, adorning in a unisex outfit consisting of worn calf-lengthed boots, well-fitting brown leather pants, and short-sleeved grey top that reveals her toned, freckled arms--- the type of clothing that allows for running, jumping, climbing up trees, kicking ass, but most importantly, blending in. No, if there was any flash of 'sexy' found in the woman, it wouldn't be the clothes on her back but instead the confident-leaning-on-arrogant way she carries herself and the distinctive sway in her stride. Overall, she dons an air of simplicity, efficiency, and reservation.
Before fighting, she tries to stip down out of her clothes (otherwise they'll be ripped apart by the crystallization) but sometimes she simply has to deal with it and get rid of her favorite pair of pants.
WEAPON
:
Vein uses a barbed whip, poisoned at the tip, of course. She typically uses it to cripple opponents that are too far away for her claw to reach, either pulling them closer or simply stinging them with the immobilizing venom.
FACTION
:
Psi
POWER
:
Vein's blood animates and crystallizes to form a protective shell around her body, as well as a sharp claw on one of her hand. She typically slits her palms and the black, tar-like blood very quickly travels up her arms, coating her from the neck down, before hardening. This shell boosts her defenses and allows her to attack as a berserker, digging into opponents with her talon-like hand with ferocious power and speed.
ANIMAL
:
Scorpion
PERSONALITY
:
Never before has a prouder creature roamed the earth; indeed, Vein is almost unnervingly self-assured and confident in herself. Because she feels so comfortable in her own skin, she doesn't really give a damn about how she affects others, which typically means that she is tactless and crude, prone to cracking jokes at the expense of other people in situations that call for stoicism simply to sate her own appetite for entertainment. Expectant and impatient, she is often irritable when something (or someone) fails to meet her unwaveringly high standards and she makes no effort to conceal her growing sense of frustration when this is the case. She's got a sharp tongue- the type that's ever so quick to cut at an psyche- but a sharper wit. Who said criticism had to be so dreary and dismal? She is sarcastic and acerbic in nature but clever nonetheless, and she's known to be quite the little seductress if she's in the right mood. She's antagonizing and instigative, what with that jeering smile and taunting snicker, but she rarely goes into fits. Yelling is not her style. In fact, she can be hard to predict at times because she'll go from teasing, cool, calm, and collected, to shoving you against the wall or punching you square in the jaw. She prefers to speak her disatisfaction through violence rather than through words. She's got way too much arrogance to let a jab in her direction go unnoticed and you won't ever see her give up the last word unless she's unfortunately become deceased before she could. Her hurtful jokes and brash instincts can sometimes border on cruel, and when this happens there'll typically be a very subtle flash in her eyes that tells that she recognizes she's crossed a line. Still, she will never apologize for it, so stubborn that she refuses to admit she's wrong even when both parties know it. She's clearly pretty tactless, though along with her blunt nature comes persistent honesty. Yet, she's good at evading tricky questions, and can slip out of a tough situation like a writhing snake.
This isn't to say she never gets chummy with others. She's been known to pal around with a select group of people, and is relatively friendly to most strangers (if not a bit too forward). If she's been with someone for a long enough time, she becomes mildly affectionate without even thinking about it, doting on them or shadowing them unconsciously. If this is brought to light, she's quick to wave it off and pretend like she doesn't have feelings, of course. Quite frankly, Vasanta is an acquired taste hard to swallow unless you're accustomed to it. Speaking of which, she's known to dibble and dabble (and a whole lot more) in liquor. If there's one thing that's for sure, you do NOT want to associate with a sober Vein. But, hey, she needs it to keep up with her ambition. It's true, the woman's got perseverance, talent, and a damn lot of determination. She will get the job done, even if it destroys her. There is a softer side somewhere, deep, deep, deep, deep down in Vein (you might catch glimpses of it around small children) but for the most part, her abrasive yet humorous attitude is what you're going to get.
BACKGROUND
:
Vein lived a childhood with lacking parental figures - nothing too traumatic, but enough to set her down the wrong path from an early start. She became heavily immersed into the "alternative" scene in highschool, dallying in drugs and promiscuity hand in hand with the promotion of anarchy and violence. "Vasanta" became "Vein" and she was suddenly fueled with anger, angry at her parents, angry at society, angry at the institutions, angry at the world. She had dyslexia which made school hard for her, but she actually tried pretty hard in her classes (to no avail, as none of the teachers or her peers liked her due to her outlandish, immature way of dressing). Even though she was with the punks, she had plans for her future. She honestly only got caught up into the dynamic because she despeately wanted a group of people to accept her, and she could only acheive this through being an outcast- but she wanted
out
eventually. She needed more to her life than what she had. So she got good grades- straight As, even, despite the fact that no one congratulated her on her efforts. Her sophomore year in high school, she was suspended from school for smoking pot in the bathroom with Jeremy, her boyfriend at the time. She was crushed. In that moment, she understood that all of her efforts were futile- that no matter how hard she tried, she'd never accomplish her goals. It was stupid, silly, childish thinking, but she was just a child at the time. She went back to school but stopped trying, and let go of any dreams she had about the future.
Then, when she was fifteen, she got pregnant, assumedly by Jeremy but uncomfirmed. Unfortunately, she wasn't aware of this fact until well into her pregnancy when the bump actually showed up (she'd always had an irregular period). When she realized she'd been partying hard- with drugs and alcohol alike- with a child in her womb, she sat down on the kitchen floor and cried her eyes out. She cleaned up, forced her boyfriend to do the same, got a job, and tried to become a good role model for her future child, hoping for the best with the delivery. She was ridiculed in school, called a skank and a slut by the cruel and pitied by the patronizing, but she carried on. When she finally gave birth, her baby was born with number of physical and mental ailments; "retarded" as dubbed by her disappointed, redneck father. Everyone urged her to give the baby up for adoption.
But she kept her and loved her with all of her heart, finally given a purpose in this world. She named the girl Clover and her entire life was spent doting on her child for the next two years. Jeremy didn't go to school anymore, so he watched Clover when she was out and everything was great for a while. Vein was starting to feel better again. Things rarely stay sweet, however. One day when she came home from school, she found Jeremy overdosed on her parent's couch. She was angry and horrified and devastated, clinging to his deceased body as she cried. He was supposed to have been clean. She didn't know how long he'd still been abusing the drugs, lying to her about it, but it'd costed him his life. After a while, her sobs calmed down when she realized that it was quiet. It was so quiet in the house.
Terrified, she leapt from his body with wide eyes and ran as fast as her legs could take her upstairs, jumping four at a time until she reached Clover's room. She was missing. She remembered screaming "NO, NO, NO" at the top of her lungs here, but she doesn't know how long she did that for as she searched room after room for her baby, her beautiful baby. She eventually stumbled into the bathroom and found Clover laying limp, blue, and lifeless in the shallow pool of water in the bathtub.
Nobody knows woe like a mother who's lost her child.
She sobbed for the rest of the day, rocking Clover's body in her lap back and forth and back and forth the entire night until her alarm clock for school went off. As soon as it did, she froze, then hoisted Clover up and paced gently to her bedroom, tucking her into the blankets in her crib and kissing her on the forehead one last time. She then grabbed her father's gun and stoically, oh so slowly, walked all the way to school, still drenched from the bathtub, in yesterday's clothes, completely barefoot, looking like a ghost.
She went to first period and sat in her seat. She remembers the clock's ticks suffocating her, booming in her ears to the point where she couldn't hear anything but a resonating, "Click, click, click, click, click, click." She was only jolted out of her trance by her teacher's voice. "Ms. Grey!" Finally, her eyes locked with his. "Thank you for checking back into to class. Now I'll need you to go down to the guidance office to get a change of clothes. Dress code." Vein, hollowed and empty, merely stared at him before slowly standing up. The class became as still as her face before whispers began to permeate the room. "What's she doing?" "Freak" "Why doesn't she have shoes?" They were the enemy. They were the ones who'd caused this all.
And just like that, Vasanta Grey, at age 17, had lost her boyfriend, child, and killed 12 of her classmates in an on campus shooting.
She doesn't remember anything that happened after she shot the bullets. She'd apparently tried to shoot herself afterwords, too, but had missed because she'd been knocked to the ground, instead only ripping off the top part of one of her ears. She was first and foremost brought to the hospital to patch her up. She was brought to Okari immediately afterwards, and they'd put it in the records that she had died in operation.
They did several experiments on her and trained her relentlessly. At first she would only go back and forth between being catonic, lifeless, limp, and mute and going into raging fights of destruction and shrieking, but before long, she was able to mellow out. Funny as it is, she's probably happier than she's ever been in her entire life now. She's weirdly loyal and fiercely dedicated to Okari, despite the horrible things they'd put her through. Nothing disturbs her more than the sound of a baby crying. It's sure to elicit a terrible reaction from he every time. Other than that, she's made a full recovery, a deadly weapon to be used for the greater good of politics and consumption ism. It's almost funny how she went from fighting the man to being the man's attack dog.
MISC
:
Vein's a good person, but she's got a very strong sense of duty and will do as she's told, despite how often she preaches about rebellion and independence.
The first picture shows Vein when she's not fighting, the second shows a transition, when her blood is just beginning to creep up her arms.