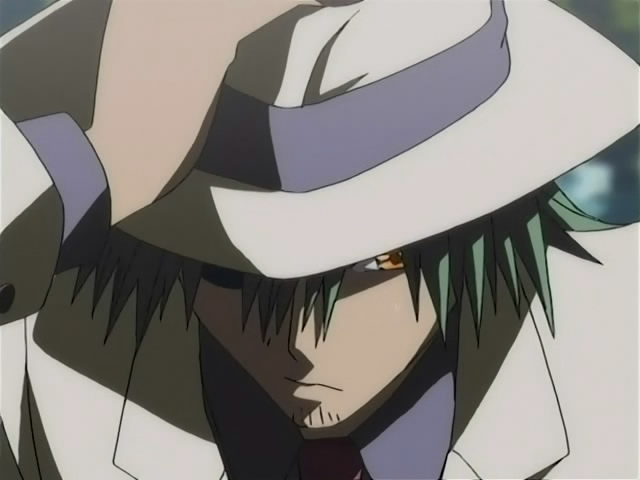 Name::
Eren Leonhart
Nickname::
White Knight
Age::
24
Gender::
Male
Role::
Guard
Personality::
Calm, almost scary calm all the time. Even when fighting. Enough patience to sit still for hours at a time. Eren is always a gentleman, to males and females, it doesn't matter who. Respectful and kind. Eren will always lend an ear to someone who needs it. He always has the perfect advice for any problem anyone has. He hides he emotions well, no matter how jealous he gets of other people's relationships, you can always see him smiling and laughing. If someone needs help, he can't say no, its in his nature to help people. To matter what they need. He's protective of the people at the cafe, no matter who they are. He would kill or be killed for them. Eren almost never gets angry, there are only a few things that can set him off. Watch out if you find one, he isn't a bouncer because he looks scary.
Appearance::
Eren has longish green hair that's always messy and amber eyes. Well eye actually, he lost his right one. He also has a scruffy goatee. He is always seen wearing a white suit, with a gray dress shirt, red tie, and black shoes. He is never without his favorite white fedora with its gray silk ribbon. He's just shy of 6 feet tall and weights about 140lbs of pure muscle. His skin is pale, but not sickly, and his build is athletic. He also always has a black eyepatch covering what's left of his right eye.
History::
Eren grew up around guards and bouncers. His single father was one and was always bringing home friends. With his father gone so much, Eren learned at a very young age to take care of himself. Every morning when his father got home, he would apologize for it and play with Eren. The two of them were close, and Eren never blamed his father for not being there. All through elementary and middle school this routine continued. His freshman year of highschool things changed, his father was killed while doing his job. Eren had to relatives nearby, and would have been shipped off to Germany to live with an aunt and uncle he had never met. But he dropped out of high school and started working, he knew how to take care of himself anyway. His father's old friends helped him get a job as a bouncer at a local bar, even though he was under age. That's where he met his love. Her name was Millie and she was the owner's daughter. They started dating when they were eighteen, waiting until they were considered adults, just like Millie's father asked them to do. Three years later at the age of 21, they got married. But tragedy struck about six months later, right after finding out that Millie was pregnant. His wife was hit by a drunk driver and killed. Along with the unborn child. Eren grieved for about a year, before finding work at a little cafe owned by the god of love. Two years later he still works there, protecting other people's chances at love and offering advice wherever he can. He lost his eye about a year ago when a paticularly nasty fight broke out. It was either lose the eye or someone else get hurt, he chose to lose the eye.
Love Interest::
To this day, he still loves his late wife.
Likes::
Books
Fighting
Protecting People
Sweets
Coffee
His Late Wife
Being a gentleman
Weapons
Dislikes::
Drunks
Dogs
Spicy Foods
Valley Girls
Needles
Jerks/People with no respect
Habits::
Eren is a smoker, but never does it inside the cafe, out of the respect for other people.
Weapon::
Eren's favorite weapon is a staff, but he uses different weapons sometimes, just to mix things up.