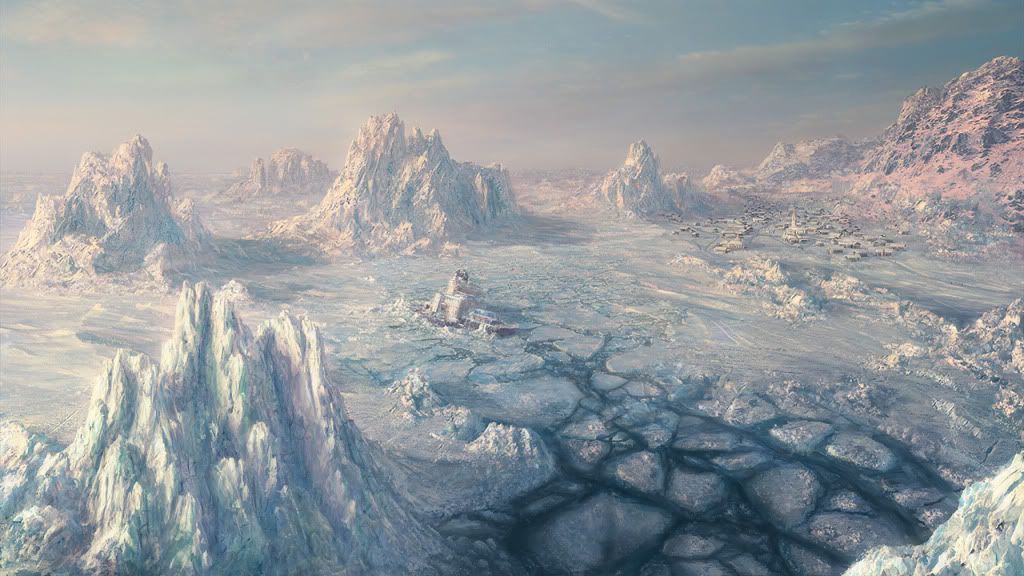 Earth: 2110.
The world has fallen to the seas. Apocalypse reigns and the horsemen have yet to arrive
.
The Earth fell to a collection of things, as the sun drifted off into another period of sleep, an asteroid hit the moon and forced it closer into the atmosphere of the earth and the ice-caps finally succumbed. This collection of events was nicknamed '
The Drop'
by the survivors: as temperatures hit the ground, ocean levels rose and claimed entire continents. The best that mankind could offer could do nothing but watch as the world froze around them.
'The Drop'
left visible effects on the planet, constant snowstorms, areas of the planet that went all the way down to -220 degrees and deadly icicle hail. From New York to Pakistan the effects wreaked chaos and changed the planet forever, leaving pale scars across the Pacific. The Earth is now a winter wasteland, and more tortuous cold has yet to arrive.
What humans had been documenting in horror movies for ages had come true. Wolves were the first to adapt to the new climate, some survivors became crippled by loneliness and broke under the cold, becoming less than human. The creatures of the sea became larger, the snow leopards and bears mauled the smaller predators and what was tamed, is no longer.
In these last eighty years, Humanity adapted too. They hunted giant whales for oil. They dived and retrieved old technology from the ruined cities, built cities on the last remaining continents and repurposed large ships to house their cities. Things were looking up for humankind as the now nomadic humans reclaimed the surface of Earth.
Things have changed for your group of survivors, as you are about to find out.
You are a part of an armored convoy of traveling survivors that are currently trundling across the ruins of a post-apocalyptic Texas. The wild desert turned into an even wild deathtrap. The people you are currently with are low on oil and gasoline, and have decided they need a group of their meanest, kindest, and survivalist of their kind to find the resources they need to make it past the brutal eternal winter and across the bleak snowy desert.
Taking place in...
There are no characters in this universe yet!
0 posts here • Page 1 of 1
0 posts here • Page 1 of 1
Arcs are bundles of posts that you can organize on your own. They're useful for telling a story that might span long periods of time or space.
There are no arcs in this roleplay.
There are no quests in this roleplay.
Here's the current leaderboard.
There are no groups in this roleplay!
Welcome home, Promethean. Here, you can manage your universe.
Arcs are bundles of posts from any location, allowing you to easily capture sub-plots which might be spread out across multiple locations.
You can create Quests with various rewards, encouraging your players to engage with specific plot lines.
Settings are the backdrop for the characters in your universe, giving meaning and context to their existence. By creating a number of well-written locations, you can organize your universe into areas and regions.
Navigation
While not required, locations can be organized onto a map. More information soon!
There are no groups in this roleplay!
There are no characters in this universe yet!
By creating Collectibles, you can reward your players with unique items that accentuate their character sheets.
Once an Item has been created, it can be spawned in the IC using /spawn Item Name (case-sensitive, as usual) — this can be followed with /take Item Name to retrieve the item into the current character's inventory.
Give your Universe life by adding a Mob, which are auto-replenishing NPCs your players can interact with. Useful for some quick hack-and-slash fun!
Mobs can be automated spawns, like rats and bats, or full-on NPCs complete with conversation menus. Use them to enhance your player experience!
Current Mobs
No mobs have been created yet.
Locations where Mobs and Items might appear.
You can schedule events for your players to create notifications and schedule times for everyone to plan around.
Add and remove other people from your Universe.
The Forge
Use your INK to craft new artifacts in Beauty Bleak. Once created, Items cannot be changed, but they can be bought and sold in the marketplace.
Notable Items
No items have been created yet!
The Market
Buy, sell, and even craft your own items in this universe.
Market Data

Market conditions are unknown. Use caution when trading.

Quick Buy (Items Most Recently Listed for Sale)
There are no characters in this universe yet!
None
Discussions
Topics

Replies
Views

Last post
Most recent OOC posts in Beauty Bleak
This looks amazing, I too, am also interested but also somewhat confused about the heater concept?
really, really keen on this idea. i will CERTAINLY be joining when you are ready...

but can i get a little more of an idea about the heater concept? i was a little lost.

is it some greedy human that wants to rid the world of ice and go back to how it was.. or am i missing the point? cause i have a habit of doing that :c
I'm very tempted to join this, to be honest.
Badass concept. Count on me joining.
This is the auto-generated OOC topic for the roleplay "
Beauty Bleak
"
You may edit this first post as you see fit.