Appearance:
и α м ε : Jaffar Felix Frotto, goes by either JFF(by upper mobsters), or Jaffar by most anyone else.
α ι ι ί α η с ε : Belles
я α η k : Arms Dealer
φ ε η σ ε я : Male
α φ ε : 27
б υ ί ι δ: While Jaffar is slim, he's actually very muscular. He trains himself at the gym every time he isn't working(aka, purchasing, selling, maintaining his "Merch".
q υ ί я k ѕ : His name in itself is enough to make him stand out. Honestly. How many Jaffars do YOU know? Other than that is his accent. He's got the weirdiest accent: a mix between a brooklyn accent and an angry italian's. Lastly, he's almost always got his black hair slicked back and held back in a ponytail.
ω ε α ρ ο η ѕ :
Light Armment - Brass and Blade: For when the job is personal, needs concealed weapons...or just want to dish out some pain, Jaffar goes with his own body. Armed with brass knuckles and a shoe knife, Jaffar turns his body into a leathal weapon. The combination is easy to conceal, and is on Jaffar 99% of the time.
Shoe Knife -
Brass Knuckles -
Medium Armment - Trademark Colt - The Colt 1911 that was specially made for Jaffar Frotto. The weapon has ivory grip, and gold engraving of his initials. The weapon has been modified by Jaffar himself. The weapon has a 12 round magazine, instead of a 7 round magazine, and improved iron sights, giving the shooter a little more accuracy. It is carried with Jaffar about 80% of the time...simply to display the pistol. It truly is a masterpiece.
Heavy/Siege Armment - If for any reason, Jaffar was to be attacked by the Valentines (or hell, anyone if they catch him delivering a shipment or while he's at home) will be given the best death anyone could buy. Being a weapons dealer, Jaffar has a lot of options in dealing death. However, his favorite has to be the Winchester 1901 Lever Action Shotgun. A 12 gauge shotgun excelling in close range combat. Jaffar bought this antique, and made it combat ready again. With it's 8 round tube magazine, this weapon is reliable, and deadly. However, this is very rarely carried around. It usually resides in Jaffar's home, or when he is out on a "Gun Run". He might retrieve it for other occassions too....if he deems nessicary.
ρ ε я ѕ ο η α ι ί τ ψ : Jaffar is hard to place simply one finger on. He's charming, and laid back...but straight forward, and to the point. When it's time for business, it's time for business, but otherwise, you can afford to be a little loose. He's got a taste for brandy, and a few whiskeys too. He's quite friendly, and a little more slack than a few mobsters. But he's dependable to the very end.
He's close friends with Rose, and kind of looks as himself as an older brother to her.
б ί ο φ я α ρ π ψ : Growing up a tough life of poverty, Jaffar was raised in a ghetto in Italy. His family was poor, and didn't have much of anything. His father was a drunk, and his mother was a cook. All through his childhood, he was cheated of the things that children should have.... And slowly forced him to mature before his time. By the time he was twelve, he was more mature than some adults. He lived in Italy untill his father got a job offer in America. He took the job, and the family moved to Brooklyn. Now living a new, better life, Jaffar's family enrolled him in school, where time after time again he would be kicked out, because of fights. At age seventeen, he decided that he didn't need any more education to know what he needed to know about this world. He sat down with a close friend's father, whom knew all about weapons...firearms in particular. He studied and learned with him for four years, untill he turned 21. Once he did, his friend's father helped him get a job at a gunsmith. This only fathered Jaffar's love for guns, and fed his ever growing knowledge. He worked there for five years, before quitting, and deciding to travel the world, and try and get a job at another gun company. While he was traveling, he met the Belles family, and quickly became attached to their daughter, Veronica Rose. He became close friends with her, and eventually got involved with her family. It's when Rose's father learned about his weapon expertese. He quickly took the man in, and made him the Mafia's weapon man.
Jaffar keeps the Belles Family up to date with weaponry. Only the most reliable, most leathal, most effective weapons are given to them, via black market, or gun company exploitation. He's quite trusted by the Belles' Don. An through which, he has gained much wealth. Enough to buy a rather large, impressive two story house, and keep his family in wealth as well. While outside the Mafia family, he has but one person's company - his Calico cat, Jyesspe. He's grown close to the feline, and secretly conciders him brother-like family.
ο τ π ε я:
Car - 1967 Cadilac El Dorado, Jet black. Bullet resistant doors and pressureless tires. This is Jaffar's "Gun Run" car, and usually is driven casually.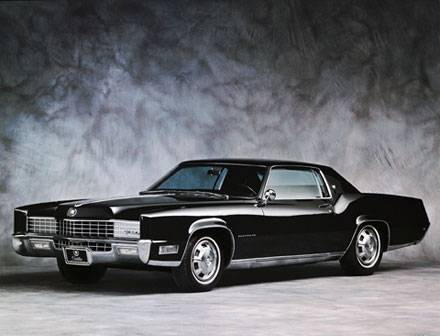 Motorcycle - Ural T Model 3, jet black. Pressureless tires, and sidecar. Can haul up to 300 pounds and still go 70 miles per hour, an extremely powerful cycle.
Notes: The press are mostly who interview the to Mafia's but they don't get nothing from them so they mostly stalk the Son and Daughter to get information