---
---
---
---
"Outside of a dog, a book is a man's best friend. Inside of a dog it's too dark to read."
~ Groucho Marx
---
---
---
---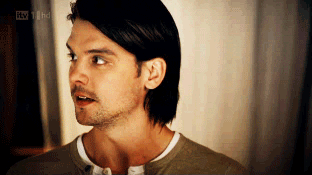 FULL NAME
Ellis Lewis Bleddyn -
The irony that his last name literally translates to "wolf" is not lost on him.
NICKNAMES
"Ellie or "Lissy" -
Ellis has never been particularly fond of nicknames, since most tended to be at least a little teasing. These are only some of the worst culprits.
"Lewis B." -
His pen-name when he begrudgingly writes his fiction novels. A bit unimaginative, perhaps, but it's been effective in keeping most people from his true identity.
DATE OF BIRTH
March 7, 1985
AGE
Thirty-Two-Years-Old
OCCUPATION
Author -
If you asked him, he'd tell you he's strictly a history writer, specializing in the mythology of Great Britain. He would, of course, be lying.
GENDER
Male
SEXUALITY
Queer -
He mostly identifies as homosexual but has known at least two women who have sparked his interest in his 32 years of living.
DIALOGUE COLOR
#607DBA
---
---
---
---
PHYSICAL DESCRIPTION
Ellis is not, indeed, the most physically intimidating of men. This is probably a good thing because he's also not the most intimidating personality-wise. Standing at just 5'8, Ellis has dealt with more "fun-sized" comments than he can shake a stick at. His build is a little on the soft side from years spent hidden in front of his computer, although the soft bits seem to be gradually shrinking as his new identity of werewolf begins to sink in. Exercise apparently comes with the territory of being in a pack. Much to his chagrin, his facial features remain rather sweet-faced and round. If he'd ever openly admitted that he was looking forward to becoming a bit rugged as a werewolf, he would be sorely disappointed. If anything, he reminds people more of a chipmunk or mouse than a wolf while in his human form, especially with his crooked but charming smile.
His eyes are dark brown and tend to twinkle when he's in a state of excitement or in the middle of a lecture about historical Ireland. Ellis is a brunette, and his hair is a bit long and shaggy due to the fact that he's never quite gotten around to setting up an appointment at the hair salon. There seems to be a near-constant light scruff on his face, especially when he's in the middle of writing and can't be bothered to shave in the mornings. You can usually tell just how far into the writing process he is by said scruff as well as by the ever-present dark circles under his eyes.
Stylistically, Ellis is a bit eclectic. After a childhood of bullies dictating how he should and should not dress, at thirty-two-years-old he's finally begun to step out of his comfort zone. His wardrobe is littered with odd patterned shirts, warm scarves, and rich colored jackets. That's only on his good days, however. For those days where he needs a bit of comfort or doesn't feel like drawing attention, layered shirts with button-ups in unobtrusive colors live olive and navy blue take over. He tends to stick with long-sleeves, however, given that the bite mark on his upper right shoulder coupled with the claw marks raked down his spine are still relatively red as they scar over, and he finds it absolutely mortifying when people stare.
PERSONALITY
Ellis is not the most elegant social butterfly to ever grace this Earth. In fact, to even say that he is a social cocoon would probably be stretching it. He's an awkward sort of person, hesitant to speak to others and often nervous that he'll bungle up even the most typical social greeting. He is that person who mentally rehearses his order in case he accidentally misspeaks and has to die of embarrassment. When writing, however, that all melts away. Words are easier to piece together when written on his computer or on paper, which is one of the things that made him so drawn to writing as a career. Behind the screen, behind the page, there's a sort of shield between him and his own anxiety.
In his own way, Ellis is rather charming. He's polite to a fault with only rare exceptions and will often let others talk over him. He's easily excitable on topics that spark his interest, and he's quick to help and support others, even if he doesn't know them particularly well. Even attempts to hide his awkwardness are rather adorable, trying to fend off his own ever-present anxiety with false enthusiasm and jokes that don't always manage to land. In general, he simply endeavors to be the sort of person he feels that he isn't, not realizing that perhaps being nice to people and helping others might make him a bit less terrible than he initially thought.
Above all else, however, Ellis is tired. He's tired of having to try so hard to be something he isn't. He's tired of being alone all of the time. He's tired of adjusting himself to meet the expectations of others. He's been terrified of being himself since he was a child, and here in Bellingstone, it doesn't appear that things are going to change any time soon. There is a certain fury and determination in him, however, that's he's beginning to realize exists. He's learning not to retreat into himself like he did as a child and instead lash back. He's done it rarely in his life, actually pushing back, but that familiar ache is starting to grow inside him again. He might feel a bit bad about it afterwards, but you can't, as his former therapist often told him, let others just do and say as they wish at your expense.


LIKES
✔

Books and Writing- It should be a surprise to absolutely no one that Ellis has a passion for good books. They've kept him company throughout his entire life and remain some of the most steadfast friends that he's ever made.


✔

Nature - Perhaps the thing that's changed the least for him upon becoming a werewolf. He enjoys the solitude and general energy of being outdoor and often takes long walks when he has the chance.


✔

His Transformation - It's complicated (See Dislikes), but it's not the worst thing that's ever happened to him. At least now he's actively forced to socialize.


✔

Hockey - A bit strange for him, but he enjoys watching hockey matches. As for actually playing it, well, he's not exactly the best at anything involving slamming into others, but he's a rather good ice skater if he does say so himself.


✔

Pastries - What can he say? He's a pastry sort of guy. Croissants, scones, shepherd's pie- put it in a flaky, delicious crust, and he's there to eat it.
DISLIKES
✖

Technology - Emails he can handle. Writing programs he can handle. Music devices he can handle. Further than that and he's completely lost, which leaves him clinging to his old cellphone thats fanciest feature is texting.


✖

Bullies - Okay, to be fair, no one likes bullies. But that's not the case with Ellis. He doesn't hate them, he loathes them. It sparks some of that fury in him to see someone swaggering about, making others feel lesser than they are.


✖

Polenta and Quinoa - He's not exactly sure what it is and is too afraid to ask at this point.


✖

His Transformation - I told you it was complicated. He resents being put into this situation, resents the aching scars on his body, and, above all else, resents the fact that he now feels stuck in a town at the brink of something dramatic that was supposed to be his private getaway.


✖

His Fantasy Series - His children series "All Things Light and Dark" has been a tremendous money-maker and a hit with children and adults alike. He absolutely detests writing it and would far prefer to focus on his historical books based on the Great Britain area and the mythologies of its people.
FEARS
☠ Remaining alone - He has a few friends who he isn't exactly close to, his family is barely in the picture because they live so far away, and don't even get him started on his nonexistent romantic life. He fears his own social anxiety and how it may lead to him never falling in love, never finding that niche for him to belong in.
☠ Small, Tight-Nit Communities - Ellis never said that he made any sense. It's not the partnership he fears so much as the thought that once he's actually found a place to belong, they'll all realize how awful he is, and he'll be left alone once more.
☠ Angry Werewolves - Something definitely lingering from the trauma of his own bite, he's left with a horrified chill just thinking of flashing, sharp teeth and the angry snarls that accompany that particular vision. He submits quite quickly as a wolf, but is left distant and shaken post-transformation if he ever has to.[/left]
---
---
---
---
BIOGRAPHY
It all began when he was born in a small town in the middle of East Tennessee. This was his first mistake. A small, awkward child who had the audacity to enjoy Star Trek and read Tolkien made for an easy target. His life was hard in the way that the lives of all outsiders in small-knit communities are, mingling between being ignored and being given far too much attention. Ellis had always preferred the former over the latter. He learned to shrink into himself, to hide what made him happy for the sake of not providing his tormentors more material than they already had. His style was dumbed down to plaid and blue-jeans with the occasional shirt tied to whatever everyone was talking about. He attended football games, staring vacantly from the stands and occasionally remembering to cheer. His parents worried about him, but recognized that there wasn't much they could do apart from support him and provide him with what he needed at home- a safe space that involved Jean-Luc Picard, wizards, and a reminder that not everyone was quite as closed minded as the people outside their door.



He continued growing up, as children do, and things didn't exactly get better. Instead, things changed. An English teacher, Mr. Roberts, managed to get Ellis started on writing short stories in Middle School. They weren't particularly good, but Mr. Roberts saw something in them and kept encouraging Ellis to keep improving and writing. In his Freshman year of high school, Matthew Cable surprised Ellis with a kiss behind the bleachers before Matthew the day Matthew had to move. It had been a moment of revelation because Ellis hadn't even realized that kissing boys had been an option until that moment. During Junior year, Ellis punched out the football team's running back for turning Mary Musick down in a particularly loud and disgusting fashion. He'd gotten suspended but had later realized that he'd learned a rather disturbing lesson when said running back was apparently tremendously humiliated in his social circle because someone like Ellis had managed to take him in a fight. Mary had brought Ellis brownies that she'd made to thank him.
By the time Ellis moved away to college, he'd at least learned to accept parts of himself. He knew he wanted to be a writer, so he continued to write. He submitted short stories to magazines and sometimes got in. He worked in the Writing Center, improving papers and helping to grade the punctuation and grammar for the English department. He kept improving his writing, but not necessarily himself.
In an ideal world, his insecurities and self-doubt inspired by his years of pretending would have been shed away in the light of a more enlightened world outside of Small Town, U.S.A.. He would find his place in college, would fall in love, would learn to be self-assured and happy in his own skin. This is not an ideal world. People, Ellis learned, were also awful outside of his hometown. The guards stayed up, and he learned to adapt. Small town hick was a bad disguise here, but he realized if he dressed blandly enough, if he spoke just enough in class, if he kept acting just so, he'd be fine. He graduated with a Creative Writing and History double major and, surprisingly, a literary agent interested in his writing.
His first book, a treatise on the fairies of Ireland and their evolution in Irish literature, was published after college and met with little fanfare, but he continued to write. More short stories got accepted, all odd little fictional pieces. Eventually he got a new agent, oddly enough the same Mary Musick, now Mary Carter, from high school who pointed out that he needed something with a little more "punch" to get noticed (both had giggled endlessly and embarrassingly at the pun). So, on a lark, he wrote a book about a lonely little girl who accidentally made friends with the King of the Fairies. Mary had liked it and sent it on to a publisher under a pen-name at Ellis' insistence. After all, why would a serious writer want to be associated with a children's book?
Neither expected what happened next. To say that the book was successful would be like saying fire is hot or (human) blood is red. Requests for a sequel came out, and Ellis begrudgingly complied. And then complied again. He realized too late that the book he'd mindlessly written was becoming a series and a world-wide phenomenon.


At 32 years of age, Ellis had promised Mary that he'd write the series' fourth installment if she would agree to do two things; let him write his next historical mythology book and allow him to take a retreat to a little town where he wouldn't be bothered. He'd chosen Bellingstone on a lark after hearing something about an excellent diner. He'd later regret that decision.
On his first night at Bellingstone, he'd taken a walk in the woods. The full moon had made it all seem so inviting, so bright that he didn't even bother to bring his flashlight. This was the second biggest mistake of his life (besides, of course, simply being born). Halfway through his walk, he'd literally stumbled upon a freshly killed doe, a large, bleeding gash still oozing on its stomach leaving a large pool of blood and entrails on the ground. Ellis had come out of the encounter coated with more blood than he'd ever wanted to even think about and had turned around to go home. Or at least he tried. A wolf, a giant wolf with glistening teeth and a howl to match tackled him from behind, one claw slicing through the thin material of his shirt and raking down his back while those terrible teeth burrowed into the meat of his shoulder. Ellis had screamed and flailed and somehow, somehow the wolf let go.
Ellis didn't stop to think about how he'd survived. He made his way back home as fast as he could, half limping and half running and never once looking behind. He'd called 911 as soon as he was out of the woods. Things happened so fast from there, too fast for Ellis to accurately remember. The next thing he knew, a man with a killer smile and a motorcycle had arrived at his house and ushered him to that very excellent diner that had made Ellis choose Bellingstone in the first place. The diner had been excellent, and, honestly, an attractive man with a motorcycle taking him anywhere wasn't the worst thing that could have happened. The revelation that he had been turned into a werewolf and was being brought into the Bellingstone pack was much less pleasant in comparison.
MISCELLANEOUS
-A skilled cellist
-The worst artist you will ever meet. Please never ask him to draw a circle. It's in everyone's best interest.
-His Southern accent, which he's successfully managed to quash when speaking with others, rears its ugly head when he's upset or angry.
-Still doesn't know who is responsible for making him a werewolf. It's something that bothers him immensely and always lingers at the back of his mind.
---
[/font]