Name: Adelin Rose
Nicknames: Adelin the Stalwart, Adelin the Martyr, Adelin the Saint
Age:26
Gender: Female
Race: Human
Appearance: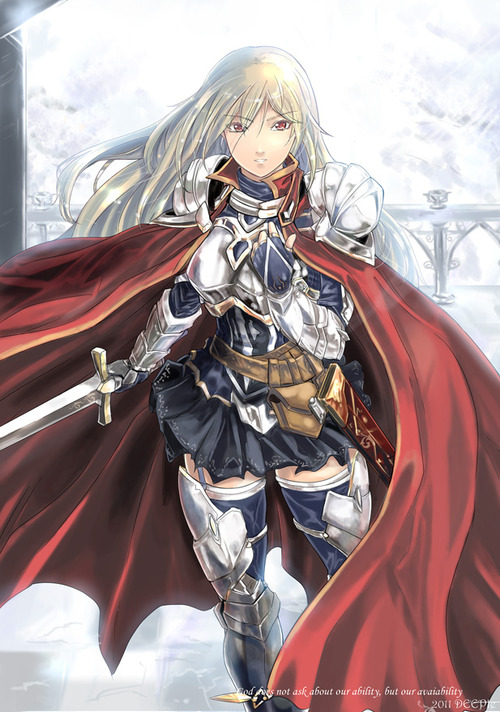 Equipment: Plate-mail armor along with a blessed longsword. Also has a 'standard' or for most people a flag. With a Templar symbol surrounded by dragons she is never seen without her Sacred Standard.
Abilities:
Heart of the Martyr- Blessed with the holy powers of light, she possesses many supportive, healing and strengthening abilities along with martial prowess. This effect activates as she takes damage, or boldly does actions that may seem suicidal such as charging an entire army headfirst. Or using her own body as a shield for her allies.
The more she is damaged, the greater her power becomes. She can become a beacon of hope even as she is stained with her own blood, even as she bleeds she will carry on. However, she can not heal herself nor can allies heal her while in battle. But when you become such an inspiring figure on any field, no matter how little the numbers that follow her, even if they were armed peasants and farmers. Even they can be mistaken for elite troops under her sacred standard.
Not only this, her power and will to live becomes greater the more she is damaged. Her sword strikes become faster, deadlier and even more destructive. Even being near her strikes could cleave an armored foe in half from the sheer force. But of course, the closer she is to death, the higher of a chance the next blow becomes fatal.
Sword and Flag- Adelin fights using bother her sword and flag as a weapon. Her skill with a blade in excellent, however what surprises many that as much as her sword can kill, her flag has impaled many a foe before.
Personality: Brave, Indomitable, fearless, stubborn. These qualities describe this maiden well. Never giving up until the last drop of her own blood spills, rallying up her allies to continue fighting for all they know and love. She is what squires want to inspire to become...Of course, when no one is around she likes to be a little girly and dress in frilly clothing. She really likes great looking clothing and will gladly wear one when no one is around.
Background: The circumstances around her birth was almost like a miracle from the gods. From such a sickly mother, her own birth seemed to cure her own mothers health. She was regarded as a saint and immediately her parents were sent to live in a church to care for the miracle child.
Growing up with faith, love and admiration. Adelin grew up learning the trade of a warrior of the church. At the age of 14 was when the initial invasion has commenced. At such a young age she demonstrated her prowess early on. During the initial invasion Adelin herself was faced against a demon, one that had killed groups of soldiers like flies.
With one strike from the demon, at first they thought their saint was killed...But the child still stood blood pooling at her feet. Picking up one of the sword off the ground with one swing the demon was torn asunder to which she had stormed from the church driven in a zealous and holy rage. She had slaughtered many enemies that day which saved not only their church. But their town.
From that day forward, she volunteered to fight. She took up her own flag which would be her symbol of her sainthood. "The Dragon Templars"