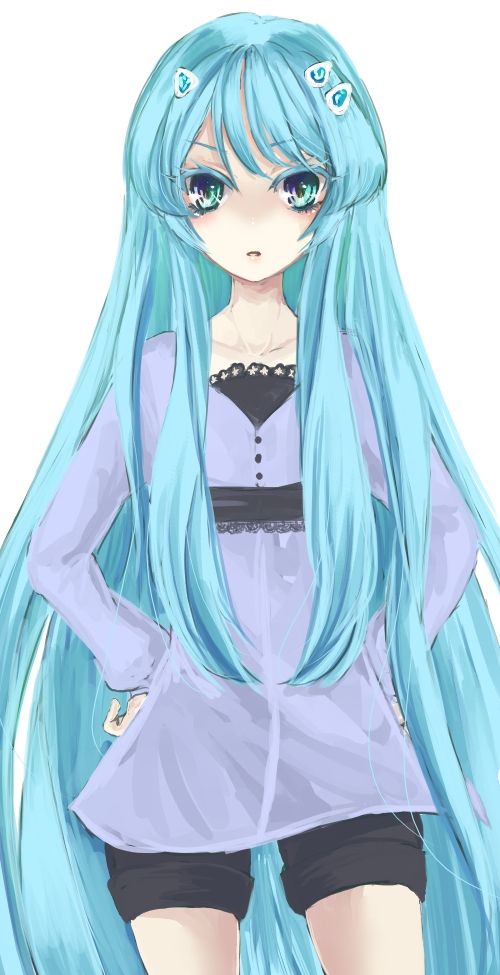 Name: Heidi Katherine Ballentyne

Nickname: Peppy [Although she completely hates being called by it.]

Age: 19

Gender: Female

Love Interest: "I-I don't like anyone! B-Baka..." [Most likely Sprite]

Role: Pepsi

Appearance: Heidi is about average height, standing at 5'5" and weighing in at about 120lbs. The girl is somewhat skinny, but she's not simply skin and bones, her body is rather athletic, actually. Long, blue locks falls well past her waist, stopping around her thighs. Despite length, her hair is very thin and easily manageable, although she hates it when people touch, or pull at it. Like her hair, ocean blue orbs stare out, usually emitting a glare at the nearest person available. Usually, she wears the logo for her soda, Pepsi, in the form of hair clips that cling to her azure hair, and tomboy like clothing, which means shorts, jeans, and lots of T-shirts. Occasionally, she may wear something lacy and girly, but that's usually for a certain reason.
Height: 5'5"

Personality: The blue haired girl may or may not be a complete tsundere. She tends to come of as cold and undeniably hostile at first, but once she gets to know somebody, she may come of as more loving, however, she is very stubborn. Heidi will deny anything that she doesn't believe is true, and she will also deny any words spoken about her signs of affection or changes in attitude, as well as being a tsundere. Some may call her arrogant, and they are...probably right. Heidi carries herself highly, and always believes believes she is right, even when she knows she's not.

Likes:
-Pepsi
-Sweets
-Cold Weather
-Rain

Dislikes:
-Coke
-Hot things
-Hot weather
-Being called a Tsundere
-Being injured
-Being sick
-Idiots

Fears:
-Being lied to
-Being betrayed by someone she trusts
-Dying
-Snakes

Hobbies:
Heidi collects bottle caps, among other things, and sketches things very often. As much as she loves her sketchbook, along with every sketch contained within it, she never lets anyone see it.

Weapon:
More often than not, Heidi prefers to use her fists in combat, but she is also pretty efficient in using knifes and other bladed weapons. When using hand to hand combat, she is very well skilled in all types of flips and tricks to avoid injury.

Special Moves:
1. Carbonate Blast!
-Blasts bubbles at the enemy, which explode on impact and expel acidic liquids that are capable of burning enemies.

2. Dehydro Slash!
Usually, she uses this move in accompaniment with a weapon, but a simple strike will work as well, the move in question dehydrates the specific spot targeted, either rendering it useless or harder to move.

3. Flavor Infusion!
-A move that requires the utmost concentration, Heidi attempts to regenerate lost blood/soda. However, if she is hit, the move will fail. Usage of this move only refreshes about 1/3 of her life force and usually requires the help of another for protection purposes.

Specialty: Speed and Agility as well as hand-to-hand combat.

Catchphrases:
-"Live for now!"
-"Change the game!"

History:
Purely annoying, as she would call it, Heidi always had a large family. She's used to being bombarded by siblings and aunts who over-shower her with attention and annoy her to every extent. However, when she was younger, her life was not always sugar and rainbows. As a younger child, she witnessed the abuse of her mother by her father, who was of the Alcohol group. This may or may not be a reason she is so reluctant to show her true feelings for people, and one of the reasons she is so afraid of being betrayed by someone she trusts. Due to her longing urge to escape her house, the girl took up parkour and began practicing with some of the local boys in her neighborhood, equating for her tomboyish attitude and means of dressing. She believes it is harder to fight your own battles in a skirt. Her reasoning for joining the competition among drinks is to be powerful and, most of all, revered.