Full Name


Bradley Robert Arthurs



Nickname


Brad



Preferred Name


Brad or Bradley are fine



Nationality


American



Ethnicity


English and French



Date of Birth


December 1st, 1997



Age


17



Zodiac Sign


Sagittarius

---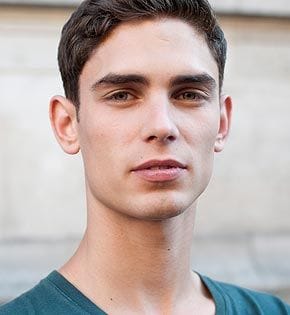 Sexual Orientation


Heterosexual



Relationship History


He was in a relationship once, but he was only thirteen so he doesn't count it as a real relationship.



Current Relationship Status


Single



Virgin?


No

---



Skin Tone


White - pale



Height


6'1



Weight


175 lbs



Body Shape


Bradley is slender, a body fit for a model. He's toned with a physically fit form, but he doesn't necessarily look athletic or muscular.



Body Type


Ectomorph



Hair


Brown hair cut to this length



Shape of Face


Oval



Eyes


Blue



Distinguishing Marks


No distinguishing marks but people like to point out that his ears are on the bigger side



Physical Disabilities


None



Tattoos and Piercings


No



Fashion Sense


Bradley's a prep, so there's no discrepancy in the fact that he dresses well. His favorite brand is J. Crew.



Overall Attractiveness


Bradley is definitely a good looking guy. He went through his awkward stage just like everyone else, where his large ears were weird looking, but he's grown into his appearance now and doesn't struggle to find girls who are into him. His personality isn't quite as attractive, but physically, he does well for himself.

---



Good Personality Traits


Energetic, quick-witted, expressive



Bad Personality Traits


Obnoxious, cocky, disrespectful, reckless



Personality


There are a lot of people who can't stand Bradley, and with good reason. He's got an ego that can be seen (and heard) from miles away, and narcissism might as well be his middle name. To some degree, you'd expect a trust fund kid like him to think that the world revolves around him, because in his little world, it really does. However, Bradley takes selfishness and arrogance to a whole new level. He isn't disrespectful to teachers or adults, and is actually quite the opposite. He knows how to make a good name for himself in front of the people that matter; it's a trait he inherited from his father. However, to people around him, he can be degrading and condescending. He sees most females as nothing more than ways for him to get laid, and tends to be very sexual around all girls until he's completely positive that there's no chance that he's going to sleep with him. His good traits are less obvious, but they do exist. He's energetic and is the guy you can turn to if you're looking to go on a food-run at three in the morning, or spend a weekend in France with. He's always interested in being out and about, doing things and making memories. He's quick-witted and is good with making comebacks, a trait that allows him to seem humorous even when he's saying something in poor taste. For good or for bad, he's also expressive. If he doesn't like something, he's not afraid to voice his opinion, and if he likes something or someone, you can bet that he's going to be whistling at them from down the block.



Strengths


Bradley is good with words, so he finds it easy to talk his way out of situations, even if it requires a few white lies.



Weaknesses


He has a big ego; hurt that, and you can bet he'll be coming at you (so long as he knows he can win the fight). Aside from that, his biggest (and most obvious) weakness is girls. He's a teenage boy, so being into sex is expected, but Bradley has a reputation for wanting to sleep with every girl that he sees. He can't except the idea that some girls aren't into them, and he'd be lying to say that he find drunk girls to be easy targets.



Mental or Behavioral Disabilities


None



Life Philosophy




"You can never be overdressed."



---




Short Term Goals


Land another major modeling contract, preferably for a high-end designer, graduate high school, not end the year with any STD's



Long Term Goals


He wants to get a degree from a college, but he doesn't think that he wants to go straight to college after high school. He wants to have at least one child, preferably a boy, and possibly move back to New York permanently.



Aspirations


Right now, the only dream he really has is to become bigger in the fashion world. He's not thinking that far ahead into the future.

---



Hometown


He lived in Manhattan, NY from birth to age six, and Beverly Hills since then.



Upbringing


Bradley was spoiled rotten by his mother, and it's probably where his narcissistic, "the world revolves around me" attitude comes from. For most of his life, he really felt like the world did revolve around him. All it took was a few crocodile tears for his mother to fly home from a movie set on the other side of the country to come see him, or some yelling and screaming for him to get court side seats to the Lakers game instead of box seats. He was spoiled rotten by his mother, but it wasn't like that with his father. The man didn't hate him, but he tended to give his love to Bradley's older sister, Emily. For the most part, it was just because Bernard was a man's man, the kind of guy who didn't shed a tear, even at his mother's funeral, and hated getting personal or mushy. He felt that Bradley needed to be raised in a way where he knew how men were supposed to act, so he was never expressively loving towards Brad. In fact, once he was old enough that his mother no longer kept him under her protective wing, Bernard became pretty strict with Brad. "Pretty strict" is used relatively, compared to how much leniency he had as a child, though. Strict for Brad meant that his father cracked down on him, started voicing his expectations for Brad's future, how he needed to do well enough in school to get into his alma mater, Harvard, and how he wanted him to go into business.

While his father isn't obviously nice to him, Bradley knows that he cares somewhere underneath his hard exterior, and he genuinely wants to do well to give his father something to be proud of. He just gets distracted with things he really wants along the way. Like modeling. It's something his mother got him into at a young age, and he's grown to not only love being behind the camera, but the fashion world too. He's become fairly successful as a model, but his father would probably have a heart attack if he learned that Brad wanted to pursue modeling or something in the fashion world as a real career. His father would probably call him some derogatory word for a homosexual, kick him out of the house, burn any family photo with him in it, and he'd be exiled. Family and friends would be told that he was off in Rome living in a monastery or something. It just wouldn't end well, so Brad has spent most of his time avoiding conversations about the future, messing around when his father isn't watching, and trying to do well when his father gets on his back.



Childhood Idol/Hero


The red Power Ranger



Dream Job


Model, maybe reality TV star



Pets


None



Education


The Collegiate School - Grades K to 1
Hawthorne School - Grades 2 to 8
Beverly Hills High School - Grades 9 to 12



Social Class


Upper Class

---



Household


Bradley resides with his father and mother. He has an older sister, age 22, who officially moved out of the house in May.



Pets


His older sister has a Yorkie that's frequently at their house, but he has no pets.



Occupation


Modeling



Residence


901 N. Alpine Drive, Beverly Hills, CA
"An estate of incomparable grandeur and palatial elegance, this gated residence sits on over 1.5 flat acres on one of the most coveted streets in Beverly Hills. Magnificent in scale and unstinting in luxury, the property is created for living and entertaining on a grand scale. The property includes 11 bedrooms: six in the upstairs living quarters, two in the maid's quarters, and three in the gorgeous guesthouse. Additional amenities include a screening room and game room, an indoor Greek gym and with pool and spa, and a commercial elevator. The library is hand-constructed of oak, mahogany and redwood. Brass railings, marble slab floors, and smart technology add to the home's beauty and livability. The detached guard house includes a kitchen and bathroom. "



Transportation


Brad drives a navy blue Mercedes G-Wagon.

---

Bernard Arthurs is Bradley's father. He's fifty-three years old and is a movie producer and CEO of Hasbro toys. Bradley and his father don't get along very well, but Bradley does his best to live up to his expectations.

Jodi Foster-Arthurs is his mother, and an actress, producer and director. Bradley is a bit of a momma's boy, and definitely gets along well with his mother.

Emily Arthurs is Bradley's older sister. She's 24 years old and works as a model and actress. Emily and Bradley aren't especially close, because she's been out of the house a lot over the past six years as she furthers her career. They get along well when they are together though, so Bradley was sad to see her officially move out of the family's house this past spring as she got her first real apartment.

---



Hobbies


Bradley spends a lot of time travelling. He's been to every continent aside from Antarctica, and is constantly taking weekend trips to the east coast or Europe. His other hobbies include spending time on his dad's yacht, going to concerts, walking in shows, and going to parties.



Musical Instruments


He can play the viola.



Sports


Brad doesn't play any sports. He played baseball up until age thirteen, but no longer plays that or anything else. He enjoys swimming and will surf and skateboard occasionally, but it's not something that he's really committed to outside of leisure.

---



Spending Habits


If he wasn't so wealthy, his spending habits would be considered dangerously reckless. In fact, his dad still accuses him of spending too much, but Bradley just brushes it off as his dad being cheap.



Drinks


Yes



Smokes


Yes, marijuana. He's smoked cigarettes before but he doesn't enjoy it or do it regularly.



Other Drugs


None, though he wouldn't be opposed to trying some of the party drugs

---



Likes


Themed parties, modeling, comedies, cartoons, slushies, Italian food, new clothes, Christmas scents, weed, looking nice



Dislikes


Seafood, light beer, watching tennis and other boring sports, cats (he's allergic), the smell of gasoline, winter, comments about his ears, being rejected



Favorite Color


Blue



Least Favorite Color


Orange



Favorite Music Genre


He listens to most mainstream music



Favorite Food


Italian food

---



How do you feel about returning back to B.H.H.S?


Leaving the summer behind is something that Bradley isn't ready to do. Without school, he has so much freedom to live. He can book shoots whenever he wants, travel the world on a whim, and just live. The only benefit that anyone can give about school is that they get to see friends, but Bradley was able to do that over the summer too, so he doesn't see any reason to be excited about the school year starting again. There isn't much that he's looking forward to this year. Maybe prom and some of the monumental senior events, but aside from that, not much. Outside of school, he plans on spending a lot of time partying. The only perk of going into senior year, over any other year, is that he's a top dog at the school now. And what does that mean? There's one more grade below him of girls who want to look cool by hooking up with a cool senior. No matter where they fall on the social ladder, Brad's willing to help them out with that wish, whether they know it's what they want, or not.



Group/Clique


Preps



Are you happy with your place on the social ladder?


Bradley is content with his place on the ladder, and if he wasn't, he believes he could have changed it years ago. He's at the top of the pyramid, so it's not like he wants to be any lower. As a prep, he's popular and can associate with the jocks and the royals on the regular, and get what he wants from the people lower than him on the ladder when he needs it too.



If you could be in any other group/clique which would it be and why?


Royals: They're the closest group to him, aside from the jocks. He doesn't play sports, so jocks wouldn't work out, and everyone wants to be a royal anyway.



Average Grades


B's in most classes, C's in science classes



Study Habits


Bradley studies, but he isn't great at school in general, so he'd need to study day and night to get an A on a paper. He puts in an average amount of work and gets average grades in return.



Do you plan on trying out or rejoining any sports?


No



Do you plan on joining or rejoining any clubs?


Yes, BHHS Ambassadors and FIDM Fashion Club.



What classes have you taken?


He has taken all of the freshman, sophomore and junior year core classes. He always takes physical education, and took French and first level ceramics during his freshman year. During sophomore year, he took ceramics advanced, French and photo art, and during junior year, he took French and fashion technology.



What did you get in those classes?


He's maintained B's in every French course, got B+ in both ceramics classes, a B- in photo art, and an A in fashion technology.



Your current GPA


3.0



Schedule


1. Art Foundation 2. French 7-8 3. English 4. American Government & Economics 5. Physiology 6. AP Art History 7. Probability/Statistics 8. Physical Education 9. Lunch

---




Username


Miserable



Timezone


EST



How Often Do You Post


I will be able to post regularly.