━━━━━━━━━━━━━━━━━━━━━━━━━━━━━━━━━━━━━━━━━━━━━━━━━━━━━━━━━━━━━━━━━━━━━━━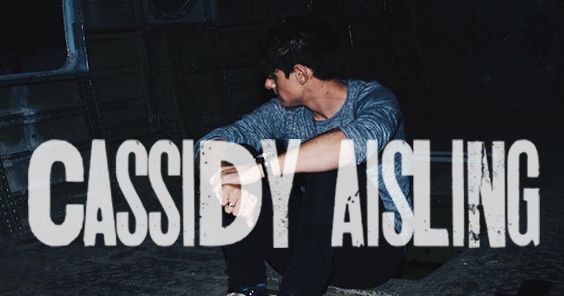 LOL
━━━━━━━━━━━━━━━━━━━━━━━━━━━━━━━━━━━━━━
⛧⛥⛧⛥⛧
⛧ FULL NAME ⛧ Cassidy Ryan Aisling (ASH-ling)

⛥ NICKNAMES ⛥ Cass and occasionally Ash

⛧ MAJOR ⛧ Undeclared

⛥ AGE ⛥ 18

⛧ ETHNICITY ⛧ Irish American

⛥ SEXUALITY ⛥ Undeclared

⛧ EYE COLOR ⛧ Caramel Brown

⛥ HAIR COLOR ⛥ Light Brown

⛧ HEIGHT ⛧ 5"6'

⛥ WEIGHT ⛥ 143 llbs.

━━━━━━━━━━━━━━━━━━━━━━━━━━━━━━━━━━━━━━━━━━━━━━━━━━━━━━━━━━━━━━━━━━━━━━
WORWODSWORDS
⛧⛥⛧⛥⛧━━━━━━━━━━━━━━━━━━━━━━━━━━━━━━━━━━━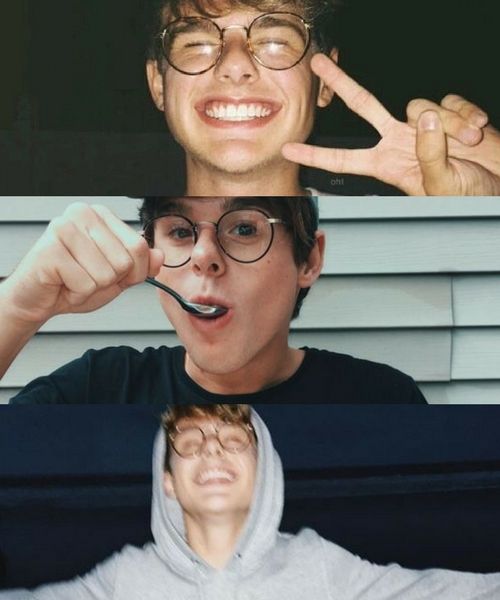 PERSONALITY
Cass sometimes wonders how much of himself comes from his illness and how much is just him. He's always been empathetic and caring, but is that because he spent most of his years growing up caring for the people that weren't dying around him? He's always been soft, gentle the way that an old dog was, and so so careful- but was that because he'd learned that being soft and quiet meant that he might not spend the night coughing his lungs out? He loves eating, loves tea, loves swimming and yoga- but all of these things are necessary when living with the big CT, so is it really him or just his shitty lungs?

But now that he's dead and hasn't coughed a day since, Cass gets the impossible joy of finding out what he could be without his disease. Sure, his powers got locked away and has to kill himself to get them back and turns into a flesh eating monster, but no one in the history of terminally ill diseases has ever done what he has. Its a thrill, this beginning of immortality. He's always been so reserved- now he wants the chance to break shit and stay out all night and smoke cigarettes. He wants to drink, go out in the snow, prank his house mates, steal shit from the store, have a one night stand; just fucking live a little. But even though he wants to do all this stuff, Cass is still who he is.

He's warm- warm like mid afternoon light coming in through the kitchen window and his smile just as bright. He's soft and malleable like a kitten, but with no claws or fangs (unless of course he does). Cass is just smiles and laughter and pure happiness to be around, a kind of pureness thats rare to find. He likes people, loves to be near others and gets too still when he's alone. That doesn't mean his social- he's shy in a way only someone that has spent most of their lives with just their family is. Desperately wants to share, but doesn't think he's interesting enough to. Cass has never done much other then wait to die, so he's got next to nothing when it comes to wild-growing-up-tales. But he loves to listen, loves to be told stories of what things could have been. All that warmth and softness generally makes people want to tell him, and cause he's actually very interested they usually do. Something about him makes people want to trust, and he likes that.

And of course, now he gets strange urges for warm blood and living flesh. Can't choke down cooked meat, chows down on raw hamburger, and likes to drink the juice left over in the steak carton. He's still exudes warmth, but one touch and his skin is just slightly too cold. The colored been slightly sapped from his skin, like something lowered his saturation. He finds himself needing less sleep in usual, eating far more, and having to focus to keep his temper down. He'd never been an angry person before, but mild annoyance now pull at the threads of his gentle nature. He sometimes wants to ask the others if their powers do the same to them, but his are just so much different. And that was his selfish screw up, so he was sure they didn't want to hear it.

Cass was fine- just like everything else in his life, he has it under control.

━━━━━━━━━━━━━━━━━━━━━━━━━━━━━━━━━━━━━━━━━━━━━━━━━━━━━━━━━━━━━━━━━━━━━━━
━━━━━━━━━━━━━━━━━━━━━━━━━━━━⛧⛥⛧⛥⛧━━━━━━━━━━━━━━━━━━━━━━━━━━━━
xxx
x
x
x
x
xxx
x
x
x
x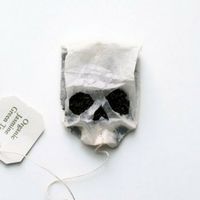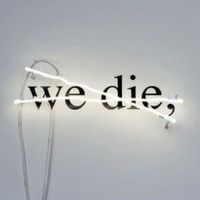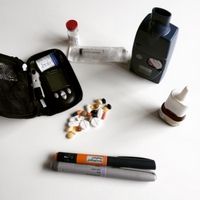 xx
⛧
Q U I R K S

x

&

x

H A B I T S
⛧
⛧ eats constantly (raw hamburger likes it popcorn) ⛧ collects tea mugs in his room ⛧ cooks things without asking ⛧ walks into rooms that aren't his and silently hangs out ⛧ googles new ways to kill himself ⛧ dramatically threatens to kill himself and thinks it really funny ⛧ naps on other peoples beds ⛧ really smooth about changing the subject if he's uncomfortable
xx
⛧
LIKES
⛧
⛧ lots of tea ⛧ humidity ⛧ reading anything and everything ⛧ sugar ⛧ napping ⛧ cooking, or baking, but only for others ⛧ his brother ⛧ all dogs everywhere ⛧
xx
⛧
DISLIKES
⛧
⛧ rain ⛧ liars ⛧ lonesome ⛧ hospitals ⛧ eating anything but meat and sugar ⛧ cigarettes, but he thinks they look really cool ⛧ old ladies ⛧
xx
⛧
F E A R S
⛧
⛧ FEAR ⛧ FEAR ⛧ FEAR ⛧ FEAR
━━━━━━━━━━━━━━━━━━━━━━━━━━━━━━━━━━━━━━━━━━━━━━━━━━━━━━━━━━━━━━━━━━━━━━━
━━━━━━━━━━━━━━━━━━━━━━━━━━━━⛧⛥⛧⛥⛧━━━━━━━━━━━━━━━━━━━━━━━━━━━━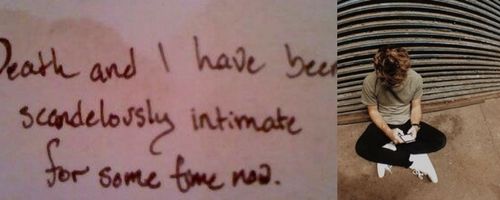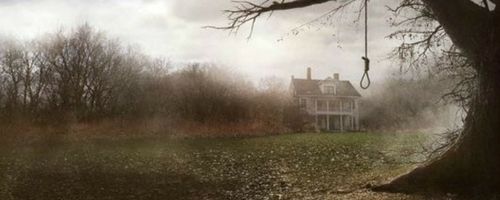 ⛧
G H O U L P H Y S I O L O G Y
⛧
⛥ Cass has the ability to transform into a ghoul- a cannibalistic monster with enhanced senses, strength, and speed. It also feeds on corpses and living flesh. The creatures usually dwells in graveyards, cemeteries and finds daylight uncomfortable. Because Cass wasn't entirely dead when he became a Ghoul he ended up in this weird half-undead state. He's alive but he's not... his vitals read lower then a standard human, his skin is just a tad too pale, his eyes a bit glazed over if you stare too long. And when he kills himself, he shifts into an undead monster.
⛥
⛧
A B I L I T I E S
⛧
⛥ SUPERNATURAL CONDITION ;
Enhanced speed, strength, senses, and magical power.
⛥ NATURAL WEAPONRY ;
Claws and demon teeth
⛥ MALLEABLE ANATOMY ;
He doesn't know much about this yet, but it seems like he can slightly control his appearance when he's 'dead'. The claws and fangs are a given, but it shifts depending on circumstances.
⛥DISEASE/DEATH IMMUNITY ;
He cant die, he cant get sick- its exactly what he wanted, just not like this
⛧
L I M I T A T I O N S
⛧
⛥DEATH ;
He has to kill himself to gain access to his powers
⛥REVERTING BACK ;
He either has to be knocked out or calmed down enough to turn back
⛥INSTINCT CONTROL ;
His Ghoul self would rather be ripping into all the humans around him then anything else
⛥INSATIABLE APPETITE ;
And then eating them. He can usually settle for some raw meat (dead and alive, uncooked steak is usually his choice of food)
━━━━━━━━━━━━━━━━━━━━━━━━━━━━━━━━━━━━━━━━━━━━━━━━━━━━━━━━━━━━━━━━━━━━━━━
WORWODSWORDS
⛧⛥⛧⛥⛧━━━━━━━━━━━━━━━━━━━━━━━━━━━━━━━━━━━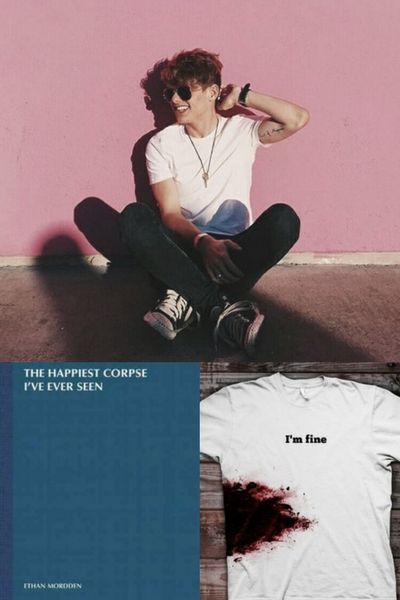 HISTORY
Sometimes Cassidy feels like he's been dead his entire life.

Cystic fibrosis was a death sentence, a timer given to your when you were too young to know what death was. His parents were strong and supportive, but Cass knew they were in pain. He caught them crying sometimes, consoling each other when they thought he wasn't watching. Death is harder on those that keep on living after you've disappeared. And sense day one, he knew he would never experience that pain. So he tried his best to make it easier on all of them- his parents and his older brother.

Graham was the strong one of the family, the eldest Aisling with an amazing ability to pull them away from the present. He could make even the gloomiest of hospitals rooms seem like home, or derail an uncomfortable conversation with a well timed joke. Cass learned to mimic that ability early on, only wanting to make this easier on all of them.

He grew up with a strict diet, sleep, exercise, and doctor routine. There was little time for socialization between him being sick and feeling well enough that he wasn't, but he had his family. He had a few school friends, but he seldom had concrete plans with them outside of the classroom.

High school was hard, cause suddenly there was so much more. Sports and clubs and jocks and girls and dances. After school activities, field trips, things he suddenly realized he wanted. His parents never held him back but he could always feel that worry, that fear that something would happen when he is just out of their reach. So while he stepped out a little- attended dances, joined a yoga club, became an assistant at the library- Cass was still relatively invisible.

But his timer would go off somewhere around 35, young by any standards but still old enough to make it somewhere. He knew it would hurt more to succeed and then give it all up, but he also didn't want to waste the time he had. So when college applications were due, he sent his off to Grahams school- was accepted (with honors and a scholarship).

He showed up for freshman orientation and was thrown into a mass of more bodies then he's ever experienced. But he took it in stride, smiled that smile his brother taught him, and kept a death grip on his inhaler. When Graham handed him a flyer for some guys house- "their dicks but they've got money so you'll live lavish as fuck if they accept you. And who wouldn't with that face?"- Cassidy was not expecting the run-down haunted mansion he showed up to. Battered paint, broken wood paneling, a railing on its last legs. Graham tried to turned them around right then....but Cass had never felt more drawn to a place. Something pulled at him in there, something that seemed to take his palm and lead him towards the door. And when the beautifully sharp boy with a storm in his eyes and hair like fresh wheat grass answered, Cass decided he wasn't leaving.

Even though he ends up dieing in that house, he's pretty sure it's the first place he starts living.
━━━━━━━━━━━━━━━━━━━━━━━━━━━━━━━━━━━━━━━━━━━━━━━━━━━━━━━━━━━━
⛧⛥⛧⛥⛧
━━━━━━━━━━━━━━━━━━━━━━━━━━━━━━━━━━━━━━━━━━━━━━━━━━━━━━━━━━━━━━━━━━━━━━━
FACE CLAIM ; Mikey Murphy
WRITTEN BY ; Ivisbo
[/center]