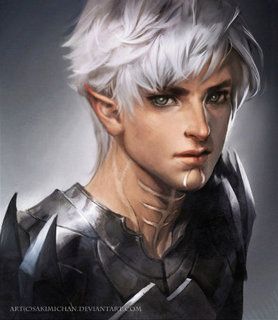 Full Name:
Faenur Himel (His mother's given name)
Nickname:
Faer (Spirit), but he rather prefers that you don't call him by any nickname at all. "Fae-fae" will get you a sharp glare, or hit in the stomach with his elbow, depending on who you were.
Gender:
Male
Age:
26-27
Species:
(Short-eared) Elf
Sexual Orientation:
Both/Neither - he's demisexual.
Description Details
Height
|6'1"
Weight
|10 stones.
Appearance
|Darker than fair in complexion, Faenur has rather odd traits, though not not very unusual of an Elf, be it long-eared or short-eared. While he has rather sun-kissed skin from exposure to the sun and is best described as lightly tanned. He has stark-white, soft-edged feathery hair like many elves do, but Faenur strangely has the whitest pupils and lightest in silvery-green color that his eyes could get. Framed by thick lashes, Faenur's eyes are often dull in color, but they brighten with his expressions and gestures if only slightly. Originally, they were a white color much like that of his hair, but they began to darken over time. A very firm facial expression is often on his features, dark thick brows slightly inwards into a frown, giving a very serious aura most of the time like that of what is required in a military soldier, but has an occasional smile. Having a well-developed jaw and broad shoulders make Faenur a very masculine and matured man, despite the otherwise mystical features that elves usually appear as, and the slight traces of child-like appearances he has been able to keep.
He has a well-built body that is lean but solid, having angular-limbs that fit his angular like build, he also has deep scars and broken skin appearing mostly on his back and arms. Faenur has many scars from recovered wounds that are placed over various parts of his body, such as the scars over his knuckles, of large hands, and wrists, and various healed cuts on his legs as well. However, most of many's attention is brought to the strange markings on his face that go to extend down his neck as well. A deep gash that lines out his neck muscle was in fact, a wound that he had miraculously survived from. However, he was in fact born with the strange markings on his chin and chin that extend down to his chest and form around his arm in curving lines. They veil around his arms and hands, and even around his legs and feet, in white color but appear as scarred over wounds, when in fact they are not. They are very harsh and blunt lines, often frightening other elves upon gazing at them. On the back of his right shoulder though, there is a clear patch of skin that has not been touched by scars, but rather is where the marking tattoo of his status as a soldier is placed.
Faenur carries himself with the sense of that military, rigid and straight, taking on an accustomed stance in many things that he does, be it walking, standing or sitting. Most of the time, this gives him a very intimidating feature, as he shows confidence and dominance in his gestures with each movement. He has become used to this way of holding himself and doesn't usually realize until someone who notices it and points it out.
Generally, Faenur wears a moderate amount of armor a lot of the time, having plates of metal that is light yet sturdy over his shoulders, forearms, chest and lower legs. It appears thick, but is not as heavy as it appears. He wears black cloth underneath the plates, and it is fasten by leather to his main appendages, where otherwise more comfortable and slightly tighter clothing that more suited to stealth is beneath the layers of his armor, where bandages or thin cloth have taken home to being on his person. His boots are simply typically overlaid thin cloth with more metal plates fasten to it, securing around his feet. A large leather belt with pockets and containing slots that hold various things are around his waist and hold onto his weaponry.
Skills:
Combat skill
— as a high ranking officer and soldier, Faenur has been trained and accomplished a high level of skill in combat, be it in weaponry or actual hand-to-hand brawling. He is learning to practice other forms of martial art, but he knows the basics and advanced arts of that is taught in the military.
Stealth/Quick reflexes
— while understanding strategies and techniques to know to fight (see above), it is only put best to use when one is able to use it properly. Faenur has a well-build body, but he lacks in strength when compared to other soldiers due to his more slimmer size. Therefore, he makes up in speed and accuracy, and while it does create a damaging blow to his person, he can deal more damage faster in many, quick blows before his opponent can deal a whole lot of damage in one. His armor is generally a nuisance when it comes to this, but is good defense before it can be shed off, to which he will begin striking back. (This costs him a lot of armor lost, though.)
Sense of Seer Sight
— although Faenur has no control over this gift, as it's very under-developed and very raw, because he doesn't understand what it is nor has he trained it to be convenient. He occasionally sees visions that foretell the future, varying in importance. Be it the tomorrow's weather or the outcome of a duel between two challengers (it including himself or not) when during his intermediate training as soldier, it does every now and then awaken whenever he (or another) is in great danger, or during in his slumber to alert him of something of extreme importance. Of course, Faenur doesn't understand most of his visions, and it is possible that most of his dreams are of his visions, but he usually forgets them when he wakes up, causing many a sense of de'ja vu when the visions turn out to be true, but it is disregarded as mere instinct/expectation.
Weakness(es):
Hyperopia/Farsightedness
— it is a very big disadvantage when it comes to hand-to-hand combat, and this poor, blurry sight extends up 6 feet in front of him, but he has excellent vision at distances.
Lack of Magical Ability
— Perhaps it is an mutation gene that had happened in him, but he has a lack of magical ability, like that his origins: the humans. But you could say that his seer's sight is a magic on its own, but it is not as if he's aware of it.
Sensitivity to the Effects of Magic
— A continuation of the above. With his lack of magical ability, is his higher sensitivity to the effects of magic, as damage done by magic is absorbed more easily to him, strangely. He believes that perhaps it is because that he is unable to channel to what elves may consider their flow of magic, and in this sense, those with magic have developed a guard against other magics. But he hasn't tested this theory nor bothered to ask during his studies.
Equipment:
Standard Pair of Double-Bladed Daggers
— basic weaponry is important to carry on his person at all times as a soldier. They are kept on his belt.
Custom Longsword
— see above; it is kept on his left side of his belt.
Healing Salve
— when one is involved in the army, you cannot not expect to get a few life threatening wounds here or there, as one cannot be too careful when it comes to these things.
Personal Summary:
Because he himself is an individual who never did quite "fit in" since the beginning to his birth to now, he sees things quite differently than what of his average fellow elven may. Faenur, although he may disagree with how his society must judge elves such as himself, does however value his place in the social hierarchy, seeing as he has been judged and mistreated due to this system. However, he hopes to not be tied down by the strict cagings of the Elves and their limited views, and wants to be able to see the rest of the world's beings and their varying features, much like that of his own differences, freely and as his own self where he will not be harshly judged on who or what he is. A very naive way of thinking, but one's dreams can only be as so, can it not?
Personality:
Faenur is a very quiet being, and speaks when it is required to his superiors or to reply to a simple statement. Other than that, he generally remains almost mute, keeping to himself and not being a bother in anyone's way, mostly due to the influence that he has had as a child, leading him to being slightly withdrawn. While he may be on friendly terms with many elves, he keeps himself at a distance, making sure that he never gets too close. It has been speculated that Faenur may have trust issues. He doesn't like to make conversation if it's not required, and rather prefers to focus on the task at hand, wanting to avoid small talk or useless chatter altogether from habit. However, when he does go on a longer time of speaking than usual, it is usually to question/investigate someone, or is done out of strong emotions. While he remains stoic most of the time, he either keeps a sort of carefree aura that's kept to himself as he minds his own business, or of seriousness and deep concentration on whatever it is that he is doing at the given moment. Usually, when he is off-guard, he would make a very content expression with a smile, but should he notice that others are watching him, he would quickly cover it up with his usual face, reacting to such much like a child.
Despite how Faenur is a very independent individual, he is able to communicate and function properly when the time rises to work with other people. He doesn't usually have much to say unless it's needed, but his actions and few words are often enough to get his own point across. Hardly will it be that he shows much emotion, remaining collected and calm under even the most intense and risky situations, and maintains patience throughout. Faenur is quick-thinking, and usually thinks before he takes to action, keeping a logical way of thinking like many of his Elven do, often testing things out or laying low until he finds a moment to strike multiple blows or the whatnot. However, he is a dreamer, and a dreamer he will continue to be, holding many child-like ways of thinking and naive hopes to keep close to himself. Faenur sees the world through a different set of thoughts, faiths, opinions, and the such. While he's accustomed to the way that the society is as he's grown up and abided by its laws for all of his life, he cannot help but wonder how it will be like to be out of this limited set of views, having seen what it is like to being treated with more respect than to that of his previous treatment, because of what he was. It scares and angers him to see this twisted way of government, but he's a part of it and the society, and he cannot help it but empathize and understand that it is what it is, despite how it insecure or unsettled it makes him.
But even the quiet ones have their own moments. In the few rare occasions that he will show his emotions, it will typically of strong ones that have heavy influence on him. It's more likely that these would be of anger from insecurity/etc., which is more frightening than its worth. He will be harsh and blunt in his wording during these phases, telling it straightly and sharply, with sharp edges that will hurt, as they bring truth. He does not have any self-restrain in speaking whenever he does allow these strong emotions to take control. Faenur doesn't exert any physical violence onto others, but it will probably be taken out on by him attempting to cut through air through self combat practice, etc. The most likely trigger for his anger is either the lazy who do not work to get where they are, yet complain or brag, or seeing himself in mistreated individuals of continuous and hurtful harassment as no one does a thing about it. But they are of very few occurrences, and the few individuals who have seen it, do not speak of it, ever.
History/other:
Faenur was born in
the Ville
, as all of many elves have, and was born the youngest as the second son of the household. He was strange from the moment that he was born. When he first came out into the world, he wasn't breathing, and his eyes were closed; he wasn't even crying. The doctors speculated that perhaps, Faenur had died once he came into the world and before he had even taken his first breath. But after several minutes, he began showing life signs, and the medical folk immediately found it to be some sort of miracle that he was beginning to breathe again, while quickly making sure that they didn't lose a hold of him again. He was weak in health for the majority of his infant hood, but managed to never sick afterwards, and while he was cooed over like any other baby, he was often talked about of his strange birthing process and how he had white eyes upon first opening them, instead of a dark shade, like both of his parents' and older brother's. This was relieved when he began to develop a darker shade of eye color as he grew up. His given name was put together as so in a combination of "White and Radiant/Spirit", for his eyes and the miracle of him coming back to life; that perhaps he was blessed by a spirit at his birth. He took on his mother's given name as his surname because of the district in which he was born in did not give surnames to their newborns.
Despite how Faenur was born with strange markings on his skin, he was able to manage through the light teasing from the other elves throughout his childhood, and didn't mind how he had the markings, as it scared away many of the other children due to how frightening it made him look. Though, the teasing became worse when it was discovered that he couldn't perform magic like of his origins, the humans, and when they got to an age where they wouldn't be scared and go home to cry to their mothers, Faenur began to receive horrible treatment from a majority of elves who disliked the way he looked, despite his short ears, and his lack of magical ability gave reason to them to look down upon the young elf.
Throughout his preteen and teenage years, Faenur was put through many forms of bullying and judgement from even his own father and brother among the other elves. But, he found support from his mother. It is only to be expected that a mother had her own natural instincts to love and protect the children that she herself brought into the world, and swept away all other opinions, and for this, he is forever grateful to his mother for having been there for him, even though he was disregarded by all others. Despite how his mother every now and then remarks how how she could've given birth to a child such as he with no magical ability and so many strange scars, Faenur is often reassured that his mother truly loves him, regardless of his appearance or abilities.
As his family were of generally moderately good status in the Elven society, Faenur was treated well, but the occasional quiet backlash regarding his appearance had escalated to the point that he was treated as if he were a mere long-eared elf. He managed to persevere through it, despite his every now and then urge to get revenge, his mother made sure that he never went down that path to self-destruction.
Once Faenur had reached the age of 18, he decided to join the army, to at the very least, make his father, who was a moderately high ranking officer, a little bit proud of him. He was generally treated as if he was below the others because of his lack of ability that they have, and treated as an eyesore in regards of his appearance from the other elves, but he managed to get to the top of his classes and best the rest of the other elves in due time. When he finally turned 21, he was a commanding officer that was going up the ranks steadily. He had begun to gain the respect of other elves around this time as the comments about his appearance and his no magic trait faded, and had began his odd de'ja vu bouts around this time as well. His father was beginning to change, and while they were on the same rank, he couldn't help but feel a small sense of pride, despite the slight shame from what he has done to his son and how this very same son was able to achieve the rank that he himself had kept without ever advancing. This, his father confessed during a drunken banter. Faenur never heard of it again from his father, but had begun to receive better treatment from his family. His life was turning around.
At 23, he was able to reach very high in the rankings, becoming a very well-respected elf for this, and despite the many scars that he received from the intense training and missions, finally able to gain acceptance from the rest of the entire of society. Faenur, currently, treasures his position that has come from the long, hard work of 6-7 years that he had endured to get to where he is presently, but cannot help but still slightly insecure over how his society continues to judge even of their own kind, and even of his appearance that has been nitpicked at and jeered over for the majority of his life.
Beyond Messiah
(current events+):