Alistair Theroux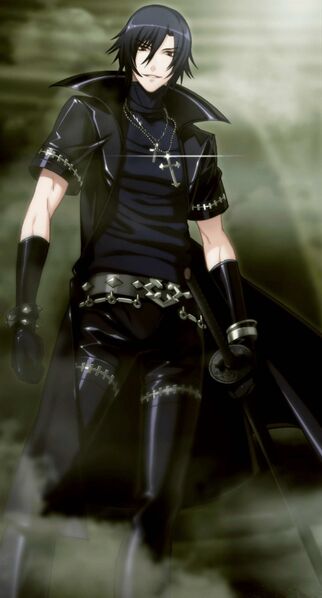 Role
Bishie
Gender
Male
Age
21
Personality
Alistair is a little mischievous and often sadistic person, thinking it's fun to make fun of or scare other people. He usually is pretty stubborn and always stands his ground, but most of all he is pretty much cocky and smart-mouthed – which always makes people just want to kill him.

Even though Alistair is mostly viewed as an evil and childish man, if you get to know him long enough (and withstand him, if you can) he will not let you down. Alistair is very honest and usually loyal to those he grows to like – if he ever does like you. In truth, all Alistair wants is a good time – sometimes he only acts as evil as he can to show off or make himself seem powerful. 

Brief Description
Other than wearing his usual heavy gothic attire, he'll occasionally wear some form of robe or maybe just even some jeans and walk around shirtless. When it gets rather hot on the island he tends to put his hair in a ponytail.
Aside from using his Katana, he has a few knives that he occasionally uses for hunting.
Likes

★ Jokes – especially dark humor
★ Scaring people
★ Winning...at everything. 
★ His trusty Katana~
★ Coconuts
★ Useful people
★ Hunting and Fishing
★ Anything shiny <3
★ Silence, or just the calming sound of the waves.
★ Outdoors

Dislikes

x People with no sense of humor
x People that don't get scared of him
x Swimming
x Flowers
x Disloyalty
x Being cooped up in houses/tight spaces
x Most people in general
x Prickly bushes >.<
x Any bright colors. (Especially yellow, he HATES yellow.)
Phrase that represents you
"I know I'm bad - and you love it."
"Don't underestimate me."
Species
100% human – but some people mistake him for being a vampire, or even a demon.
Crush
None yet
Hex Code
#990000 [Blood Red]
Other

- Alistair usually roams the island, sometimes even camping in forests.
- He has also been living on the island for about 5 years now, but no one knows how he got there.
- Oh yeah, and -- Apple pie~ :D

Gives you hell – All American Rejects
I wake up every evening
With a big smile on my face
And it never feels out of place.
And you're still probably working
At a 9 to 5 pace
I wonder how bad that tastes

When you see my face
I hope it gives you hell, I hope it gives you hell
When you walk my way
I hope it gives you hell, I hope it gives you hell

Now where's your picket fence love
And where's that shiny car
Did it ever get you far?
You never seem so tense, love
Never seen you fall so hard
Do you know where you are?

Truth be told I miss you
Truth be told I'm lying

When you see my face
I hope it gives you hell, I hope it gives you hell
When you walk my way
I hope it gives you hell, I hope it gives you hell
If you find a man thats worth the damn and treats you well
Then he's a fool you're just as well hope it gives you hell
Hope it gives you hell
Tomorrow you'll be thinking to yourself
Where did it all go wrong?
But the list goes on and on

Truth be told I miss you
Truth be told I'm lying

When you see my face
I hope it gives you hell, I hope it gives you hell
When you walk my way
I hope it gives you hell, I hope it gives you hell
If you find a man that's worth the damn and treats you well
Then he's a fool you're just as well hope it gives you hell

Now you'll never see
What you've done to me
You can take back your memories
They're no good to me
And here's all your lies
If you look me in the eyes
With the sad, sad look
That you wear so well

When you see my face
I hope it gives you hell, I hope it gives you hell
When you walk my way
I hope it gives you hell, I hope it gives you hell
If you find a man that's worth the damn and treats you well
Then he's a fool you're just as well hope it gives you hell

When you see my face
I hope it gives you hell, I hope it gives you hell (hope it gives you hell)
When you walk my way
I hope it gives you hell, I hope it gives you hell (hope it gives you hell)
When you hear this song and you sing along well you'll never tell
And you're the fool I've just as well I hope it gives you hell
When you hear this song I hope that it will give you hell
You can sing along I hope that it puts you through hell