name=Macey "Mace" Maloch
Nickname: Mace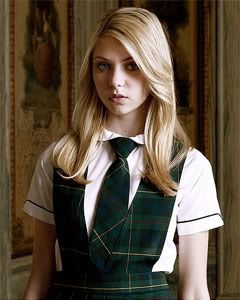 Age:
17
Species:Human
Face claim:Taylor Momsen
Dislikes: darkness,Any type of bug,being alone,heights and reptiles
Likes:
Cupcakes,having fun,goofing around,cute boys with a sense of humor,the beach and amusments parks(Dosent like specific roller colasters with heights)
Hobbies:
playing softball and soccer
age=17
Gender=Female
Personality=Macey is the type of girl that people call over the top and crazy.But accuallly she is hyper and creative.Mace is down to earth and supper friendly,loving and caring.She can have a bad temper at times when people make fun of her and her family.she hates it when people always agree with her even when shes wrong.Macey is pretyy open about everything except her home life.She is open minded about almost everything.Macey is shy and secrative but she loves that side of herself.When she is depressed it is best to ask her what's going on and what's up..
apperance. although she is skinny and thin Macey weighs about onehundred and twenty six pounds.She has a oval face and bluish gray eyes.she is about five foot nine. She often wears cloths that belong to her mother sice she can barly afford to buy herself any decent clothing.She also often wears some of her brothers chlothing liike shirts and pants but she modifies them to look like girl chlothing.
Quick bio=Macy lives with her two brothers and parents who are just below middle class,her parents bolth have been laid off and cannot make any money for them,Macey works at the super market but dosent get enough money to help provide for her family.She dosent use the money on her but on her parents and brothers.when she was fifteen she was bulimic,she would make herself sick everytime she ate and she had self inflicted wounds as punishment for eating.She has seen a counsler or two and she has stopped but hates to talk about it.The reason why her family is just below middle class is because bolth hr parents got laid off ,her dad is to lazy to find a job while her mother has been sick for a coupl months now.Her childhood was pretty messed up her parents didnt really pay attention to her and dropped her off at daycare all the time.And her older brother being 16 at the time bought and sold drugs to get money to put food on the table for three days.Her mother just started being sick at that time and her father would ignore his wife when she said she wanted to go to the hospital thats just because he didnt want to pay any medical bill that will leave them emptyhandded for a week or two.Her homelife now has not really getting better.Her brother still sells drugs.Although he already moved out he still brings them half the money he gets and he also tries to stop her father from hitting Macy when he gets mad but he just ends up failing and she gets hit anyways.