Name:
Jennifer Heathers
Age
: 19
Gender:
Female
Personality:
Angry and distant, there is a definite sadness hidden in Jennifer's eyes. She has a quick temper and a quicker mouth, and has no patience for weakness or feelings. Driven by a single mission, she bands with other out of convenience, though she never seems to rely on anyone besides herself. There is another part of her that is soft and sweet, though it is rarely, if ever, seen. She is confident in her abilities, though not cocky, and while she has a quick tongue, she often holds it, rarely speaking unless asked a direct question. Something snapped inside of her long ago, and there is a third, even more buried, part of her personality buried deep within her that she refuses to speak of, or even hint at.
Image:
Addition:
She has huge scars covering her entire back and stomach that she neither hides nor displays. And she wears a large set of headphones with microphone attatched around her neck.
Might? Beauty? Spirit? Skills/jobs/gifts:
Though she rarely does it, Jennifer is a beautiful singer, often causing the birds in the trees to fall silent listening to her melodies. She is also gifted with an incredible amount of strength and stamina, being able to pick up or move nearly anything put in front of her, for extended periods of time.
Weakness/Fears:
Jennifer is known to have powerful nightmares that will put her into such a state where she can't breathe and is drenched in sweat. Because of these nightmares, she goes long periods of time without sleep. Also, if any girl is in danger, she will leap to their defense, offering herself up as an equal trade for whatever is trying to harm them.
Armour/Weapons:
Jennifer carries two of these tucked into the back of her jeans, and loves to hold them and clean them. She calls them her 'antiques,' since they are scratched and dinged up, definitely Sapien-era guns. However, she uses her blade more often.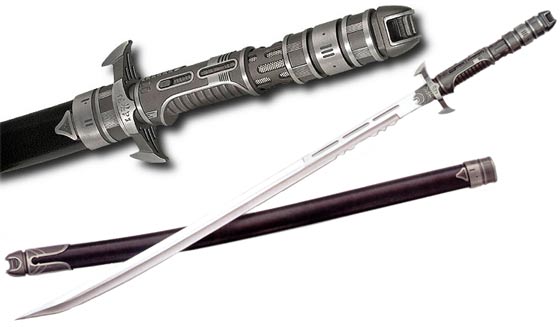 It is strapped, unsheathed, to her back, and when in use, she ties it to her arm with thick chains to ensure she doesn't let go of it.
Flicking through the pastHistory:
She never fought the war, preferring to stay home and protect her family. She lost someone very important to her, who was taken away, but not killed. Jennifer doesn't like to talk about it, and is in search for the kidnapped girl.
Family:
She sometimes mentions a father and a few sisters, though it is mostly unknown what sort of family she has.