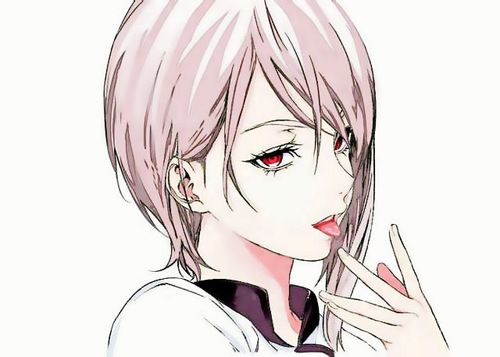 ---
---
F

ull

N

ame
Iris Camille Vahl
N

icknames
Cammy, Al
A

ge
18
G

ender
Female
W

eight
52kg
H

eight
5'4
A

dditional

D

etails
Pale violet hair, candy red eyes, enjoys wearing pale colours or simple greys and whites. Has a scar on her elbow after failing a back flip to look cool in front of her friends.
P

ersonality
Iris can be quite sarcastic, blunt and rude. Most of the time she doesn't realise she's being rude as she tends to say things for her own amusement. She's the type to be easily bribed if you offer her something she really likes, and isn't exactly the most loyal as she tends to be far too carefree to be concerned about betrayal. Although she can be sly and cruel, she does enjoy talking with others. Whether it be to taunt them or prank them though is never really known. Iris just loves a good laugh and a bite to eat. If you're boring she'll straight out tell you she's done talking to you because she has more important things to do like watch paint dry. If Iris is argued with and struggles to come up with a comeback she can get quite irritated and pouty; when the joke's on her it's not okay apparently.
L

ikes
Food
Sleeping
History
Pranks
Movies
Shiny things
D

islikes
When people chew with their mouth open
Probably your boyfriend/girlfriend
Thunder Storms
Swimming
Slimy things
Being ignored
Romance
S

trengths
Although she can be a reckless, rude and relentless at times. If she finds you interesting she can certainly be an amazing loyal friend. Because of her determined attitude she's not the type to give up unless she gets what she wants. She will most likely lose an arm getting that cool new action figure you always wanted if she cared. Iris is also quite agile, quick on her feet. Mainly from years of pranking her friends, she had to be fast at escaping. Iris knows a little self defense but not much and despite her carefree attitude she is quite smart and tends to pick up on things around her, she just doesn't react to them much,
W

eaknesses
Because of her sometimes simple minded thinking. Iris is easily persuaded. She will probably leave you for a corndog if she had the chance. She has trouble setting her priorities straight and tends to come off as "that rude chick that doesn't care". Iris also has trouble showing how she truly feels about others or thinks it's not worth explaining or getting flustered over. She can also be quite lazy at times and would rather stay home and eat snacks over going out with friends. Too many times they have had to drag her out of bed.
F

avourite

C

olour
Lavender Pink
H

obbies
Cooking
Watching Movies
Playing video games
Making memes
D

esires
To create the most amazing tasting food or open her own cafe. Perhaps create the funniest and most popular meme ever? Win championship tournaments in video games. Go skydiving. Get destroyed in a mosh pit. Makeout with some random person. Get a pet bird. Iris has too many desires.
P

rofession
Currently works part time at a rustic styled corner coffee shop.
H

istory
Iris used to be bullied a lot as a child because of her oddly coloured features. She had an older sister (who is currently living overseas with her fiance) who would usually be there to stand up for her but Iris hated being unable to stand up for herself. She would be a big cry baby and just hide somewhere. Eventually she found that the best way to deal with bullies was to not let it get to her. This wasn't something she could just do right away as she was still quite emotional.
Over time Iris became more headstrong and cared less about what others said. In highschool some female was bullying her friend, so she pulled down her skirt in front of the whole school embarrassing her. Of course the bully got her mob together and beat Iris up later after school but it was worth it. Guys started liking her more because she was much more confident and stood up for herself. And feisty. And possibly because she developed early quite nicely. Nonetheless she tended to reject other's emotions towards her, becoming quite jaded she feared that if she let her emotional slide slip up she might go back to square one and get bullied a lot.
After finishing highschool Iris decided to do a college course in Cooking and is currently studying while working part time.