---
---
---
---
"There's beauty and magnificence everywhere in this world. You're just too stupid to appreciate it."
---
---
---
---
Name
: Rain Bursch
Nickname
: Glasses- His unofficial trade mark accessory. Isn't helped by the fact that he insists on reading and doing lots of work.
Age
: 24
Gender
: Male
Sexuality
: Bisexual, though one could argue he has no sexual urges ever.
---
---
---
---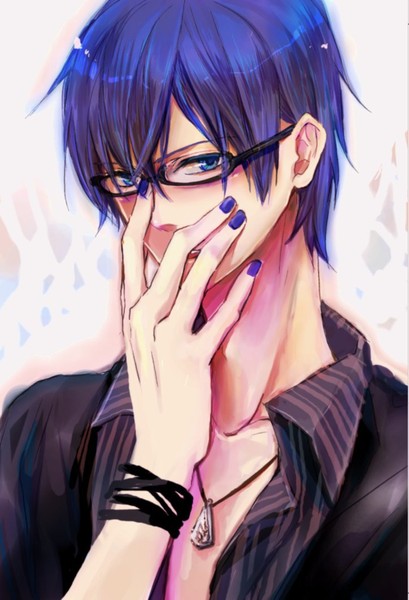 Appearance
Habitually a book worm, Rain does little exercise, leaving his body to be quite thin. However this is not to be confused with being frail. While he's no warrior, Rain is flexible and nimble, allowing him great mobility around the battle field.
Rain's hair is a dark blue, long enough to go past his stern, honest eyes. His expression in general isn't harsh, however he definitely isn't one to smile or be boisterous. His eyes are as blue as his hair. His clothes are very simple and light, mostly blacks or dark blues. Though whenever he goes out, he covers himself with a dark cloak and hood to hide himself.
Height and Weight
: 6'2" | 167 lbs.
---
---
---
---
Personality
One of the more serious members of the Coven, Rain busies himself in ways to help plan and delegate their resources and forces. For him, it's all about efficiency. The better they can maximize their progress against the Kingdom, the better their chances at succeeding. He loves solving puzzles, problems, mathematical equations and the such. To him, the inquisitors are just another variable in the great equation.
Rain has little tolerance for those who impede his work. He believes that for there to be anything that works in the world, there must first be order. And clearly their Kingdom was losing it's order and for good reason. For him, the Coven is simply the rise of a new order to replace the old. He firmly believes that logic and law can find inherent truths to all the universe. And he'd spend all his life if he had to to uncover those truths. Rain has a passion for life, and for the beauty in all things. Whether or not he believes some to have it.
Changing the world and creating everlasting harmony. That's the dream he holds in his heart, and if it means gaining the strength to protect all he holds dear, then there is nothing he would let hold him back.
---
---
---
---
General Magic
Learning about the laws of the universe allows him to manipulate it to a point as well. He practices time magic, allowing him to speed up or slow down events that happen around him. He also practices some basic water magic to defend himself as well, however his strength lies in his ability to manipulate the temporal field around him. However, should his foes escape to 50 ft. away from him, his magic over them wears off.
High Magic – Spatial Mathematicks
Rain's devotion to mathematics allows him to solve difficult mathematical formulas in his head. However he has learned how to use mana in such a way as to allow him mind to solve impossibly complex mathematical formulas in his head. This allows him to calculate where his enemies are, what direction their facing, and even how high or low they are compared to his position. He must close his eyes and concentrate when he does this, as various algorithms can be seen floating around his body. When used in conjunction with his general magic, this allows him to hit all targets he designates within a hundred foot radius. Another of his favorite tricks is to create small, fist sized water bubbles and freely manipulate them to his will and explodes on contact.
---
---
---
---
Biography
There's not much to say of Rain's origins. Nobody knows where he had come from. No one knew who his parents were, what they did, or why they weren't around. For as long as he could remember, Rain simply knew that he lived at his village's orphanage. It wasn't a very happy life. The meals were less than stellar. Though he would have lived with even that were it not for the fact that the person who ran the orphanage was a tyrant of a lady who did everything in her power to try and control everything these children did. It was more than he could bear. He had soon fled the orphanage, and ultimately the village, at the age of ten.
Rain had of course packed for the trip. With the old hag of a caretaker's hidden stash of food. She liked to horde the good stuff for herself. As he traveled around the open fields on his own, he would meet all sorts of people who took pity on the youngster and gave him food. There were also thieves and bandits who stole from him in his sleep. There were wild green forests, beautiful rivers, wide open fields, everything that wasn't the dusty little village he had left behind. After a year of traveling on his own, learning and picking up random skills along the way, he had arrived at the capital of all magic. The Kingdom he had heard so much about in passing. This wondrous place full of knowledge and beauty.
Once he sneaked inside however, it was bit of a different story. Not only was the town not quite as amazing as he had imagined, the townspeople could only barely use basic magic. It was okay though, Rain had other intentions in this town. From the stories he had heard, there was a grand library somewhere in town with all the books on anything one can imagine. Rain had been teaching himself how to read since he had made his escape, and he loved learning everything he could. Once Rain made his way to the library, he was as happy as any person could ever be. At first, because of his slow reading ability, he had some trouble going through the books.
The librarian, a kind old man by the name of Crilces, took a shine on the boy. He had not seen one so young be so enthusiastic about learning in a long while. A month after the boy's arrival, Crilces would take Rain under his wing, teaching him how to read and write, and also about math and geography. Rain was ecstatic. Years and years of pouring through the books, he had just about read almost all the books in the library by age sixteen. At that point, he was living with the librarian. However there was a subject Rain had always been curious about. He learned that the reason people in town don't have very strong magic is because of the laws that enforce it and how regular people simply have no ability to use higher magic.
Of course because of this, Rain had a secret he couldn't tell Crilces, or anyone. It was one day while he was solving complex algebraic equations when he felt something odd happen. He could see things, things he normally wouldn't be able to see. Quick flashes that would come and go. As time went on, he found that the common patterns were the equations. Somehow, his understanding of the laws of nature allowed him to use magic in a way he had never heard of before. It excited him, but also frightened him. Frightened him because he was something he knew the villagers feared. But he couldn't help it. He wanted to learn how to use it, how to control it.
One day the truth had been forced to come out. On the day Rain had turned 23, someone had mentioned sightings of what could have been high magic within the library. The inquisitors were quick to accuse Crilces. Though he denied it, there seemed to be no arguing with the Inquisitors. In a bid to save his friend, he had simultaneously assaulted every one of the Inquisitors with his spatial magic and left them unconscious. Rain wanted to take Crilces with him and run, however when he extended his hand to take the librarian with him, Crilces simply backed away from him in fear. Pain and sadness flickered across his face, however he knew this was also a possibility. In silence, without even bidding farewell, he fled from his home, and his best friend.
---
---
---
---
Theme Song
:
Lycaon