-Age:
18.
-Gender:
Female.
-Height:
5'6".
-Weight:
129 lb.
-Hair Color:
Reddish-pink.
-Eye Color:
Lake blue; when necromancing - neon azure blue.
-Necro Class:
Healing Necromancer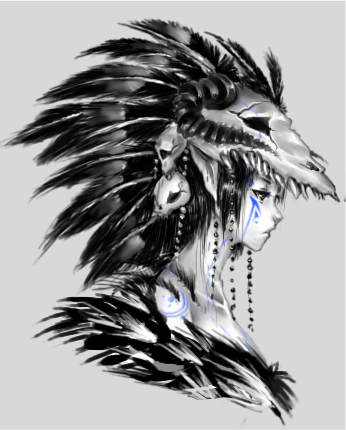 -Personality:
Being socially clumsy and a secluded outcast, Mel is a tense, and calm individual that has a hard time putting on a natural smile. Easily nervous around people in general, she's afraid of being around strangers, to the point of appearing meek and extremely shy, even. Despite so, Melaena is quite the intellectual being, well read on books, and having focused on books most of her life, it's probably the main reason for her socially awkward skills. She's quite wary of most people, cautious of them and non-trusting, and tries to stay away from most. Keeping to herself, Despite social clumsiness, Mel is a light-stepped and graceful - in a sense - girl. While not the most athletic person, she has a determined and persevering spirit that's hard to break.
To the very few individuals that are able to break down the fronts of her walls behind the distrusting glares, she's a complicated girl still under the surface. Unable to take a joke, and a real stickler to being serious in her work, it is only her fears that handicap her to the point of becoming practically useless and in need of a support beam. Beneath the surface of her hard exterior, Mel is a simplistic girl with a complicated outlook on life, in a somewhat twisted way of seeing it as a game of chess. Mel enjoys the simple pleasures in the smallest of things, being able to appreciate many things in life and ignore the uglier ones of the kind that brings corruption and hate, because she sees the world in a stone-set until proven otherwise frame of simplicity. This gives her victim as a rather ignorant one of the world's troubles, as she finds small optimistic views, and as well as bigger pessimistic ones.
While she finds the non-living more appealing than the actual living with her independent spirit that prefers to be left alone, once she's made companions and confides trust in them completely, she's very loyal until to them until their betrayal, trusting them with both heart and soul. It takes time to win her trust. though.
-Bio:
Growing up, Mel was outcast and left disregarded like more normal Necromancers, hated and shunned. Frankly, it didn't bother her. It wasn't of anything more that she would prefer to indulge in than being the apprentice to her ward:
Aleister Crowley VII
, and to study the dark arts. She was home-schooled by her ward of both regular education and of dark magic alongside.
Her ward was a powerful Necromancer, quite fond of crows, who had Melaena study hard and to make her work endlessly for his approval so she could become a great Necromancer whom he could be proud of by passing his secrets and dark arts to. As she grew up to see how bitter he was to the rest of the world slowly and exceedingly, she could only wonder as to how he grew so much hatred. Unaffected by his influence, only by training and studies were what she focused on to gain acknowledgement from the man who she could've practically considered her father, she was rather (blissfully) ignorant of her master's plans to overtake the world - to make all of society to bow down to him. Melaena's unknowingly helped him, and as well as the rest of his supporters, but because it was how she grew up, she never knew any better - being a child who didn't have contact with anyone else otherwise.
When he was killed by another necromancer, Melaena was torn and went in a short period of depression. And of so, tried to conjure him back from the dead. She was 15 at the time. He's taken place in her mind - like an alter ego - over the years, trying to overtake her body completely so he may continue, but she's suppressed him - unconsciously fighting back, still hung up over his death. But she's begun to get over this sensitive subject, if not to instead, continue living by studying the dark arts even further with his memoirs and left behind books of research with pure intentions.
Despite his raging terror to continue with his plans, he's sealed in her mind, and occasionally helps the girl out of tough situations, as he waits patiently for the moment to strike and to overtake his apprentice's body. Every now and then, he's appeared, but only for a while before Mel resurfaces. Mel is, of course, unaware of her master's presence in her mind and body. But, he's plotting - to gain power and energy from Melaena so he may take it as his own and to free himself to take over her body, and the girl whose body he's planning to take may not be able to stop him.
Currently, she's off to find the Black Order by hope to stop the dark forces that she had previously unknowingly helped; but really, perhaps it of her master's plan to infiltrate and then seek more power?
-Sample Post:
Pulling the white hood over her head, and shyly were her footsteps as she walked through the pitter-patter of the small crowds that were scattered amongst the square. A farmer's market, she suspected. She was passing through a more less than modern day village, it would seem, like of the Amish. How curious.
Red hair of a long fringe stuck out from her hood, but she kept her head down while she continued her steps. No bothered to turn heads towards the stranger that was in their town, as merely glanced towards the white hood and black cloth wrapped around her. Her black boots were tapping lightly against rock. None bother to inquire about the mysterious thing of black feathers that hung loosely by strings on her hip.
Melaena looked up momentarily as a figure bumped into her. "Watch w'ere ya' goin'!" A tall and broad shouldered man, with a husky build. She retracted back slightly. Her head was bowed to quickly apologize, "o-oh, I'm sorry."
"Haaa? What's this, a female?" A large hand pulled her hood, her grip not strong enough. She stepped back even more in meek nature, shying away.
"Oh? What the hell're is up wit' yer hair? A fashion statement?" An unwanted face peered closer, and she stepped back, only to stutter, not wanting any trouble, "a-ah. Again, I'm sorry. I'm only passing though, please excuse me." She tried to make a break for it.
His hand grabbed hers though. "Hey!"
'What's this? A mere man? Melaena, girl, don't be stupid. Make him let go of you.'
That voice. That all too familiar voice. Where was it coming from? Where? Why'd it sound so close to -
" - I'm talking to you! Hey!" He yelled, making a commotion as everyone else stopped to spectate.
'Make him stop. Now. Or I'll do it for you.'
What was that voice? Her blue eyes darted around to find the source.
"Hey!"
The man gripped tighter on her arm in a more painful grip. She hissed.
'That's it. Shut up. And observe.'
"Let g-! " Her shout fell short, as her limbs loosened from resisting. Face downcast below tilting upwards again.
"Well, that's more like it. Turn around!" The man ordered, being much taller and bigger than her, it should've been easy to overpower her. The girl turned around, and while her usual blue were instead a gold, she glared, seemingly unfazed by the grip.
"Let go of the arm."
It was quiet, so he didn't pick up on how drastically
deep
her voice was all of a sudden.
"Ha? What, are you kidding me, don't be tryin' nuth-" He suddenly flipped over with his arm that should've been gripping on her, and he groaned out in pain.
"That's how you deal with stupid buffoons, you stupid girl. Put your training to practice. Put your fears aside. To think you're my apprentice, it's almost a shame."
She muttered in spite, and as while a crowd was gathering, she seemed to have snapped out her trance.
"What's - ?" Hands retracted to her face, and as the amount of people began to get bigger - she noticed, and out of sudden intimidation from being surrounded by so many unfamiliar people, she made a run for it, red vivid color locks standing out amongst the crowds. She heard several whispers.
'What just happened?'
'Did that child just performed a martial art on that man?'
'Where's the authorities when you need them?'
This always happened when she was in a fickle of trouble. She couldn't begin to fathom why. But it was what went through her mind as Melaena kept running. It would seem that she'd have to get supplies in the next town over as she walked. This area didn't use cars, or taxis for that matter. It tired her. But it was no use helping it. This village was certainly not going to welcome her stay here after what she just did.
Perhaps she'd survive, somehow?
-Other:
I read everything.
Melaena is a proficient in martial arts and self defense methods, as her mentor had taken noticed to how her Healing Necromancy would have her open to attack and be much weaker than Black and Cybernetic Necromancers. Only able to flip over a man at the most, twice her size, Melaena herself is useless when it comes to heavy lifting or going long distances, not being much of an enduring fighter. She's currently studying Wiccans and studying medicines, as so to improve her abilities.
She has a fondness for Larks, despite how she carries around a skull like mask of crow feathers, her last object of her master's before she was forced out of her home, which was burned down by several Necromancers to keep secrecy.
DISCLAIMER: Before I am accused of "art theft", I do not, will not, and can not own the following images presented. They're copyrighted and are owned by their respective and original artists, not me. I did not get written consent from said original artists, and should they find this, and wish for me to take this down, I shall. They are not mine, and I will respect their wishes. If you are the original artist, please notify me immediately if you wish for it to be taken down. It is of my apologies.