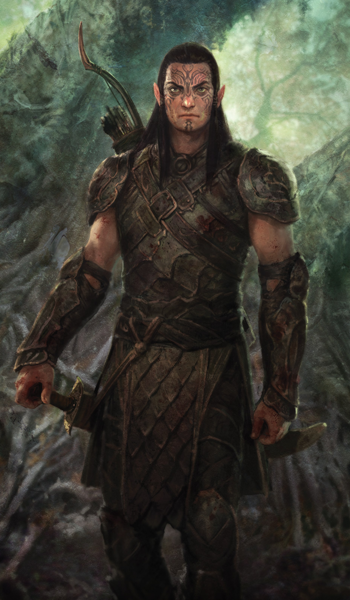 Name:
Tyrond Whisperwind
Title:
Ceriarki (Roughly translated as Laughing Knight)
Race:
Wood Elf
Age:
65 (Around 25 in human years.)
Class:
Rogue - Monk
Physical Appearance:
Tyrond is not what many would consider physically imposing. He is of average height at 5'11 and has a rather skinny physique. His skin is rather pale, and he has dark brown eyes and long dark brown hair. His face is covered in tattoos, in Elf culture they are the symbols of Ceria, the trickster god.
Clothing: Tyrond wears mostly traditional Wood Elf clothing. He keeps a leather tunic for battle, which although makes poor armour, allows him to remain agile enough to evade enemy attacks. When not in battle he wears a hood and cloak, as he knows Elves can provoke suspicion from humans. Although he wears typical Wood Elf clothes, they do not really symbolise anything specific about Elf culture of beliefs.
Basic personality:
As a disciple of Ceria, Tyrond is naturally against all things demonic and tainted. He has been taught from an early age that if you see a demon, you kill it. He is rather stubborn in his devotion to the Trickster God, but is not easily offended by different or even contradictory beliefs. But regardless, the dogma of the Trickster is his first and only loyalty. Apart from that he is cunning and very devious. He is not interested in a fair fight, and thinks anyone who puts too much stake in honour is simply naive. His own kind included. He is not shy to stealing or pick pocketing, but the Ceria code prevents him from taking from those who are already in need. He tends to keep quiet in human settlements, as not to draw attention to himself, but is very friendly and very humorous when he does interact.
In battle Tyrond is a typical Ceriarki, they portray their fearlessness in battle by laughing manically or making jokes, even when seriously injured. It is this characteristic that has earned the disciples of Ceria the reputation of being insane, violent and unstable, which as with most preconceptions is far from the actual truth.
Equipment:
Emerald Reaper Bow
– the name of the standard bow given to Ceriarki, although of fine craftsmanship it has no real magical or divine attributes to it.
Emerald Reaper Short sword
– Again this is the standard weapon of Ceriarki and has no real magical or divine attributes.
Ceriarki Stone
– A communication device unique amongst the disciples of Ceriarki, not even the Elven kin have figured out how to reproduced such a device. It allows for near instantaneous communication between Ceriarki and Ceri'thuum (Scholars) allowing for near perfect organisation of this certain sect of Elves. How they do it, or even use it remains a mystery to all others, Elves, humans and Dwarves alike. Most claim that it is Ceria gift to her followers.
Skills/Abilities:
Tyrond has been trained for decades in martial prowess and is quite adept with his short sword and in hand to hand combat.
He is an expert archer, as is the case with most woodland warriors.
Tyrond knows a numbers of subterfuge and stealth techniques, as is the way of his order. Picking locks and becoming hidden is second nature to him.
Tyrond is also naturally resistant to magic, as it is with most followers of Ceria. Not to say he is immune, fire still burns and sleeping spells may not send him to sleep, but he won't be very coherent for some time.
He has no magical abilities.
Background:
Tyrond is part of a minority of Elves born with dark brown eyes, usually signifying a complete lack or at least an ineptitude of magic. In a society where druids and mages are the ruling class, and amongst a race to which magic comes naturally, Tyrond was always going to have a tough start in life.
His parents made the decision to leave him with the Disciples of Ceria, a secretive sect of Elves who live deep in the heart of the Emerald grove, where the oldest and most mysterious of ancient orders live. Unique amongst the many orders of Elves, the Disciples of Ceria know almost no magic, and has become an unofficial haven for those Elves unlucky enough to be born with dark eyes.
His parent's decision meant that they would have to cut contact with Tyrone, leaving him completely to Ceria and her teachings. Tyrone spent the next decades learning martial prowess and combat techniques. The Ceriarki are the Disciples warrior class, and are dedicated to not only defending the forest from demonic threats, but seeking out and killing demons in their places of powers. They learn several techniques to fight magic users, such distractions and stealth. This has earned them a fierce reputation amongst the Elves and most Ceriarki are wearily looked down upon as unstable and violent.
Tyrond became a Ceriarki at thirty and has been defending the Emerald Grove for thirty-four years. At sixty-four Tyrone is starting to mature, as is tradition amongst the disciples of Ceria, it is around this time that the Ceriarki are sent on a pilgrimage. They are tasked with travelling out of the emerald grove and into the world, only returning when they have found or done something of worth. Upon their return they will be Ceriathalox, roughly translated as hunter and commander.
Other:
Tyrond, although follows a similar culture to most Elves, is fundamentally different because of his upbringing amongst the disciples of Ceria. Most Elves would recognize him as a Ceriarki because of the tattoos on his face, and would probably look down on him or regard him as a lesser Elf.