---
---
---
---
---
---
---
---
"If you look into my mind, I WILL kill you"
---
---
---
---
---
---
---
---
Name:
Kael
Age:
'20'
Gender:
Female
Race:
Half-dragon Half-human
Race Traits:
Has the appearance of Human but as with all half-Dragons can change into a small dragon if needed (for reasons she does not wish to discuss, she cannot transform fully at this current time); Enhanced sight, hearing and smell; As dragons are Magical creatures she can use Magic, however only certain types of magic and it takes her longer to learn; Immunity to old age but tendency to get sick easily; Dragon kin physically age slowly than other races, giving her the appearance of about 20 years old when she is actually a bit older. To avoid confusion she just says she is 20
---
---
"Never judge someone by what you see, sometimes the strongest people are the weakest looking."
---
---
Human - While in human form her hair is varying shades of purple and reaches to about the middle of her back. Her eyes change with her mood as she has dragon blood but primarily stay a calm shade of green. Her Aura(Magic) is purple. Freya is constantly picking out ridiculous outfits for Kael to wear.
Height: 5ft 8in
Weight: 135lbs
]Body type: Skinny but fit, not very muscular
Dragon - When she is in her Dragon form she is half the size and strength of a normal dragon. At this point in her life she will get a little bigger but not by much. Her scales are purple with bits of blue and green, and very hard. No weapon can pierce a Dragons scales. Her belly, however, has very soft and fragile scales lining it. Her wings are thin to touch but very durable and tough.
---
---
"Rule one: Never underestimate your enemy. That could get you killed." -Screthin
---
---
Strengths:
Weaknesses:
~Large amount of stamina
~Magic sometimes doesn't work
~Fairly skilled in magic
~Weak immune system
~High level of speed
~Magic potential is halved
~Has a surprisingly strong kick
~Does not trust easily
~Very good memory
~Mental barriers weak
~Cannot swim/slight hydrophobia
~Low pain tolerance
~Low upper body strength
Alignment: Chaotic Neutral
Class: Mage
Skills: Magic primarily specialised in Mind/Soul, however also has knowledge of some basic Fire and Ice spells; basic dagger;
---
---
---
---
Each spell is spoken in Dragon Tongue
---
---
Fright
Sends target into a state of panic, leading them to either flee or to attack wildly and without thinking
Blind
Blinds the target for a small amount of time.
Sleep
Sends the target to sleep for a short period of time
Hypnosis
controls the target for a short period of time, whether it's to get them to attack an enemy or to tell information it doesn't matter.
Sooth
Can calm down a being who is enraged or frightened
Nightmare
While a target is asleep will force a nightmare on them which will harm them or kill them
Soul absorb
While target is immobilized and/or close to death can take soul to increase power. This spell is dangerous as it has a very high chance to backfire and force out the casters soul instead, effectively killing the person casting the spell.
Mind Rot
A time consuming spell to cast which takes up to a week to be in full effect. This spell makes the target go insane, causing them to do anything really. Most people end up dead.
Fireball
Creates a fireball of varying intensity and size
Fire
Very basic, mainly used for light sources or for lighting a campfire. Conjures a small ball of flame in her hand that she can command to float above her.
Lightning Strike
Sends a single lightning bolt towards the target
Ice Prism
A wide reaching area spell that turns targets to ice; ice melts easily and also does not recognize between friendly targets or enemy targets.
Ice Spear
Concentrating a large amount of magic into a 'spear' she can turn it to ice and project it a fair distance.
Darkness
Covers the area in darkness and only creatures that have enhanced night vision are able to see
Kael is capable of sending out tendrils of her magic. This 'spell' has no name however she must command the magic or it is ineffective. Examples include being able to pick a person up (heavier or stronger beings can resist this), bind creatures (provided they have no magic strong enough to dispel her own), grab objects from a distance, tether herself (for example if she were to fall off a high spot, if she works quickly enough she can tether her magic into the earth to stop her from falling), ect. This ability is quite exhausting and she cannot cast any other spells while this ability is being used. Likewise any spells in effect before this one are cancelled out.
Kaels book is an extremely large database of sorts of spells collected from her father and mentor. Each spell in it she has the capability to learn (and teach to others) but the time it takes to learn them varies depending on the spell. If she does not take the appropriate amount of time to properly learn new spells then they can and most times do fail or backfire on her or her companions.
Weapons:
Other Equipment:
~A small Dagger
~A Small bag of coins
~A Book of Dragon spells
~A few small bottles of health potions
~A small vial of poison strong enough to kill a fully grown dragon
~A vial containing a Witches soul
~A small locket containing a white feather.
---
---
---
---
---
---
"The past is exactly that - the past."
---
---
---
---
There is a legend of Dragons, stating that they may choose to take human form for a short period of time if their desire is great enough. Kael's father was a dragon who excelled in casting illusions and mind spells, while her mother was a dragon hunter. Her father did not want to kill such a pretty thing and kept her in his lair for a time until one night he desired the human form. He mated with the woman and she killed him while he slept using Dragon toxin she had been keeping hidden. Nine months later she had Kael and ran from the humans to live in hiding. Kael grew fast, quickly becoming stronger than her mother and showing the ability to shift between human and dragon form from an early age.
Whenever Kael entered her dragon form she would be stronger and faster but when she eventually did transform back she would sleep for days at a time, recovering the strength it took to hold the form. Kaels mother was frightened of her child and of the other dragons that would no doubt come to find her. When Kael was 11 and started hunting for larger prey she attempted to kill her own daughter. Kael defended herself and ended up killing her instead. Realizing that humans would always kill Dragons and their kin she grew a deep hatred for them.
This started her killing spree. She entered into her Dragon form and began killing off as many humans as she could find. This didn't last very long as where she was killing them was close to a valley of many high dragons. They used their magic together to seal away the young hybrids Dragon form and half her magical power, saying she could only have it back when she completed the tasks they had given: learn compassion, mercy and forgiveness; and learn her Dragon name. Leaving her with this they relocated. Kael made it her goal to find the dragons to convince them to release their seal, and to discover her Dragon name. She does not know how.
Shortly after she was cursed Kael met a large black High Dragon by the name of Screthin. He taught her how to control her rage, how to hide among the humans and how to train to get stronger. He gave her a book full of Dragon spells and studies on different kinds of magics, poisons and cultures. He trained her and cared for her for a few years before he tested her by having her survive on her own in a human village. She passed his assignment and Screthin determined it was time for her to start on her quest.
Her first mission was to go to a city that had been overrun with Vartii and Werewolves. She was to assist the man in charge there, Dante, and destroy the Vartii in the area. She stayed for quite some time, growing attached the man and the townspeople. Just after He proposed to her, Kael received a message from her mentor calling her back right away.
The next mission was to investigate rumors of demons appearing around the country. This went on for quite a few months and finding no leads she returned to Screthins home to find he had disappeared and left a note telling her of a small village that was in need of help and that her next assignment was to aid them however possible. It was there she met Malik, a winged man how desired nothing more than peace. Her instincts led her to trust him and she accepted his proposal to go kill a demon with the group that had gathered there.
After the demon was killed Kael smelled something familiar and ran to a clearing. There her mentor dropped to the ground, injured and dying, and told her demons had attacked him and were going after the High Dragons. He told her to eat his heart as she would gain all his magic powers and abilities. Kael obeyed his last request and became stronger. She then decided that she needed to find out the source of the demons coming back to the world and stop whoever was responsible for it. She went back to the inn and met a handful of people including Sir Blue.
Eventually the group grew and they traveled to find the source of the demons. It was discovered that a Necromancer was responsible for the entire thing and they decided their goal was to stop him. Along the way they returned to the town where Kael had met Dante. It was in this town that Malik disappeared, Dantes brother was kidnapped, and a member of the group died destroying a demon. With that the majority of the group disbanded, going their separate ways.
After this Kaels history is muddled and she refuses to clear up and questions asked. It is known that she cut all contact with everyone from that area and moved continents to continue studying and growing stronger in Farador. She traveled alone, fighting and observing the war as well as helping various villages and cites for a while before taking in a young elf named Freya. Freya was trained in basic healing spells and potions and had lost her home and family as a result of the ongoing war across the land. They settled in a village in the kingdom of Taramire and lived there quietly before they both received a letter from King Aldanaz. And that is where Kaels newest adventure starts.
---
---
"Sometimes people don't remember what you've done or what you've said. They don't remember heroic deeds or villainous acts. Sometimes they don't even remember your name. Sometimes all they can remember about you is how you made them feel. And that's the important thing I guess. Feeling."
---
---
Kaels Father
: Kaels father was a Dragon quickly approaching the title of 'High Dragon' due to his accomplishments for Dragonkin and his age. His exact age is unknown but references to him can be found in many history books around the world. His name was currently unknown. He had teamed up with Screthin for a time before his death. He was very skilled in Mind and Soul magic and his talent for it passed down to his daughter. He was very kind and looked upon humans with curiosity and wonder, and teamed up with humans on a number of occasions to assist in various matters. He was known to have been great friends with a king roughly 150 years ago and helped him gain the throne and unite a war ridden land. The few times he was in human form was simply to mate with humans, it is believed that he has had multiple children though none other than Kael are known at this point in time. Kael looks very much like his human form. He was poisoned by Lyf while he slept after transforming into a human form.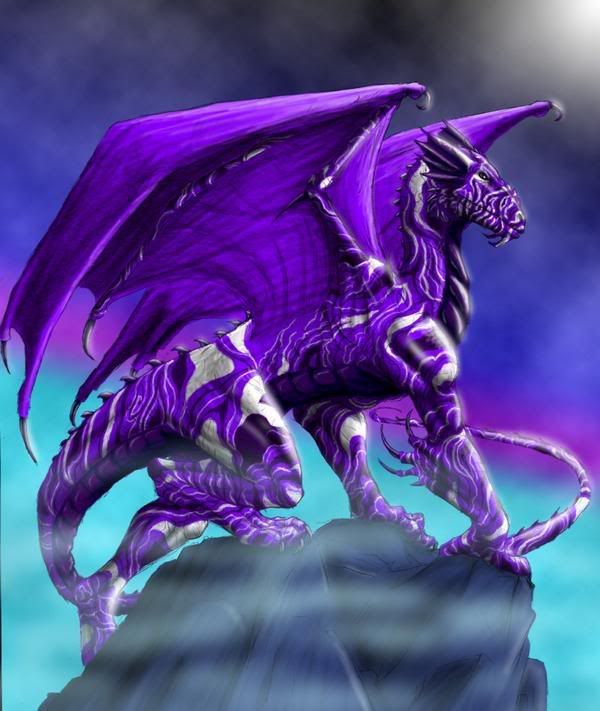 Kaels Mother
: Lyf Delecroux was not a very famous Dragon Hunter but she was skilled. She was trained in the ninja arts and primarily used ranged weapons and poisons. Her family was large and she was in training to be the next leader, her assignment to secure her place was to kill a certain number of dragons. Her number was at 5 successful kills before she became pregnant. She was described as being cold and ladylike to strangers, as well as being condescending and overconfident in battle. She was rude and looked down on those she viewed as a lower rank or weaker than her, while being overly respectful to those above her station. Sometime during a mission she was overpowered and kidnapped by a Dragon and eventually was mated with him before killing him in his sleep. She hated all Dragons and it was unknown why she decided to raise her half-Dragon offspring instead of killing it in infancy as her family had suggested. Eventually Lyf was slain by her own daughter after she had attempted to kill the young girl.
Kaels Mentor:
Not a lot is known of Screthins past, only that he had been friends with Kaels father and after the girls mother died, Screthin took Kael on as an apprentice. It was rumored that he had committed some crime and that his punishment was hunting down rogue Witches, as well as training the unstable half breed. Kael refuses to talk about him and so anything he might have told her about himself remains a mystery. Screthin transformed into a human a few times in his life for unknown reasons, though the most recent time was in a training session with Kael. Kael had sketched an image of him without him knowing and keeps it on her person at all times.
Kaels Companion:
Freya is a blonde 16 year old Elven girl. She lost her home and family and was found helping injured townspeople until she collapsed from exhaustion. Kael took her on mainly because Kael herself had no healing knowledge other than basic bandaging and very basic potions, but eventually she grew fond of the young girl and put her safety above all other things. Freya does not know anything of Kaels past, and only knows a small amount of Kaels race. The only thing she knows for certain is that without Kael, she has no home and nowhere to go. Freya is fiercely loyal to Kael and constantly trying to convince her to adopt various animals.