---
---
Theme
Rebearth | Capture the Crown
---
---
---
---





♠Race


Shinigami



♠Rank/Affiliation


Unseated||13


♠Gender


Male



♠Nickname(s)/Alias(es)


None



♠Age


25


♠Love Interest


None



♠Face Claim


Some from God Eater


---
---





♠Height


5'11



♠Weight


168 lbs



♠Build


Slim muscle



♠Hair Color


Grey



♠Eye Color


Grayish Blue and gold



♠Scars/Tattoos/Piercings


Many different tattoos on his arm to form a half sleeve.



♠Description


Joel has dirty grey hair that only seems to get washed and not fixed up for any occasion. While he's tall he's also toned, a result of routinely doing calisthenics and body weight exercises. He dawns a scowl on his face that could freeze lava in its tracks, though breaks into a sarcastic smirk or genuine smile pretty easily. His tanned skin and silver hair, while uncommon connect him to his forefathers who have had the same type of abilities as him. While his hair only goes to his neck, he complains when it gets wet that it pretty heavy and hard to dry, though he doesn't have any plans on cutting it. Joel has a family tattoo on his left shoulder, symbolizing family is closest to the heart and anything should be done for them when the time calls.



♠Preferred Clothing


He wears a jacket at all times, and keeps his clothes all black, wearing his own version of the shinigami uniform. He can usually be found in clothes and robes twice his size that seem to not fall off for whatever reason and is rarely seen in something that actually fits him. During his one trip to the human world, he wore a buttoned shirt with a collar and tie. If he's not inside of a division building or dojo, he wears black boots, claiming they not only keep his feet warmer, but also provide good toe protection. He can also be seen wearing a tie from time to time under his coated shinigami uniform.


---
---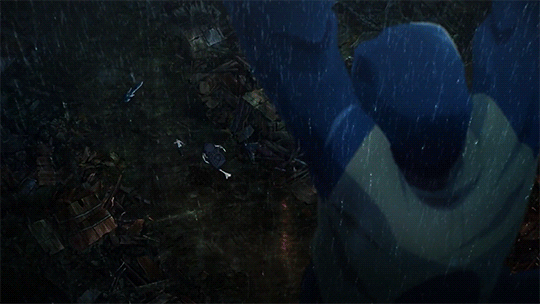 ♠Oddities


Seems to have a scowl painted on his face.
May be overly sarcastic to the point where people think he doesn't take anything seriously.


♠Likes


Training
Kids
Seeing people happy
Helping people
Calm and quiet environments


♠Dislikes


The awkwardness of meeting new people
Loud and destructive environments
Those who fight for selfish reasons



♠Hobbies


Besides training, Joel watches the clouds in the sky for long amounts of time if he can, and also likes to draw and write. Though the former he really isn't good at.




♠Phobia(s)


Spiders, Being the cause of a friend's death, and being alone


♠Sexuality


Heterosexual



♠Personality
Joel was once timid and soft spoken. He use to be the person who no one knew was in the room and would only talk if he found it really important to do so. However, after losing some people close to him, Joel always speaks his mind, even if most of the things on it presently have been nothing, but sarcastic remarks towards people and their beliefs. Joel believes if a person says they're going to do something then they should do so and stop talking about it, so he doesn't usually talk about himself or his own beliefs. Though he can be a chatter box sometimes, not many people besides a selected few know what drives Joel to act the way he does or even live life the way that he does.
While not being the most quiet person in the room anymore, he still has a habit of disappearing or ghosting from a room and that's without using his speed. Joel once went into the Soul Society thinking that he could make a difference somehow that would separate him from the others in his family, though he realized that he was much too weak to not follow in their footsteps, for he couldn't even protect his friends. Even though only a few people have died while he worked with them, he had softly blamed himself, for not being fast enough nor strong enough to handle his workload before rushing to their side. He's fairly new into the society, but still has faced a lesson all soul reapers learn eventually. When the job called for someone's life, there was nothing anyone could do to stop it from taking it's payment. Joel hated the fact that no matter how hard he trained, no matter how many hollows he struck down, there would never be a hundred percent chance, or even a ninety percent chance that he'd be able to save everyone he cared about. This caused him to shut out those who cared for him most. He quickly realized that wasn't a good idea and set his heart on at least not making any more friends and focus on the people closest to him as well as the ones he worked with.
His new resolve helps him to continue training even though the whisper of useless behavior and effort rings in his ears. It also caused him to relax more and take life slowly, though he doesn't really join in activities often. Instead he makes an excuse or leaves the conversation and group before asked, though he does tend to bump into those who he knows he can trust when he's bored.
The peculiar thing about Joel, that anyone can realize from a glance is that he is always scowling. This comes from being deep inside his mind at all times where he talks to his Zanpakuto about the many reasons to keep on doing what he does and reason for living in general. He also changes this look to a more relaxed demeanor when talking to someone as not to alert them to how he's really feeling. This is because he feels that if he talks about himself, then the person will talk about themselves as well which, in turn, will make them grow closer to the point of being friends. Joel believes he doesn't need any temporary people in his life and has enough friends as it is. Thus he really tries to keep control of a conversation and doesn't mind the negative opinion people obtain from talking to him in his sarcastic persona.
---
---
♠Relationship Status
Single
♠Family
Jerol Hiataka - Alive - Father
Monia Hiataka- Alive - Mother
Dias Hiataka- Alive- Grandmother
♠Personal History
Not many people know about Joel's past, because he rarely talks about it. Not many people know of the boy who grew up with a family who never wanted to have him in the first place. To them, he was the black sheep and even displayed it by having their ancestors signature eyes. He lived his childhood basically with a roof over his head, but nothing else. His own mother wouldn't even nurse him. The only person he had was his own grandmother who loved everyone in their family equally, maybe even him more because he resembled her father. Her father. she said, who was just like him. Kind and courageous. Though she had said her father, for whatever reason, betrayed the soul society and thus tarnished their families name. In truth, maybe that's why he had decided to go to Shin'ō Academy and become a shinigami in the first place.
Being used to his families actions it wasn't hard for him to pass off the hate and discrimination he had against him while at the academy. He just took each day as it came and left it behind as he walked towards the next. Though, eventually, something unexpected happened. He made actual friends. For the first time in his life, besides from that one perfect woman, he met people who would grow to actually care about him and like him for himself. For that, he had vowed to get stronger for them. So that if they were to stand side by side on the battlefield he could protect them. In addition, he was surprised as anyone when told which division he was going into. He had thought he'd be in something. . . well, other than hope. Though, even though it's only been a few weeks he's been feeling more and more at home there.
Almost as soon as he joined the Society, him and a group of people were attacked and he experienced firsthand how serious his job was. Taking heed from this lesson, he vowed to not let it happen again and respected the memory of his fallen comrades with a long fast. This fast ended with the soul festival, a place where he met the lieutenant of another division who showed him that he could be strong and outspoken, which helped him grow out of the bubble his father and mother put him in. It was also yet another thing which pushed him to become stronger.
There are a lot of other stories revolving his past. The scar, the tattoo, his grandfather's full past. Things he doesn't usually like talking about. Though, with time, he may tell all the tales.
---
---
♠ Zanpakuto
Jinouga
||From the looks of the sword itself, it resembles an average Katana, though the sheath seems to have a trigger. This is for catapult access. It should also be noted that the blade cannot be sheathed in any other sheath, even one designed to fit it.
♠Shikai
Skewer our enemies Jinouga
Jinouga||The fast thin blade of its previous form is gone, replaced with a broad weapon that looks to be half saw and half sword. By the looks of it, it's too big for one to carry and use reasonably in battle. The only known ability at this time is that the blade flickers with lightning to vibrate the ridges on the blade. Thus making it easy to slice through even the hardest of terrain like butter.
♠Specialties
Specialty|| Shunpo
Specialty|| Strength
Believing speed and power ends fights faster, he specializes in Shunpo and his Strength is matching to people ten times his size.
---
---