---
---
---
---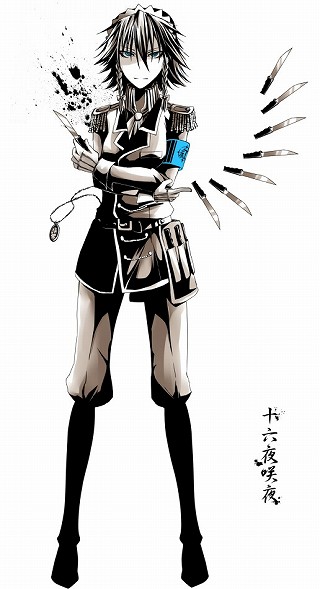 ♠Race


Shinigami


♠Rank/Affiliation


Unseated|| Seventh


♠Gender


Female


♠Nickname(s)/Alias(es)


Shizu


♠Age


22


♠Love Interest


N/A


♠Face Claim


Izayoi Sakuya

---
---





♠Height


5'9"


♠Weight


110 lbs


♠Build


Slim


♠Hair Color


White


♠Eye Color


Blue


♠Scars/Tattoos/Piercings


Shizuna has no tattoos or piercings to speak but what she does have is a scar The scar is especially long appearing on her right leg as it slithers up from her shin to her thigh. This wound was caused by an accident when she was young and living in the Rukongai. One day she was leaping from rooftops in the Districts and made a poor error in judgement, miscalculating the length of a jump. She fell as her leg was stabbed by a piece of metal that jutted out from a nearby fence. Her leg eventually healed from the deep cut and thankfully didn't affect her ability to walk. Still she hates the ostentatious scar often calling it an eyesore.


♠Description


Shizuna is a little on the tall side compared to other women but not exceedingly so. She has long, wavy, white hair about as pure as fresh snow. Shizuna prefers to wear her hear shorter at medium-shoulder length and possesses bluish-grey eyes that become bold in a certain light. She keeps a slim figure and has been noted to have rather thin legs.


♠Preferred Clothing


Shizuna mainly wears the standard shihakushō with no visible differences. At times may wear a black head band that can slightly be seen underneath her snow white hair. Other than that not much customization, although she is rather found of a neck piece that is adorned with what looks like little, white, puff balls. She also has a preference for wearing wooden sandals instead of the basic straw sandals. If using a gigai to observe the human world, she wears black, form fitting pants, and a long white dress that ends in a frilly miniskirt. Completed with a black belt and silver buckle, her headband, her neck piece, and fancy, black shoes.

---
---





♠Oddities


Unnoticeable at first, she quickly blinks three to four times as opposed to blinking once. Unsure for the reasoning behind it, Shizuna assumes it's because of a dry eye condition, if that's even possible for a soul to have. Which could be the reason why she never seems to cry even if in pain.


♠Likes


She is rather fond of heights, birds, and the cold. She is also a fan of the rain.


♠Dislikes


She has a dislike over people she finds to be annoying which usually includes those that are arrogant or immature. She also hates being late and others who are unpunctual.


♠Hobbies


She likes to keep pigeon coops or coops of any kind really. She enjoys feeding the birds and watching them fly. Beyond that exploring has always been a favorite pass time and she has been known to be a bit too curious.




♠Phobia(s)


She fears powerlessness and the insecurity that it would bring. The last thing she ever wants to be is incapable, helpless, and most of all useless. She also has a fear of snakes after being bitten by one at an young age.


♠Sexuality


Heterosexual


♠Personality


Known for being argumentative, bossy and sometimes quite catty, Shizuna isn't afraid to say what she thinks. Unfortunately the words she speaks are often snide and snarky with the intent to criticize. Yeah, she isn't the most popular because of her opinions but at least she's honest. Despite being forward she presents herself as elegant and classy keeping a refined aire about her. She likes to be prim and proper and is very particular about structure and organization. She's never late and never goes back when she gives her word.

A hard worker bordering on perfectionism she is often eager to prove herself as worthy. She's responsible and reliable and has the dedication to stick to even the most difficult of jobs.
---
---
♠Relationship Status
Single
♠Family
Kaiten Kurotsuki (Grandfather/Mentor) (Deceased)
Keiji Kurotsuki (Father/Deceased)
Akiko Kurotsuki (Mother/Deceased)
♠Personal History
While she hasn't revealed much of her life before coming to the academy, she did used to live with her Grandfather. Kaiten was a retired member of the Onmitsukidō. While his family did live in the Seireitei, they have long since fallen from grace. Shizuna would grow up in the outside, the Rukongai. They lived in the more poorer areas but nothing too awfully bad. Most of her life was spent exploring the districts or training with her Grandfather. After his death she would later enter the Shin'ō Academy. She tested high in the entrance exam and entered the advanced class. Already off to a good start she used her time to study hard while at the academy.
Her time at the academy wasn't something special. Most of it was uneventful, but she was noted to do good field work. Especially showing a highly tactical acumen. When they preformed simulations for Hollow hunting she was able to discern the environment and devise a plan. Her plans mostly built around ambush and trap tactics. Able to ensnare the targets within an impressive time limit. Beyond that she was notable to be very graceful and fluid in her movements during Zanjutsu classes. Despite her apparent skill, she worked the hardest in Hakuda and Hohō. Hoping one day to be assigned to Squad 2, the same squad her family was apart of. Yet there was one incident during her academy time, one that would cost her first friendships and would continue to haunt her. Despite these difficulties she would graduate and enter an unseated position in Squad 7.
---
---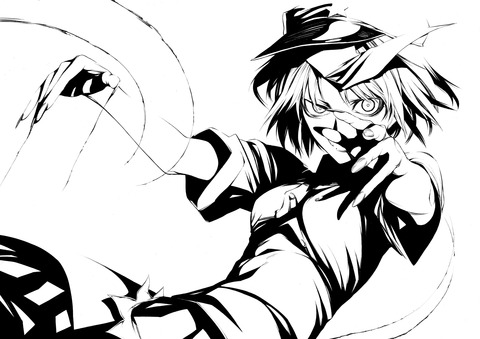 ♠ Zanpakuto
Kumonosu (蜘蛛の巣
Spider's Web
) ||Appearance
Kumonosu has a completely black scabbard that leads up to a silver, diamond shaped, guard. It has an average sized handle with a silver Same or Ray skin and a black ito braid. It has a silver cap at the end of the scabbard along with a few blue cords wrapped around the scabbard in three different places. There is a ring at the butt of the handle.
♠Shikai
Seek and Destroy (シークと破壊
Shīku to hakai
)
Kumonosu||Appearance
Once released, Kumonosu transforms from a katana to a kyoketsu-shoge, a blade that is attached to a rope (or in this case spider silk) with a ring at the rope's end. The blade is double-edged with another curved blade near the hilt. It's handle is the same color and design as it's unreleased from.
Shikai Ability: Kumonosu's main ability is called Kuto Kari (区と狩り Hunting and Subdivision). This allows Kumonosu to separate from a single blade with a string into two blades with strings. When the first time Shizuna learns this she is only capable of one division, when in actuality the maximum division is eight. So once she learns to completely control her Shikai she can create eight blades instead of one. To activate this Shizuna holds the blade up then in a sweeping motion, swings the blade as it duplicates into another. The blades are capable of floating in mid air. She can swing the lines for a mid-range attack, but the string can extend to a great amount of length, although it has a limit. The power of her swing and the sharpness of the blades make them ideal to cut through most objects. As for the second part of her ability, the blades are able to track and hunt down an opponent. This is accomplished by the opponent touching or coming into contact with the webs. The blades react to the sudden vibration and fly towards it's location. Like a spider's web the lines possess a powerful adhesive keeping the opponent trapped long enough for the blade to find it's prey and stab them. The spider silk is very hard making it difficult to cut. Someone with sufficient enough reiatsu can cut through them. Like a spider's web the lines are very fine making them hard to see. If the lines are cut, she can re-thread them but this takes some time leaving her vulnerable to counterattack.
♠Specialties
Specialty|| Tactician
Specialty|| Swordsmanship
---
---