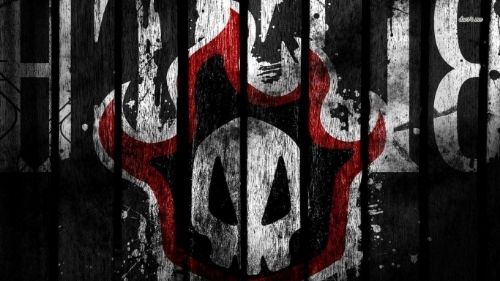 "When asked about it, I tell most that the death of Soul Society wasn't a sudden thing. It was quiet. Something that occurred over a long period of unrest and tension between those everyone thought they could rely on. We like to believe it all started with the passing of the Captain-Commander, but truthfully that was closer to a final straw. The Commander's inability to sense the sickness with the Gotei 13 just made his death a mere inevitably in the eyes of those plotting against him. Thinking back, I could have stopped what had happened, but I was a new Captain. And I was weak." ~ Captain Hirosi, Last remaining appointed Captain of the Gotei 13.
Fifty years ago, Soul Society was invaded by an army of Hollows, led by four Generals that had transcended being mere Hollows into something far more powerful. Aided by three traitorous Captain's within the Shinigami, the army slaughtered any that stood in its way to Seireitei. Within the first two days, over three million had been killed, not including Shinigami. The Shinigami fought back bravely, though with the loss of their Commander, they were disorganized and unprepared for this foe. The war lasted for over a year, until the leader of what remained of the Gotei 13 fell in battle against two of the four Hollow Generals.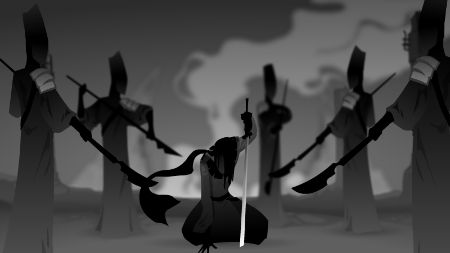 Captain Hirosi, the last Shinigami to become a Captain before the war ended, took what was left of Soul Society's population and fled into the land of the Spirit King, aided by the Zero Division to do so. Zero stayed behind, covering the retreat of those left. As one could imagine, they did not survive the mission. The Spirit King remained hidden from the eyes of the common people, and even the Shinigami. But, he welcomed the survivors into his lands. Proclaimed as the new Soul Society, any who die are now sent to the land of the Spirit King rather than Rukongai.
Operations on Earth were now done more quietly. One sign of any anomalies in pressure in an area, and hordes of Hollows were upon the Shinigami there in minutes. The success rate for dealing with Hollows had dropped significantly, though the remnants of the Shinigami were able to keep it from getting out of control on Earth's surface.
Every now and then, missions are conducted to infiltrate Soul Society and retrieve anything of value or importance to the Shinigami, as well as collect intelligence about what the Hollows are up to. Typically, these missions end with little encounters with the Hollows that infest the Shinigami's former home. However, its time things started changing. It has been over seventy years since the fall of Soul Society and one routine mission into Rukongai will put events into motion that no one could see coming. But, events that could return the home to its former residents are worth fighting for.
Okay, enough build up, let's get to the short, sweet, info dump. If you haven't guessed yet, you will be playing a member of this expedition into Soul Society. In this world, Divisions don't matter, you are a remnant of an ever shrinking order of fighters at a time when being one is more dangerous than ever. If you are interested in playing one of the Hollow Generals (who are Arrancar if you hadn't guessed) that option will become available later in the roleplay, but at this stage there is no reason to include them as available characters because it could be weeks in real time before they even begin to have an influence on the story. The three traitor Captains are NPC's that I will create and anyone can control. Your main character will be one of the Shinigami, and they will only have access to Shikai at the beginning of the roleplay. Also, due to the current situation, a lot of Shinigami traditions have been dropped and/or forgotten. As such your character is not required to wear the same robes as Shinigami in the manga/anime. Ranks have been all but forgotten as well, save for Hirosi as he is the last Captain. For now I am accepting six roleplayers. After those six I will accept more on a request basis, but if you have a history of abandoning roleplays (which I can easily look into on this site) don't bother requesting. I'll just say no.
This roleplay won't be like other Bleach roleplays you may have seen or participated in. There is a dark, desperate tone to the roleplay with the characters overcoming real challenges as opposed to just steamrolling everything in their path. There will be humor and light hearted moments obviously, but don't expect this to be the explosion fest that these roleplays tend to be.
Character Sheet (feel free to tweak to suit your style of character creation)
Shinigami
Name:
Theme Song: (Cuz, why the hell not?)
Age: (No older than forty. Remember, Shinigami age much slower)
Appearance: (Please pic images and descriptions that fit the anime theme please.)
Personality:
Zanpakuto
Name-
Sealed Appearance-
Shikai Release Phrase-
Shikai Appearance-
Shikai Abilities-
Skills
Pick level for each skill. Try to balance it out or else we gonna have words.
Swordsmanship
[Master][Expert][Skilled][Notable][Average][Below Average]
Hakuda
[Master][Expert][Skilled][Notable][Average][Below Average]
Shunpo
[Master][Expert][Skilled][Notable][Average][Below Average]
Kido
[Master][Expert][Skilled][Notable][Average][Below Average]
Other Skills: (Talents that make your character unique)
Rules
Just be a good roleplayer. You should know all that means and entails.
Taking place in...
0 posts here • Page 1 of 1
0 posts here • Page 1 of 1
Arcs are bundles of posts that you can organize on your own. They're useful for telling a story that might span long periods of time or space.
There are no arcs in this roleplay.
There are no quests in this roleplay.
Here's the current leaderboard.
There are no groups in this roleplay!
Welcome home, Promethean. Here, you can manage your universe.
Arcs are bundles of posts from any location, allowing you to easily capture sub-plots which might be spread out across multiple locations.
You can create Quests with various rewards, encouraging your players to engage with specific plot lines.
Settings are the backdrop for the characters in your universe, giving meaning and context to their existence. By creating a number of well-written locations, you can organize your universe into areas and regions.
Navigation
While not required, locations can be organized onto a map. More information soon!
There are no groups in this roleplay!
By creating Collectibles, you can reward your players with unique items that accentuate their character sheets.
Once an Item has been created, it can be spawned in the IC using /spawn Item Name (case-sensitive, as usual) — this can be followed with /take Item Name to retrieve the item into the current character's inventory.
Give your Universe life by adding a Mob, which are auto-replenishing NPCs your players can interact with. Useful for some quick hack-and-slash fun!
Mobs can be automated spawns, like rats and bats, or full-on NPCs complete with conversation menus. Use them to enhance your player experience!
Current Mobs
No mobs have been created yet.
Locations where Mobs and Items might appear.
You can schedule events for your players to create notifications and schedule times for everyone to plan around.
Add and remove other people from your Universe.
The Forge
Use your INK to craft new artifacts in Bleach: After The Fall. Once created, Items cannot be changed, but they can be bought and sold in the marketplace.
Notable Items
No items have been created yet!
The Market
Buy, sell, and even craft your own items in this universe.
Market Data

Market conditions are unknown. Use caution when trading.

Quick Buy (Items Most Recently Listed for Sale)
None
Discussions
Topics

Replies
Views

Last post
Most recent OOC posts in Bleach: After The Fall
This is the auto-generated OOC topic for the roleplay "
Bleach: After The Fall
"
You may edit this first post as you see fit.