Kuromori Tenzen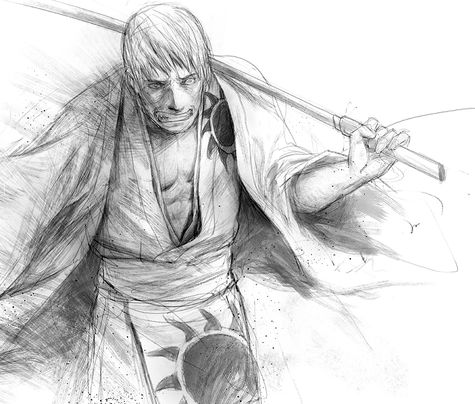 Name:
Kuromori Tenzen
Age:
Mid to late twenties.
Appearance:
Few would consider Tenzen to be a particularly handsome man. His face is hard and angular, his eyes cold and unforgiving and his mouth seems to be permanently stuck somewhere between a grimace and a growl. Other than his facial features he is a moderately tall man, standing a 6'2 and has a body toned and muscular from many years of training with the sword.
Abilities:
Although he considers himself an all-rounder, Tenzen specializes more in Hohō and Zanjutsu than any of the other styles.
Division:
7
Rank:
Lieutenant
Zanpakuto:
狂った皇帝 (Kuruttakōtei / Crazy Emperor). In its basic form the sword is unadorned, and appears as a basic
Shirayasa
type katana.
Shikai:
In its Shikai form Kuruttakōtei changes very little in appearance, only gaining a saw edge on the backside of the blade.
Passive enhancement:
Lacking a proper name due to the passiveness of the ability, Kuruttakōtei automatically enhances Tenzen's physical abilities slightly from the moment his Shikai is released.
永遠の憎しみ (Eien no Nikushimi / Eternal Hatred):
The only 'real' ability of Kurattakōtei is to leave 'cuts' in areas that remain in place for a while with each swing, even when the sword in no longer there. It allows Tenzen to create either passive barriers or some slight offensive uses, as the cuts still function like the sword was there, meaning anything that comes into contact with one of the cuts will feel the same effect as if the was actually a sword being swung there.
Release Command:
切り刻め, 狂った皇帝! (Kirikizame, Kuruttakōtei! / Cut them to bits, Crazy Emperor!)