Misama Ooka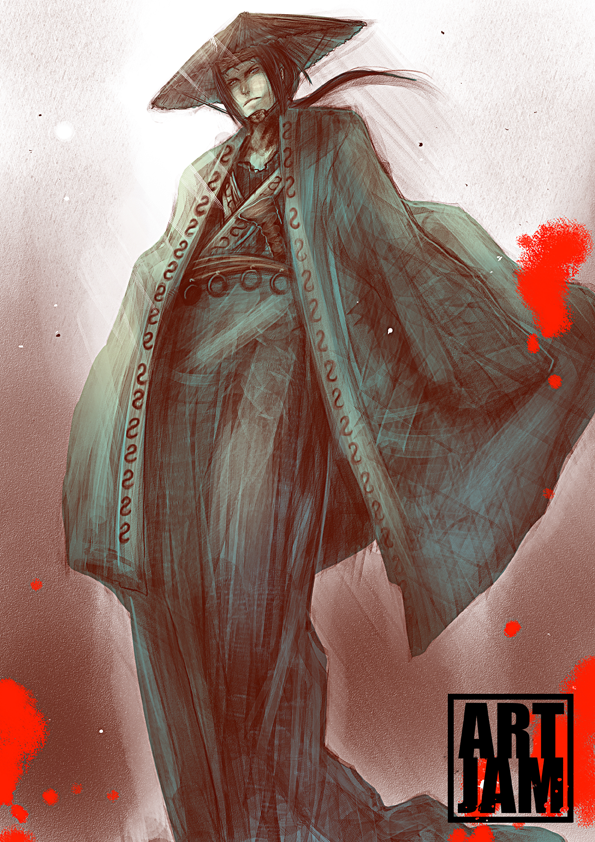 Name:
Misama Ooka
Age:
Appears to be in his mid to late twenties, but is far older than that.
Appearance:
A man of average stature, standing at 5`9 feet tall and near womanly body structure. He has long black hair, nearly pristine white skin, a skinny body and a face of gentle features. Yet somehow he is never considered womanly. Perhaps it is the cruel grin stuck to his face with no intention of leaving, or perhaps it is the sheer amount of power he displays in his very stance. Once he preferred the traditional Shinigami garb, but he has since changed to a slightly more expressive outfit. On his head he mostly wears simple straw hat to keep his head out of the sun.
Abilities:
Ooka in excels in all forms of combat available to a Shinigami. But his main forte is his incredible skill in Kidou, which is so great he was once considered the most powerful user of Hadou within the Gotei 13. He also possess an immense amount of Reiryoku, greater even than that of the captains of Gotei 13.
Division:
Formerly, 6th division.
Rank:
Formerly, Captain
Zanpakuto:
現御神 (Akitsumikami / Living God). Ooka´s
Zanpakutou
is an old looking katana. The scabbard is not lacquered, keeping its original wood like texture. Around the scabbard is wrapped a navy blue sageo, its grip is wrapped in a similar cloth. Affixed right under the Zanpakutou´s cross guard and on the scabbard are small circular logos of the noble house Ooka once belonged too. The blade itself appears to be unpolished, having a somewhat more metallic look to it than most ordinary Zanpakutou, yet if one were to look closely at the blade it is as if it contains water, the inside of the blade flowing and shimmering to unseen currents.
Shikai:
In its Shikai form Akitsumikami doesn´t change shape, only gaining the abilities of its Shikai form.
鬼道の主 (Kidou no Ou / King of Demon Arts):
A passive ability and a most fearsome one. This ability of Akitsumikami empowers its wielder´s Kidou to immense proportions. So great is this enhancement that if a captain level Shinigami were to use use Kidou without incantations it would still be as powerful as if he had said the full incantation.
霊力の主 (Reiryoku no Ou / King of Spiritual Power):
This power allows its wielder to control and redirect Reiryoku at will, no matter its source. This allows the wielder of Akitsumikami to negate most nonphysical attacks with the wave of a hand and even weaken Hohou and Sonido, leaving others with only physical attacks as a means to damage Ooka. A side effect of this ability is that its wielder can use Reiryoku in the environment or even Reiryoku that was unleashed by enemies to power their own Reiryoku based abilities, allowing the wielder to use Reiryoku based abilities of great power and with far greater frequency without growing tired. As most Shinigami, Zanpakutou, Arrancar and Hollows make use of Reiryoku to attack this might be the most fearsome of Akitsumikami´s powers. This ability was once thought to be Akitsumikami´s Bankai ability.
Bankai:
Ooka has never had to use Akitsumikami´s bankai, as there has never been a Shinigami or Hollow powerful enough to necessitate its use. Although it is most certain he has a Bankai, one can only wonder at what it´s abilities might be.
Release Command:
覇を唱え, 現御神. (Ha wo Tonae, Akitsumikami. / Reign Supreme, Living God.)