Midori Shisuia
No Shelter - Seether
One More Murder - Better Than Ezra
Ours - The Bravery
Human Form
"The place where you made your stand never mattered. Only that you were there...and still on your feet. Stephen King, The Stand."
Soul Reaper Form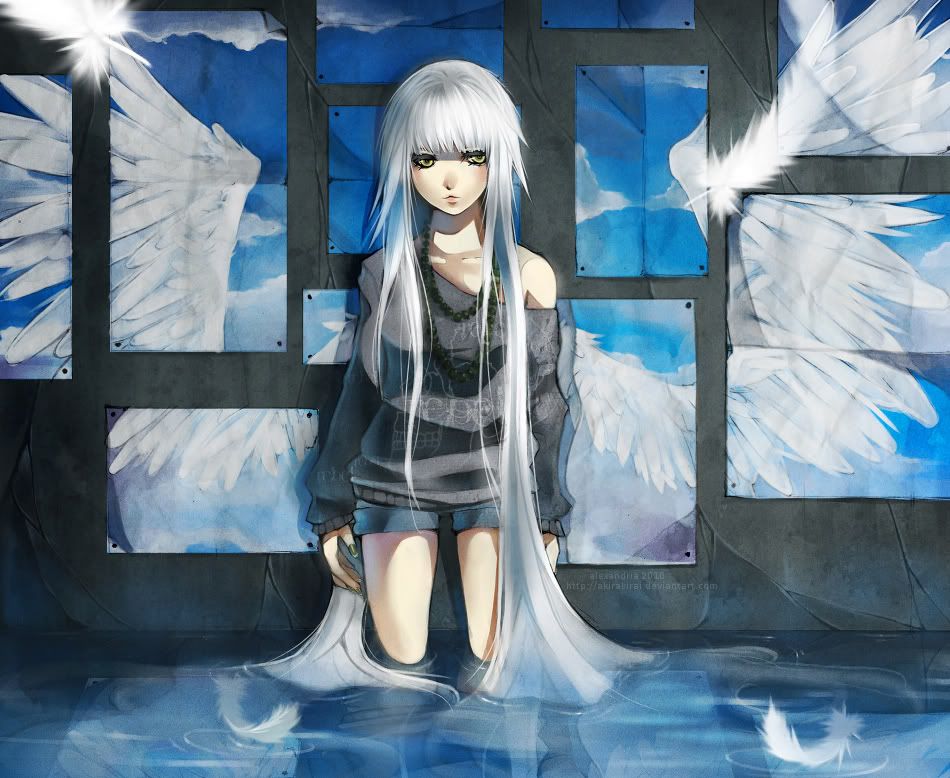 Zanpakuto Spirit Form
-Age: 21
-Gender: Female
-Occupation: Substitute Soul Reaper

-Description: In human form, Midori is short, black haired, and has dull, grey eyes. She has no noticeable features, or anything to make her stand out. In her Reaper form, everything changes, and she still is unable to figure out why. Some believe it is due to her suppressing her true self in her own world, and her Soul Reaper form takes on the personification of her very soul, what she is truly like. She has long, white hair and stunning yellow eyes, and is very tall as a Soul Reaper.
"Hope can be a dangerous thing. Hope can drive a man insane. Stephen King, Shawshank Redemption."
Shikai Form
-Height: Human 5'1"; Soul Reaper - 6'0"
-Weight: 134 lbs.
-Hair Color: Human - Black; Soul Reaper - White
-Eye Color: Human - Grey; Soul Reaper - Yellow




-Personality: Human - Midori is very timid, and extremely shy. She hardly ever talks to anyone, and runs away when confronted, even with a smile. She isn't really afraid of anyone or anything, she just doesn't like people very much.
Soul Reaper - Straight forward and to the point, Midori wastes no time in completely a mission, and also won't take shit from anyone. Soul Reapers from the Soul Society have made remarks about her stark contrast between Human and Soul Reaper, yet no answers have been provided.
"This is how we go on: One day at a time, one meal at a time, one pain at a time, one breath at a time... We say yes, I agree that the clouds often look like other things--fish and unicorns and men on horseback-- but they are really only clouds. Even when lightning flashes inside them we say they are only clouds and turn our attention to the next meal, the next pain, the next breath, the next page. This is how we go on. Stephen King, Bag of Bones."
Bankai Form
-Role: Substitute Soul Reaper
-Spiritual Pressure (Reiatsu) Level: Vast
-Reiatsu Appearance: Dark Purple
-Zanpakuto Name: Kuroi Watarigarasu (Black Raven)
-Shikai Release Command: "Rend and Tear"
-Shikai Abilities: A normal spear in appearance, it heightens Midori's speed and uses the air and Reiatsu around the blade itself to cut the enemy should a strike miss, by up to three inches away.
-Bankai Name: Tenshi Kuroi Watarigarasu (Angel Black Raven)
-Bankai Release Command: "Fly and Kill"
-Bankai Abilities: Not much changes besides Kuroi's appearance, and Midori's. She grows a pair of jet black wings & claws. That alone makes up the new tenability of her Bankai.
-Powers and Abilities: Shunpo, no ability with Kido unless you count using just a pure ball of it. She can't even do a Cero.